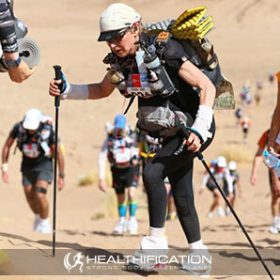 Podcast: Play in new window | Download
Subscribe: RSS
Vegan Athlete Fiona Oakes Is Running For Good and breaking the stereotype that veganism holds you back from anything.
I'm a little star-struck by this interview. I first heard of Fiona Oakes when she was interviewed by my fav podcaster, author and vegan endurance athlete Rich Roll. I then learnt Fiona was the star of award-winning director Keegan Kuhn's latest documentary: Running For Good.
You've heard of Keegan right? With co-director Kip Anderson he made Cowspiracy… the documentary that turned me vegan and What The Health…the documentary I recommend to all my non-vegan loved ones. 
So, Rich, Keegan and then the trifecta of star-stuck (!) with Fiona who is the most genuine, unassuming, humble yet fiercely focused and relentless vegan warrior for the animals. Fiona is the fastest woman in the world to run a marathon on all 7 continents and the north pole. Both in cumulative and elapsed time. The documentary Running For Good follows her attempts to set a new world record in endurance racing and also compete in the "toughest footrace on earth" the Marathon Des Sables, a 250km race through the Sahara Desert. 
She does this all to raise awareness for the plight of animals and to help fund her sanctuary 'Tower Hill Stables' where she cares for 450+ animals. 
There's so much more though. Fiona has a deep understanding of suffering and a burning desire to prevent unnecessary suffering for any living being.
At 14 years old she was told she'd never walk properly again. Let alone run. She had more than 17 radical knee surgeries which ultimately led to having her entire right kneecap removed.
So how does she do it? I'm so excited to get inside the mind of this powerful voice for the animals. Lets hear exactly how Vegan Athlete Fiona Oakes Is Running For Good and breaking the stereotype that veganism holds you back from anything…
In this interview we cover:
* Fiona's advice to the individual who feels like they don't have a special talent yet wants to positively impact the plight of animals.
* Fiona's "becoming vegan" story. It's the simplest and youngest I've heard yet. If only we all had that certainty of self and certainty of belief.
* What Fiona would you tell her 14 year old self now? 
* What Fiona does when she feels overwhelmed by the scale of animal exploitation?
* Some of the highlights and low points of Fiona's phenomenal physical (and metal) accomplishments.
* The mainstream media's approach to veganism. Including Fiona's gutsy response when the BBC insisted: "can you not mention that you're vegan."
And so much more!
My Goodness, that was an explosion of passion and purpose. I felt like our conversation just flew by. I could barely keep up… which I imagine is how most runners feel when Fiona powers on past them proudly wearing her "Vegan runners" singlet. Or better yet – when she accelerates into the distance in a cow suit!
I knew I'd love that chat. I hope you did too. If you're yet to experience it I hugely recommend the film Running For Good.
You can rent, buy or organize / attend a screening via www.runningforgoodfilm.com.
I also recommend the Rich Roll podcast where Rich interviews Fiona and Keegan. It's #397 of the Rich Roll podcast.
One of the things that struck me after watching Running For Good, is WOW "I want to see Fiona live a little more chilled life!" She's a total machine however maybe a tad more time out would be fab right? If you're keen to help her run and expand her amazing sanctuary there are lots of options via the site Towerhillstables.org.
You can sponsor an animal or purchase a product from her wish list of necessities for the animals. 
Or you can purchase a signature 'Oakes Cross Trainer' pair of Wills Vegan shoes. The world's first carbon neutral, ethically made, intentionally vegan trail shoe for elite running AND 30% of every sold goes directly to support Fiona's sanctuary!
In closing I just want to reiterate Fiona's awesome advice to the person who may not feel like they have a special talent and yet wants to make the world a better place for animals.
Your passion and burning desire IS your special talent.
Running - I have no desire for, it's just something physical I thought I could do for the animals. World record #vegan marathon runner Fiona Oakes. @Marathonfiend
Click To Tweet
That's it for this week in Healthification. Huge thanks to YOU for sharing this week with me. You rock and I appreciate your support!
If you've enjoyed this show and gotten value out of it I'd love to invite you to go to iTunes and search for Healthification and leave me a review. I'd super appreciate it. It gives me great feedback to keep on powering through the weekly shows and helps other people to find Healthification as well.
Till next time, remember Creating a body and life you love is Freedom. (If this ex-carb queen, NON-genetically gifted, naturally uncoordinated VEGAN-chick can do it – so can YOU!!!)
If you liked "Vegan Athlete Fiona Oakes Is Running For Good" you'll also like: Veganising Umami The 5th Taste, PLUS Month In Review.
If you're yet to share the Healthification love – just click here to zip over to iTunes and leave an honest rating and review. It'd help me out big time. With gratitude, Kate.