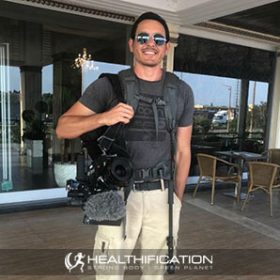 Podcast: Play in new window | Download
Subscribe: RSS
"Norm" is a short film about two roommates debating over the morality of rape, in a society where raping women is legal and socially accepted.
Today it's my absolute pleasure to share with you my chat with "Norm's" director Miguel Endara. I guess as a bit of a warning the issues discussed in Norm and subsequently in todays podcast could be triggering. I'm hesitant to go into too much detail in this intro as I really want you to watch Norm and experience it for yourself. The film is in my mind a unique and bold and brilliant example of how we can effectively challenge socially accepted norms. 
Listen to the full interview, Miguel Endara's Short Film "Norm" Is Not About What You Think It's About here:
In this interview we cover:
The importance of metaphor as a means by which to effectively spread a message that challenges accepted yet immoral "norms" in society.
The importance of compassion for animals, for fellow humans and self compassion especially for activists.
Handling push back / heated debate. 
Miguel's becoming vegan story.
What Miguel see's as the biggest threat to veganism globally. 
The films AMAZING ending! Yes, that's a bit of a teaser – you have to watch the film!
Listen to the full interview, Miguel Endara's Short Film "Norm" Is Not About What You Think It's About here:
As I mentioned to Miguel, as much as every single line in Norm resonated with me and my experience as a vegan living in a non-vegan world, while watching it I was thinking "Wow, you're brave – you're going to get push back." However I believe with all my heart that so long as your intention is genuine there are messages that need to be shared.
Sometimes those messages need to be shared in a shocking manner to jolt people out of their trance. I asked Miguel what he see's as the biggest threat to veganism globally and of course I have my own thoughts on that. I think complacency and apathy and resignation are the biggest threats the vegan movement faces.
Also the mistaken belief that one person cannot have an impact on an issue so large as animal exploitation globally.
I'm so very grateful there are filmmakers such as Miguel Endara and Allison Argo (from The Last Pig – among nearly 2 dozen other award winning films) who are willing to step up and share the messages that can be both hard to hear and hard to share.
To quote the "consensual" Ben, in Norm: "I'm just repeating what you're saying and you're hearing it for the first time and you think it sounds fucked up." Just because this message may not be what the non-vegan audience wants to be true, it does not mean it's not true.
In the same way that slaughter house footage is horrifying to watch I can appreciate that seeing the similarities deployed to defend a normalized behaviour of an unnecessary violent action is confronting, shocking and at first, unwelcome. It's my hope it's also eye-opening too.
To my non vegan friends feeling that unwelcome discomfort my question to you: Is that your heart telling you something?
Watch Norm via Facebook here:
Or via Youtube here:
That's it for this week in Healthification. Huge thanks to YOU for sharing this week with me. You rock and I appreciate your support!
If you've enjoyed this show and gotten value out of it I'd love to invite you to go to iTunes and search for Healthification and leave me a review. I'd super appreciate it. It gives me great feedback to keep on powering through the weekly shows and helps other people to find Healthification as well.
Till next time, remember Creating a body and life you love is Freedom. (If this ex-carb queen, NON-genetically gifted, naturally uncoordinated VEGAN-chick can do it – so can YOU!!!)
If you liked "Miguel Endara's Short Film "Norm" Is Not About What You Think It's About" you'll also like: The Last Pig Film with Allison Argo.
If you're yet to share the Healthification love – just click here to zip over to iTunes and leave an honest rating and review. It'd help me out big time. With gratitude, Kate.