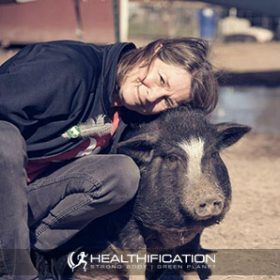 Podcast: Play in new window | Download
Subscribe: RSS
The Last Pig is a deeply intimate journey into the life of a pig farmer as he grapples with death, searches for compassion, and finally finds the courage to change.
Under the direction of six-time Emmy winner, Allison Argo and shot by cinemtogapher Joseph Brunette, The Last Pig exemplifies Argo's mission to provide "a voice for those who cannot speak for themselves" and to deepen understanding and respect for all beings.
I truly found this film to be so very impactful. The trailer gave me shivers down my spine and the full length film grabbed and held me engrossed from start to finish.
I'm so very grateful for the following conversation with Allison – who's films have won over 100 awards internationally. The nearly two dozen award-winning films she's produced, directed and written have all been broadcast by PBS and/or National Geographic and have reached audiences worldwide. In The Last Pig, Allison moves away from her previous focus on abused and endangered species to instead shine a spot light on 250 pigs who lead an idyllic yet short life and the farmer, Bob Comis who decides when each pig will die.
To quote the ever articulate Bob Comis: "The simplest way to put it is that slaughtering animals for their meat is a socially permissible ethical transgression. There is actually celebration of the way I raise the pigs. Because I give the pigs lives that are as close to natural as is possible in an unnatural system, I am honorable, I am just, I am humane, while all the while behind the shroud, I am a slaveholder and a murderer."
Let's explore The Last Pig Film with Allison Argo…
Listen to the full interview, The Last Pig Film with Allison Argo here:
In this interview we cover:
Allison's choice to focus on Bob and to make the footage accessible to a wider audience.
How the humane – even idyllic – life Bob provided for the pigs he farms makes his decision even more impactful. Here's a link to Bob's article in The Huffington Post: Happy Pigs Make Happy Meat?
Allison's becoming vegan story. (it's uniquely different!)
The importance of compassion for animals, for fellow humans and especially self compassion. 
The moment that 'broke' Allison out of so many moments in directing / editing / sharing such a deeply personal journey.

What Allison see's as the biggest threats / blocks to a positive shift in our society's relationship to non-human beings.
What's next for Allison. (I'm super excited!)
WOW! That conversation really made me want to do a deep dive into Allison's work. What a beautiful soul.
I'm so very appreciative she's currently directing her expertise to sharing the plight suffered by farm animals. First pigs, hopefully chickens and dairy cows too… if you have any compelling story ideas I know Allison meant it when she said to contact her at thelastpigfilm@gmail.com.
If, like me you have friends or family that are not open to some of the more confronting and horrific footage of factory farming and slaughter house kill floors than perhaps The Last Pig could be a way to plant a little compassionate vegan seed with them?
Again, if you're interested in current screenings or in hosting a screening please just cruise to thelastpig.com. Allison makes it really easy.
You can also check out thelastpig on Facebook. 
My final thoughts are surely there needs to be more government support to help farmers transition from animal to crop agriculture?
Now that might sound like a problem so huge – so ingrained – that surely as individuals we can't have an impact? Actually I believe each of us, each individual consumer at each individual meal has a massive opportunity to effect change.
I'd say beyond "opportunity" and rather a "responsibility." In a dollar driven world consumer demand is one of our most potent weapons and we get to deploy it several times every single day.
Again, you can listen to the full interview, The Last Pig Film with Allison Argo here:
Or watch the AMAZING trailer to The Last Pig Film (I share the audio at the beginning of the podcast) on Vimeo here:
@TheLastPigFilm chronicles the changing landscape of animal agriculture and one farmer's ethical crisis: after years of raising pigs for meat, he can no longer bear the ultimate act of betrayal.
Click To Tweet
That's it for this week in Healthification. Huge thanks to YOU for sharing this week with me. You rock and I appreciate your support!
If you've enjoyed this show and gotten value out of it I'd love to invite you to go to iTunes and search for Healthification and leave me a review. I'd super appreciate it. It gives me great feedback to keep on powering through the weekly shows and helps other people to find Healthification as well.
Till next time, remember Creating a body and life you love is Freedom. (If this ex-carb queen, NON-genetically gifted, naturally uncoordinated VEGAN-chick can do it – so can YOU!!!)
If you liked "The Last Pig Film with Allison Argo" you'll also like: Myths About Farming and The Drought
If you're yet to share the Healthification love – just click here to zip over to iTunes and leave an honest rating and review. It'd help me out big time. With gratitude, Kate.