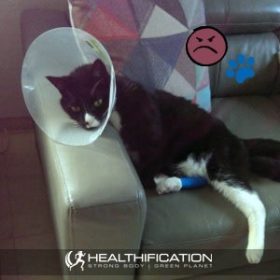 Podcast: Play in new window | Download
Subscribe: RSS
Today I got up at 3am for a Skype interview I'm really super excited about.
I showered, got ready to race to work after the interview, enjoyed my liquid gold (coffee!), and logged into Skype.
As the start time ticked by I got that sinking feeling maybe I did the calculations wrong between when I booked the interview and day lights savings    here in Sydney (or not) and maybe day savings (or not) in Canada.
A quick google search revealed my mistake. I was an hour early for the interview with 6 time Emmy award winning film maker Allison Argo and Mrs Knight (my long suffering and utterly insufferable high school math teacher) was right: "Kate is rubbish at math!"
Thankfully Allison is genuinely so so lovely and we've rescheduled for tomorrow.
It was yet another opportunity this week to ask myself:
How would this look if it was a good thing?
You see it's been "one of those weeks" and if you have those sort of weeks from time to time too… well I hope todays show is of value to you. It's another take on one of my favourite tools, The Reframe.
Here's how it works. Say something unexpected and initially unwelcome happens. Perhaps, Sunday afternoon when you're expecting 2 edited podcasts back from your podcast editor ready for publishing instead his email pops up: "Unfortunately have some bad news regarding the podcast for this week. My laptop overheated today and won't turn on again and I am out of the country traveling for my day job for an extended period of time. I'm not sure when I will be able to get this fixed." 
Normally I'm a stickler for consistency and being on time (Yes, I realize the irony in that given my mix up today!) however thankfully 'chill Kate' seemed to be in residence and I acknowledged first: "It's really not the end of the world" and second, How would this look if it was a good thing?
It'd look like the perfect opportunity to hire an editor who had more time and expertise to really help me up the quality of the podcast both pre and post production. To fix all the annoying techie / feed type stuff I don't understand and I've been sticking my head in the sand about!
Here's another example. Say something else unexpected and initially unwelcome happens. Perhaps, Monday for no reason you wake up with a bloodshot eye. Again, "It's really not the end of the world" and second, How would this look if it was a good thing?
This is where you (I!) might need to get a bit crafty with our reframing as my gut reaction is: "Well, it wouldn't look bloodshot that's how it'd look!"
Thankfully my job is not dependant on how I look. Not really. That's just ego and maybe I needed a little reminder of what's really important. Equally it confirmed my decision to not attend a #saynuptothecup event the following day and instead get a lot of work done from home.
[side-note] For my non Aussie friends "the cup" is the Melbourne cup horse race. Known as "the race that stops the nation" and increasingly, "the race that divides the nation" as for some it's all about the betting, the drinking and the glamour while for others of us it's just another cruel example of unnecessary animal exploitation.
Hopefully that's my 3/3 for this week though either way, I'm committed to, How would this look if it was a good thing?
Here are a few more examples that might be more applicable to you:
An injury becomes, a chance to focus on the parts of you body that you can still train. Generally there's still something. If there isn't – if instead of an injury perhaps it's hateful-hideous-gastro, then this is the time to focus on the gratitude you have for when you can exercise.
A disappointing interaction becomes, a chance to reflect on how you could handle it better in the future. Perhaps you both handled it badly however you're the only one you can control right? It's been my experience that we get multiple repeat opportunities at these sorts of interactions.
My conversation with vegan psychologist Clare Mann comes to mind. Not the convo, Clare is fab! More-so, her advice which you can hear in show 538.
Bad weather for your scheduled exercise session becomes, an opportunity to really prove your commitment to your training plan and achieving your goal. I believe it's the 'struggle-street' sessions you complete that really solidify the exercising habit and lock and load your belief that you are the type of person who prioritizes exercise whether you feel like it or not.
In a more general sense, those unexpected and initially unwelcome moments when someone cancels on you and find yourself with potentially wasted time up your sleeve? I've found it super valuable to have Go2 work always on hand. If a client cancels last minute I feel a lot better about it if I use the time effectively either for my own workout or to get something else done.
To make today a little more actionable for us both, here are 3 recommendations I'm implementing this week that I hope could also be relevant to you.
One: Add a step to that important task or system that is time sensitive.
For me that's double checking time zones at least 24 hours before a scheduled interview!
For one of my serial "sleep in" clients that's putting the alarm across the other side of the room so she won't turn it off while half asleep and miss her personal training session.
For one of my late night "Netflix habit" clients that's setting a "go to bed" alarm so he can get a good nights sleep and wake up fresh.
Two: Do something to improve your self care routine. I think my bloodshot eye was just bad luck… however most of us could benefit from enhancing our self care routine.
Maybe that's implementing a 24 hour digital detox once a week. I flirt with this idea from time to time and love it… then let myself get sucked back into the mostly destructive relationship that is, social media.
Perhaps it's implementing a foam rolling component into your exercise routine or maybe a leave in conditioner component into your hair routine. (I share this as I need to do both!)
For many of my clients it's more about getting better at saying "No" to the things they commit to and then resentand also getting serious about eliminating (by reframing) their negative / unsupportive self talk.
Three: Tackle that tedious yet important task before it's forced on you. You know that task that'd be super worthwhile to tackle right?
I feel like I've got a month of them! Upgrading my phone. Checking my insane electricity account as I'm sure my meter is accounting for usage across the whole floor of my apartment building.
Maybe it's creating standard operating procedures in your business before you need to train a new person in them.
You can also do this for your training routine. For example: This is what I do in wet weather. When the gym is closed. When I travel. When my training buddy or trainer is sick or away. When I have an injury or feel sick, tired or hung-over! The less decision making you have to do when "unexpected and initially unwelcome happens" the more likely you are to make the better choice.
A final thought so far as, How would this look if it was a good thing? With regard to most things it's not the initial unwelcome happening or broken habit that sends you spiralling off track. It's what you choose to do next.
Just as, one non-vegan meal doesn't make you a "bad vegan" equally one late night pizza and chips does not derail your eating plan.
It's actually just feedback that you need some strategies in place to stop it from happening again. Or at least to minimize the downside and help you get straight back on track.
In that sense, a slight slip up is strengthening your long term, sustainable winning strategy into the future.
To get actionable today does one of my 3 recommendations to implement sound like something you'd benefit from? To recap,
One: Add a step to that important task or system that is time sensitive.
Two: Do something to improve your self care routine.
Three: Tackle that tedious yet important task before it's forced on you.
As I close todays show, I'm happy with the way I'm turning this week around. My new podcast editor has started off brilliantly – you can hear the difference right? My interview with The Last Pig film maker Allison Argo went really well and it'll get the fab editing it deserves and be released for you later this week. And my eye? Well it's still a little unsightly… however 2/3 an't bad right?
That's it for today in Healthification. Huge thanks to YOU for sharing today with me. I appreciate it with all my heart.
If you've enjoyed this show and gotten value out of it I'd super appreciate it if you pop over to iTunes and leave me a review. It helps other people find Healthification and it really does inspire me to power on with the weekly and sometimes twice weekly episodes.
The Healthification podcast is proudly bought to you by my FREE 'Easy Vegan' plan. It took me 25 years to transition from a meat eater to a happy, healthy Vegan! You can do it in just 3 days with  my simplified 'easy vegan' plan!  Get the fit, strong, and healthy plant based body you deserve… while avoiding ALL the mistakes I made along the way!
To learn more check out: strongbodygreenplanet.com or search strongbodygreenplanet on Facebook and Insta.
Till next time, remember Creating a body and life you love is Freedom. (If this ex-carb queen, NON-genetically gifted, naturally uncoordinated VEGAN-chick can do it – so can YOU!!!)
If you liked "How would this look if it was a good thing?" you'll also like: Effective Eating Strategies.
If you're yet to share the Healthification love – just click here to zip over to iTunes and leave an honest rating and review. It'd help me out big time. With gratitude, Kate.