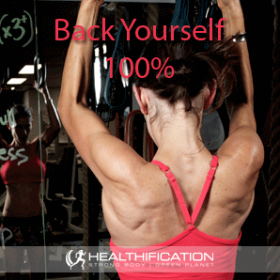 Podcast: Play in new window | Download
Subscribe: RSS
There's ONE thing that everyone who achieves the goal of getting and staying in great shape has in common.
It's not, that they eat Paleo, Gluten-free, High Protein or that they are Intermittent fasters. Although they might be.
The ONE THING?
Is that they run a successful eating strategy to get and stay in great shape.
I'm choosing my words with volition.
I believe everything you or I do is a strategy. I also believe we can unintentionally run strategies that succeed in getting us the result we don't want.
Foe example I was very good at running the "all boys are bastards" strategy in my early twenties. I believed it. I attracted it – or more to the point, them! Anyway, that is talk for the pub and a fair bit of Shiraz… in todays tucker show let's chat instead about: Effective Eating Strategies.
That is, the step by step approach you take that gets you the desired outcome for your eating actions.
You have a step by step whether you know it or not. If you're not yet at your goal body shape and health it could likely do with a little refining. So today I want to share an effective step by step eating strategy. It's not the only way to do it, however it works and it'll give you a format to play with and make your own.
Before we power on with 3 keys to an Effective Eating Strategy it's important to know when it comes to effective strategies – it doesn't matter whether they are true, right or real… 
What matters is are they effective. Do they work at getting the result you WANT? This one does:
How do you know it's time to eat?
So the answer is never, because everyone else is. Or because I'm bored or stressed or procrastinating.
It might not even be because it's lunch time.
Your Effective Response: When I feel hungry or because I have an eating schedule and I know I'm scheduled to eat 3-5 nourishing meals every day.
Top Tip:
=> Life will jump in the way of your eating schedule from time to time. This is when planning will keep you on track or lack there of will see you fall back to poor habits. Cooking some meals in bulk once or twice a week is a great tactic. I like to put aside a couple of hours on the weekend and also mid-week.
How do you evaluate options?
Again this is not, whatever looks yummiest, easiest and quickest when you stand peering into the fridge. It's absolutely also not what your 100+ kilo front-row footy player buddy most fancies or the chips being generously shared at the pub.
Your Effective Response: Whatever fuels my body best – whatever feels the leanest, lightest and gives me the most energy.
Top Tip:
=> You crave what you eat – once you make the change to clean, nourishing food you WILL begin to crave that food rather than fatty, nutrition-less food. I can promise you this. I'm an ex low-fat-refined-carbs queen now batting for the one ingredient team!
How do you know it's time to stop eating?
You know it's not, when I've eaten ALL the cookies! Or when my plate is empty or when everyone else stops.
You do need some sort of criteria though…
Your Effective Response: When I'm about 75% full or when there's still food on the plate and I feel comfortable pushing that plate away with some food still on it or when I've eaten the amount that I've planned to eat.
Top Tip:
=> For long term sustainability schedule in a cheat meal or 2 each week. The knowledge that you get to 'stuff yourself' or eat that 'bad' food every week allows you to enjoy 90% of your meals being nutritious. By 'schedule' I mean this does not happen due to lack of planning or peer pressure or because it's 'just easy' – your cheat meals are planned and there is no need to feel guilty or to continue with a string of cheat meals after them!
AND… if you find yourself wavering it's often hugely effective to simply ask yourself again;
For what purpose do I want this? What will achieving this goal mean to me and to my ideal life?
For this question to be effective at getting you to take the best actions you need to be super clear on the way it'll be when your body and health is exactly as you would most love it to be.
I remind myself of the end game – my goals – constantly with every food, exercise and business decision I make. Now if that sounds a little overwhelming the way I see it is it's a whole lot less overwhelming than constantly taking the actions that get me the results I don't want and constantly knowing just how much I have to change.
To get actionable today, how's your current approach to eating working for you?
In the calm light of non-Hangry (that's so hungry you're angry!) are your answers to questions…
How do you know it's time to eat?
How do you evaluate options?
How do you know it's time to stop eating?
…the answers that you would expect to provide great results?
Or does your current eating strategy need a little refining?
It's one of those slightly tedious components of body gain that YES does take a little work up front to figure out however when you put in the upfront work once you get to enjoy the results long term.
That's it for me today.
I'll be beck tomorrow with the Wednesday Weigh-in show and…. Living Disappointed Rather Than Feeling Disappointed.
If you liked this you'll also like: Designing An Effective Motivation Strategy
If you're yet to share the Healthification love – just click here to zip over to iTunes and leave an honest rating and review. It'd help me out big time. With gratitude, Kate.