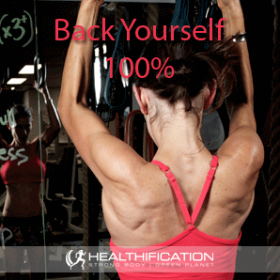 Podcast: Play in new window | Download
Subscribe: RSS
You'll have heard before that the quality of your questions will prompt the quality of your answers and in turn the quality of your results.
In todays show I'm covering: Ask Better Questions, Get Better Results.
Perhaps you've met the person who is all too aware of all the reasons they can not lose weight?
Maybe you are that person? Bad genetics. Not enough time. Hectic family and work life. Never been a natural exercise. Love eating out too much. Can't stick with a routine consistently.
These are all answers to the question: "Why can't I lose weight?"
It's a natural enough question to ask if you've been struggling with your weight loss goal for years. However it's also a question that prompts your unconscious mind to hunt down all the evidence to support exactly why you can't lose weight.
And there are much better things to have your unconscious mind hunting down and dragging back for you to act on.
Today let's cover 3 questions that will not get you great results and 3 questions to ask instead.
One: swap "Why can't I lose weight?" to "What will achieving my body gain goal mean to me and to my life?"
Here's my thought process behind this one. First and foremost, you absolutely can lose weight… gain the body you would love – however YOU want to put it – however its going to take a fair bit of stick-to-it-ness.
Yes, that's a word. No I didn't create it!
So rather than focus on the reasons why it hasn't happened yet turn the power of your focus to the reasons why you will stick with it until it does happen.
Your reasons will be personal to you.
=> They may well reflect the experiences and opportunities you will get to enjoy once you achieve your goal.
=> Potentially also the experiences and feelings you will no longer have to endure.
=> Maybe they will take into account the positive influence you will be on those you love.
=> Or possibly the fact that this will be proof to you that YES you can do it. It'll be a reference point for success that will build a sense of self belief and confidence that is applicable and transferable to every area of your life.
Two: swap "Why is it so hard?" to "How can I make the at times hard actions as easy on myself as possible?"
Here's a hidden truth. The people that are able to consistently take the actions that get the great results do not always find taking those actions easy.
Actually sometimes we find it really hard. The thing I'd love for you to get your unconscious mind focusing on is every single little way you can make the body gain journey easier on yourself.
Not necessarily easy – just easier – even as easy as possible, for you and your lifestyle.
Some of the things that work for my clients and I are:
=> Set non-negotiable training times that create a routine and a habit.
=> Exercising early in the day when your daily discipline quota isn't all used up.
=> Preparing nutritious meals on mass.
=> Taking the time to create better versions of your fav junk foods.
=> Ditching all the tempting trigger foods that used to live in your home or office.
Three: swap "What is the quickest way to lose weight?" to "What is the approach that is sustainable and will fit into my lifestyle long-term?"
Quick is super appealing I know.
However in the body gain game you get to choose fast and fleeting OR steady and sustainable.
For example:
=> Burning the candle to fit it all in may work short term… for sustainable results if you're going to get up earlier to exercise (which rocks!) then you'll also want to get to bed earlier so you ensure at least 7 hours sleep.
=> A juice diet may work short term… for sustainable results you don't need to for-go solid food! Starting your day with a green juice or building your main meals around fibrous veg is fantastic and non-restrictive.
=> Training 2 hours a day 7 days a week is doable for a week or 3… any longer and I'm sure it means you're neglecting other stuff or risking injury or inviting super-boredom. Half an hour structured exercise 6 days or 45 minutes 4 days a week is much more sustainable.
The majority of the day to day small steps you take in the attainment of your goal need to be geared towards sustainable lifestyle choices that allow you to keep that hot body one you get it! 
Who wants to look a million dollars once-off?
Furthermore the quick-fix mindset will likely not even get you to your goal in the first place as you will likely succumb to the disastrously impatient program hopping approach. With so many options to choose from it is oh too easy to bounce from one promising program to the next if you're not seeing results in a whole 3 days.
To get actionable today let's dig a little deeper with question #3. 
So that's where we swap "What is the quickest way to lose weight?" to "What is the approach that is sustainable and will fit into my lifestyle long-term?"
How can you incorporate healthy nutrition and enjoyable exercise in a way that compliments everything that is important to you?
A). How would your ideal Fat Burning Day look?
B). How will you maintain your motivation and overcome the inevitable challenges that arise?
C). What will you eat and when?
D). How will you exercise and when?
E). AND how does all this fit in with family, friends, career and all else that your hold dear?
It's worth spending the time it takes to really come up with the answers that resonate best with you. We're talking about your ideal body for the rest of your life and it deserves some planning.
To finish today's show I have a golden quote from the man himself – Tony Robbins, "Successful people ask better questions, and as a result, they get better answers."
That's it for today. I'll be back tomorrow for the Tuesday Tucker show and, Effective Eating Strategies.
I hope you can join me.
If you liked this you'll also like: How To Prevent Weight Gain Over Christmas and New Year (6 step survival blueprint).
If you're yet to share the Healthification love – just click here to zip over to iTunes and leave an honest rating and review. It'd help me out big time. With gratitude, Kate.