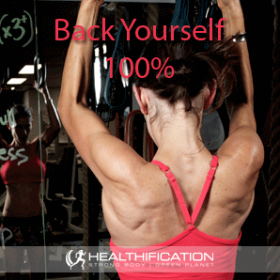 Podcast: Play in new window | Download
Subscribe: RSS
When I first started my career as a personal trainer I worked at a gym where we held monthly shopping tours.
We'd thankfully choose a relatively quiet time for our local supermarket (ask management for permission) and then descend on mass with clip-boards and work-sheets in hand.
Now although I do believe this was a valuable resource for our clients and I know it was at times fairly amusing for the other shoppers – as I sent participants scouring for the cereal with the most protein per serve or the yoghurt with the least carbs – I also feel confident I could turbo-fast-track a shopping tour today with my current approach to eating.
In todays FAQ show I'm sharing: How To Understand Food Labels.
Well sort of. Let's call it the 3-step food label cheat sheet.
The first, most vital and over-riding key is…
One: If it's tough to understand it's likely NOT a good choice.
Ingredients you don't recognise? Unrealistic or mis-leading serving sizes? Hype'y distracting nutritional claims?
This thing is not a natural one ingredient food. It's been assembly line manufactured… likely with fake unrecognisable ingredients to be as addictive as possible. To make it near impossible to stick to that measly serving size. To divert your attention from the added fat, sugar and salt with those 'high fibre' declarations.
Two: The shorter the ingredient list the better.
I'll really stand by this one. I know it can be tough. The other day I found myself in the 'supplements' section of the 'health food' aisle at my supermarket. Eying off some choc-nut-caramel-low-carb-high-protein-bar.
Scrutinising that tiny little label. Weighing up how much protein really was in the serve that only had such-and-such % of your daily carb intake. If perhaps the calories of two of those little '2 for the price of 1' bars was justifiable for an "I'm feeling tired and need a pick-me-up" snack. And then I caught myself.
Sometimes I need to remind myself of my own advice!
I thought of how long it took me to break my protein bar habit. I remembered how often I used to get sugar cravings… how even when I stopped eating real chocolate bars and swapped to healthy choc-protein bars I still was plagued by cravings.
Who've thought right?
I considered how I really do not miss being that chick pouring over food labels, weighing one evil up against the lessor evil before deciding and still feeling unsure as to whether I'd made the right choice. Whether I'd been duped.
I also realised how now I really don't get cravings. Actually the only thing I seem to crave now is green veg if it's getting to the end of the day and I haven't yet had any. I might be tempted by other stuff briefly if it's thrust in my face, however I don't crave it like I used to.
So I decided higher quality out-ranks less calories… and scuttled away from the deceptive bars to choose some delicious cashews instead.
Three: Don't be fooled by nutritional claims.
It's true that a nutritional claim must meet certain criteria however the quality of that criteria can not be relied on.
'Low fat' or 'Reduced Salt' or 'High Fibre' also speaks nothing to everything else that is going on in that food item.
To me, nutritional claims are diversion tactics.
They can even lull you into a false sense of security. Surely you've been there too? Devouring twice the amount of the 'reduced fat' yoghurt or multigrain chips containing '40 percent less fat' than regular potato chips!
Regardless of what those labels may be promising to save you from so far as fat, sugar, salt and whatever else that has exactly zero correlation to the total caloric density of the food.
Even more importantly (as I'm really not big on fixating on calories) the total VALUE so far as the macro-nutirents your body needs like quality fats, proteins and carbs and also the micro nutrients it needs like vitamins and minerals.
If you want to know the exact definition or criteria for 'low fat' or 'reduced this' or 'light that' it's very accessible in the land of google. However my advice is a lot more simple.
I'd say don't bother. 
If you've been hanging with me on this podcast for a while I'm pretty sure you'll know where I'm going… I'm off on my One Ingredient Foods rant. The labels are complicating matters. They're encouraging you to measure and weigh. To restrict and to focus on what you should be eliminating and avoiding.
If your food label says anything more than… "Hey! Here are the awesome one ingredient foods conveniently hanging together in this bag" …then it's not worth the effort.
To get actionable today I'd love to hear of that food with the scary-long-fake-ingredient list that as of today is no longer getting cupboard or fridge or freezer space at your place. Just ONE. My most recent one was store bought hummus.
Yep, up until just a few weeks ago I was still buying the 'skinny' version that tasted great yet made me squeamish when I read the label. I made the change at the time that felt doable for me and that is what I recommend to you. Now I make my own hummus and it's so much yummier.
As with everything body gain, there's no need for a huge big daunting overhaul… however there's every reason to always be looking for, implementing and celebrating that next one little step.
That's it for this week in Healthification.
Super huge thanks to you for sharing this week with me.
This week an extra big THANK YOU to SannySab from Aus who writes:
Very informative, funny, witty!
Thank you Kate for a great podcast! Every morning – it's a boost of energy, enthusiasm for me. Keep up the great job!
SannySab, YAH – that is exactly why I do it! I really appreciate you taking the time to give me this awesome review, thank you.
If you liked this you'll also like: Do I have to fill in a food diary to lose weight?
If you're yet to share the Healthification love – just click here to zip over to iTunes and leave an honest rating and review. It'd help me out big time. With gratitude, Kate.