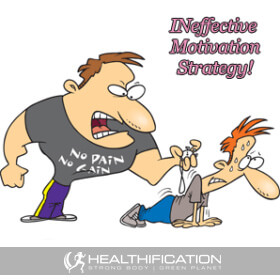 Today's post is a follow up to yesterday's effective eating & exercise strategy post (here, if you missed it!) with parts 2 & 3 of the motivation strategy. 
I am a believer that motivation is like taking a shower.  It doesn't last, you need to do it daily. (and if you neglect doing it, you're not so nice to be around!)
However, there is still huge value in breaking down exactly how an effective motivation strategy works – and how you can copy it, so that's where we'll start.
MOTIVATION STRATEGY
Step 1) How do you 'do' the strategy that doesn't work for you?
Example:
a. I look at my goals
b. I feel doubt/confusion as to whether the methods will really work
c. I tell myself that I can always do it tomorrow as one day won't make a difference and is it really going to work anyway?
Ok, we know what doesn't work.  So, what does?
Step 2) How do you 'do' the strategy that does work for you? 
(this may be in relation to business, your hobby, spending time with your family)
=> Now I'm going to give you my personal example soon, however the best thing to do is to 'elicit' your own motivation strategy.  It's easy.  I'll walk you through it right now!I'm wondering can you remember a time when you felt totally motivated?  Can you recall a specific time….and as you go back to that time now – what was the very first thing that caused you to feel totally motivated?  
(This is the trigger and it is very important to determine this very first thing.)
Was it something you saw – or the way somebody looked at you?  Was it something you heard or what someone said to you and their tone of voice?  Was it the touch of something or someone?  What was the very first thing that caused you to be totally and absolutely motivated?  And after you saw heard or felt that – what was the very next thing that happened as you were totally and completely motivated…did you picture something in your mind – say something to yourself – have a certain emotion or feeling, what was the next thing that happened as you were totally motivated.  After you saw, heard or felt that, did you then know that you were totally motivated or did you picture something else in your mind, hear something else or feel a certain way as you were absolutely motivated?
(I'd like you to continue asking yourself these questions until you have all the steps you took to feel completely motivated.)
=> Make a note of each step – because strategies are cross-contextual, once you have this effective strategy you can use the same process for your motivation to exercise (or anything!) strategy.
To give you an example of a very effective motivation to exercise strategy:
a. Tell myself how important (being in great shape) is to my core identity beliefs, values and happiness.
b. Evaluate what needs to be done.
c. Think about how good the results make me feel…and this strategy leads to action and results!
Step 3) Model across the steps from your own effective strategy. 
=> As I said if it works for one aspect of your life it will work for another.  The only difference is you will initially need to be more conscious about doing the strategy that you are just learning, where as the one you already excel in will happen naturally.
As with everything mindset, these 'quick fix' strategies work best in accumulation with supporting beliefs & habits.
So now you have the effective motivation strategy.
Next I recommend you make a list of things that motivate you & find a way to work then in to your day to day routine.  It has to be personal to you. Mine may not resonate.
To get the ball rolling I'll share a few that do work for me;
=> My screen saver on my computer & also my mobile are pictures that inspire me. It may be the physique you're working towards – it may be the holiday you're working towards…as long as seeing that picture has the desired take action effect.
This stuff does work, recently a girlfriend of mine came to my place & saw my – now replaced (!) old screen saver of my then fav fitness model, & said "are you modeling that chick , cos you're more lean & buff than her!" Awesome. New model required!
=> Spend time with people who motivate & inspire you. Now I used to think this had to be face to face & I had the excuse, well I can't afford to hire them as a coach or they live to far away. In valid!
Podcasts, audiobooks , paid forums, masterminds & even Facebook communities to name a few allow you to spend time with almost anyone, anywhere. Listening to my fav podcaster as I walk to work is something I look forward to. It became a routine so easily, I have a dif podcaster I cook to, walk to work to, walk along the beaches to, even get ready for bed to…hey, applying fake tan before bed is boring, I need entertainment!
=> This brings me to blogs before bed. (My fav for this is EarlyToRise.com) Find the one that makes you feel great, positive & motivated – yet not all overwhelmed about techie stuff you need to get a grip on or whatever it is that gets your head spinning (!)…and read it for 5-20 minutes before bed.
That time is golden. Why feed your unconscious mind TV crime or negative news stories or the drama of Facebook before sleep, when you can give it first class input instead?
The list is endless, but I'll cap it at 4.
=> I choose to train at a gym where fairly regularly I'll be training next to people with truly inspirational bodies, and just as importantly the training ethic that got them those bodies.
Guy or gal, I appreciate the work involved in getting & keeping that bod.  Seeing them push themselves helps me push harder.
For you this may be attending concerts, sporting events, debates or frequenting art galleries…or anything…where ever you get to go WOW, look at what they've achieved with focus, hard work & passion.
Final note, its vital to find out what brings out the best in you without pushing you to the extreme of feeling daunted, overwhelmed or not good enough. Your 'models' exist as motivation to become an even better you. You're competing with yourself, not them.
AND you're looking for how they think, what they do, and the results they enjoy (and the opportunity cost they pay) that fits in best with your lifestyle, goals, values and every other individual characteristic that makes you, YOU!
Ok. What helps you feel motivated to work hard with focus & passion? Love to hear the ways you give yourself regular motivation!
P.S. If you found my motivation strategy elicitation useful, you might also like my 6 part blog / podcast series, Smart Simple Fat Loss: