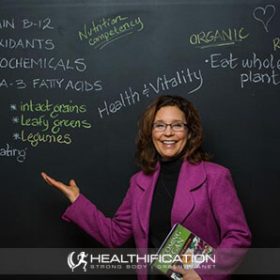 Podcast: Play in new window | Download
Subscribe: RSS
Registered dietitian, Brenda Davis is a leader in her field and an internationally acclaimed speaker. I'll continue on with the official bio soon however what really stuck me when researching todays interview is the amazingly abundant quality and quantity of food Brenda eats!
I went down a little rabbit hole of amazing information via brendadavisrd.com and was super impressed by the deliciously detailed responses to the (likely commonly asked question) What is your usual daily food intake? It's rare that I read about food that I'd both love to eat each day and (this is the maybe never before happened it's so rare part!) food that I'd also love the results for eating.
Extreme deliciousness PLUS super high value for your body?
Suffice to say, today we're in good hands with a professional who certainly walks the talk with her own food and exercise for that matter. I have so many questions surrounding and beyond,
Using Plant Foods To Protect Against Chronic Diseases.
Back to that bio (!) Brenda has worked as a public health nutritionist, clinical nutrition specialist, nutrition consultant and academic nutrition instructor. She is the lead dietitian in a diabetes research project in Majuro, Marshall Islands. She is a featured speaker at nutrition, medical and health conferences throughout the world. Brenda is co-author of nine award-winning, best-selling books including 'Becoming Vegan'.
Ok. Let's Use Plant Foods To Protect Against Chronic Diseases AND suss out B12, Omega 3's, Lectins PLUS healthy, plant-based meals and snacks that appeal to kids and so much more (!) with Brenda Davis…
Listen to the full interview, Using Plant Foods To Protect Against Chronic Diseases with Brenda Davis here:
In this interview we cover:
Using plant foods to protect against chronic diseases.
Designing balanced vegan diets for infants, children, and seniors.
Maintaining excellent vitamin B12 status.
Omega 3's and why we don't need to eat fish to get EPA and DHA.
Brenda dispels a couple of big myths often used to bash some super high value plant foods (Hint: we cover Soy, Lectins and also chat leaky gut).
Brenda's approach / advice for simple, healthy, plant-based meals and snacks that appeal to kids.
Brenda's becoming vegan story (it's uniquely different from those such as myself who had our blinders lifted by documentaries or You Tube videos!)
Kate here, back on my own and I hope you found that to be as hugely insightful as I did! What a wealth of information Brenda is!
I especially loved the clarity Brenda brought to the question of balanced vegan diets for infants, children and the elderly. With such a maze of misinformation out there propagating the myth that it's unsafe to bring up vegan kids and yet equally such an imperative to exemplify optimal vegan health at every stage of life it makes sense to focus first on the primary outcomes Brenda covered.
Growth for infants. Disease risk reduction for adults. And nutrient density and digestibility for seniors. 
So far as Brenda's tips for healthy plant based meals that appeal to kids – I think we could have spent our whole interview there. It's such an important topic and one that I can't speak to from experience. Perhaps I'll have to ask her back!
For now, I really do recommend both http://www.brendadavisrd.com/ and also her books. The latest of which is The Kick Diabetes Cookbook and then also both the comprehensive edition and the express edition of Going Vegan:
Again, you can listen to the full interview, Using Plant Foods To Protect Against Chronic Diseases with Brenda Davis here:
That's it for this week in Healthification. Huge thanks to YOU for sharing this week with me. You rock and I appreciate your support!
If you've enjoyed this show and gotten value out of it I'd love to invite you to go to iTunes and search for Healthification and leave me a review. I'd super appreciate it. It gives me great feedback to keep on powering through the weekly shows and helps other people to find Healthification as well.
Till next time, remember Creating a body and life you love is Freedom. (If this ex-carb queen, NON-genetically gifted, naturally uncoordinated VEGAN-chick can do it – so can YOU!!!)
If you liked "Using Plant Foods To Protect Against Chronic Diseases" you'll also like: 7 Myths About A Plant Based Diet (Part 1)
If you're yet to share the Healthification love – just click here to zip over to iTunes and leave an honest rating and review. It'd help me out big time. With gratitude, Kate.