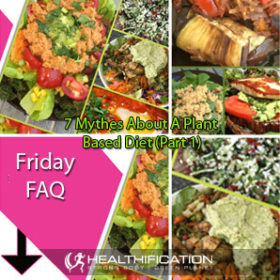 Podcast: Play in new window | Download
Subscribe: RSS
Last week I was chatting to a dear gym member who's wife and daughters I train.
He's a charming old gentleman… generally, though he caught me somewhat by surprise when he exclaimed: "Dear girl, we're all a bit worried about you!" "What do you mean I asked?"
"Well, you're getting too thin!"
"I have changed my eating a fair bit recently – zero animal products – however I really don't think my body has changed" I replied perhaps a tad defensively. It does always amuse me that (even if it was the case) a little loss of weight is considered fair game to comment on though it's polite to ignore someone's blossoming love handles and beer gut!
I'll get to the Sick and Thin myth later in todays show on:
7 Myths About A Plant Based Diet. 
For now, I want to start with a bonus myth. The Doesn't deserve a real spot on my list (!) myth, as explained to me by our animal loving – which he specified really means he loves eating animals gentleman: "They wouldn't be around if we didn't eat them" argument which I'm going to call Myth #0: We're doing the animals a favour.
Sometimes I amaze myself at just how calm and polite I can be at work.
"Now that's a really long conversation" was my diplomatic response delivered with the tone of really long and I really don't want to go there right now.
We didn't go there. And I know since you're listening to this podcast you and I don't need to waste energy on the We're doing the animals a favour myth.
However, what about the numerous, insidious myths-Lies-PROPAGANDA that assure us of the favours we won't be doing ourselves by eating a plant based diet? I have 7 such myths to bust for you today. Let's get rolling…
Myths About A Plant Based Diet #1: You'll Get Sick …or Too Thin.
Do you know what's really sick?
Of the top 10 causes of death in Australia, 8 are lifestyle related. Totally preventable, chronic diseases like our number one killer: heart disease. It's America's #1 killer too. One out of three Americans will die of heart disease.
Back in the land of Aus heartfoundation.org.au tells me: Cardiovascular disease kills one Australian every 12 minutes.
Of course I know I can't go wildly sprouting unsupported stats and quotes. I'll link you up in the show notes for today however a really great start (which I'll also link to) is Rich Rolls Blog post on: 10 Reasons To Consider A Plant Based Diet – For Yourself and The Planet. Rich's #1 Reason to consider Plant Based? It prevents (and can reverse) chronic disease.
The whole too thin argument is really not one I have time for. As long as I love the way my body looks, feels and functions right?
I know I'm not going to survive long stranded on a dessert island. I don't have those reserves that my more well rounded fellow humans pat proudly. And I'm cool with that. I mean what are the chances I'll get stranded on an island anyway? What are the chances any of us ever really have to survive without food for any decent period of time?
Which leads me to…
Myths About A Plant Based Diet #2: You'll Be Hungry.
I have a massive appetite.
Anyone who judges me on sight might beg to differ. In contrast, anyone who actually spends time with me will wholeheartedly agree. I'm a bit of a bottomless pit and I get a huge amount of joy from food. 
The thing is hunger is not ever something you have to put up with when you eat quality plant based food.
The type of one ingredient whole foods that can be enjoyed in gorgeous generous quantities. Hunger is what you must deal with when you're severely restricting your caloric intake and making up those calories very-distressingly-quickly (!) via high caloric density fake and processed foods.
The simple fact is: you are hungry if you're not eating enough and you feel hungry if you're plagued by continuous cravings.
The easy fix: eat generous quantities of one ingredient plant based whole foods and ditch the craving causing processed crap-o-la.
Now I know this is far from a decent period of time for reliable data, however I do know my body and today is day 4 of 100% Vegan for me. I was almost there for the past 4 months. Except for 2 large free range organic eggs a day.
So I ditched the eggs and guess what? I'm the least hungry – least emotionally drawn to eat, or drink, or over caffeinate myself I've even been.
I've cut back the coffee (again), the booze (again) and I'm not stalking the fridge.
My guess, is that because it's so crazy-hugely-important to me to prove that 100% Vegan Low Carb High Protein Primarily One Ingredient Food can be done – because I'm determined to: Not lose muscle. Or energy. Or supreme food joy (!)…
…because of all that: I've done my homework.
I've jammed as much delicious, nutritious goodness into every single meal as I can. Ok, slight exaggeration – my vegan curry would probably taste a little better if I stirred through just hemp seeds, pumpkin seeds and dulse flakes at the end of cooking and left out the 1/2 teaspoon of Spirulina!
If you can manage more than 1/2 a teaspoon of Spirulina at a time – huge respect!
Why slightly diminish the joy of a gorgeous curry with such green supreme goodness yet UN-deliciousness you might ask?
Good point. I have it covered in Plant Based Diet…
Myths About A Plant Based Diet #3: You'll Miss Out On Vital Micronutrients.
The easiest way to miss out on vital micronutrients like: Calcium, Iron, B12, Omega 3's and so many more is to have no specific strategy to your eating. To mindlessly munch whatever takes your fancy.
To trust the marketing that assures you: "You must drink milk for healthy bones" when really, scientific studies now show that aside from ethics, aside from the fact that cows milk is custom designed – for calves – and brilliant at turbo charging their weight gain from around 100 pounds at birth to around 800 pounds when they are weaned…
Beyond that?
It's now known that although a cup of cows milk contains a generous 300 mg of calcium, we barely absorb it. (again, I'll link you up in the show notes) Worse still, and oh the irony: drinking cows milk actually increases calcium loss from your bones.
The team at saveourbones.com can explain this more succinctly than I ever could so I'll leave it to them: "Like all animal protein, milk acidifies the body pH which in turn triggers a biological correction. You see, calcium is an excellent acid neutralizer and the biggest storage of calcium in the body is – you guessed it… in the bones. So the very same calcium that our bones need to stay strong is utilized to neutralize the acidifying effect of milk. Once calcium is pulled out of the bones, it leaves the body via the urine, so that the surprising net result after this is an actual calcium deficit".
WOW right? I guzzled 3 glasses of milk a day for years.
How about that old line "Red meat is the only way to get enough iron" when actually there are plenty of ways to get adequate iron on a plant based diet. Variety and absorption is key. Foods like: lentils, tempeh, lima beans, quinoa, oatmeal, pumpkin, sesame and sunflower seeds, pine nuts, pistachios, cashews, swiss chard and collard greens. 
Eaten with foods rich in vitamin C while also not overdoing your coffee and tea consumption as each of these contain tannins which inhibit iron absorption. 
Even though plant based iron is the less easily absorbed non-heme type rather than heme iron found only in animal products, iron is absolutely one of those cases where less can be more. Yes you need it however you don't need large stores of it in your body.
In fact to quote from nomeatathlete.com: "low-normal iron stores are beneficial: (for) improved insulin function and lower rates of heart disease and cancer."
Beyond those hugely compelling benefits, when you consume smaller amounts of iron throughout the day a higher percentage of the iron in each meal will be absorbed.
Which leads me to question: Does the breakfast skipping meat eater who gets through the day on primarily coffee and sugar before dumping a late night mammoth steak and chips dinner on their body really get more iron than the vego or vegan eater who's constructing each plant based meal with volition?
Volition is key.
Any from of eating strategy or diet that causes you to think more about what you're putting in your body – as a plant based approach certainly does – is going to give you a better chance of meeting your micronutrient needs.
However am I making it sound too hard?
Do you know that was perhaps the Myth About A Plant Based Diet I most subscribed to personally.
I knew eating Vego was relatively easy. That it got even easier each day… and then each month… and then each year.
However I though eating Vegan would be really hard.
I was wrong! I'll share my happy mistake with you in Part 2 of 7 Myths About A Plant Based Diet next week.
To get actionable today: Is there a myth – or perhaps just an untested belief – you've been subscribing to about eating plant based or really, about any change to your eating you're considering?
A belief you've had for years – however – when you think about it, you haven't really done the research.
You're believing what's being sold to you – like I've been believing what's been sold to me – and to be clear I'm not expecting you to believe me either (without doing your own research). That's the action step for today.
Check out one untested myth-Belief-LIE. 
That brings us to the end of this week in Healthification. Huge thanks for your support and for sharing this week with me.
If you've enjoyed this show and gotten value out of it I'd truly appreciate it if you pop over to iTunes and leave me a review. It helps other people find Healthification and it will inspire me to continue with the bi-weekly shows and of course get some Wednesday Weigh-in Interviews pumping!
If you liked this you'll also like: Deliberately Addictive Craving Causing Food: 3 Myths.
If you're yet to share the Healthification love – just click here to zip over to iTunes and leave an honest rating and review. It'd help me out big time. With gratitude, Kate.