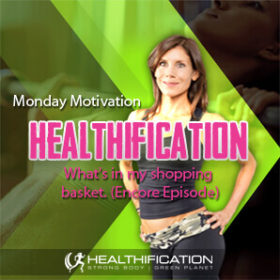 Podcast: Play in new window | Download
Subscribe: RSS
Reflecting on todays encore episode has shown me just how much my eating has changed over the past couple of years.
It's a timely reminder of both the importance of doing what works for YOU at the time it works for you and also the value inconstant and never ending improvement.
A couple of years ago I was very focused on macronutrients. So that's Carbs, Proteins and Fats. I pretty much figured if I had lean protein and good fat at every meal and 20+ different veg a day, I'd be doing ok. It was a basic approach and it did work ok.
Now I'm equally focused on ensuring I'm giving my body all the vital micronutrients too. Particularly, Iron, Calcium, B12, Omega 3's and Zinc that I cover in show #339: Healthy Vegetarian Eating (step by step) and also in show #346: High Protein Low Carb Vegetarian (my day on a plate).
Stuff that vego's and vegans can miss out on – though to be fair the meat eater who mindlessly guzzles poor quality meat and dairy without any consideration beyond taste and convenience – is likely doing at least as poorly by their body so far as vital micronutrients.
I've also, by necessity gotten a little less lazy.
I now make the things I was too lazy to make from scratch a couple of years ago. Dairy free pesto. Protein pimped hemp seed hummus. I've also broadened my variety so far as plant based proteins and good fats. It was sort of a necessity as I knew I was on the path from Vego to Vegan. At my own pace which is what I recommend for you too.
I'm going to cover the most recent upgrades to my shopping basket in this Fridays fresh content (!) show on: 7 Myths About A Plant Based Diet. 
For now though lets power onwards with,
What's in my shopping basket:
Here are the show notes for the original episode: What's in my shopping basket (Encore Episode)
The Healthification podcast is proudly bought to you by my online community for Vego's and Vegans who want to create a strong, healthy body and also help eradicate inhumane and unsustainable animal agriculture.
Learn more here:
If you liked this you'll also like: My Food Diary: Cheat Day + Ideal Fat Burning Day. (part one)
If you're yet to share the Healthification love – just click here to zip over to iTunes and leave an honest rating and review. It'd help me out big time. With gratitude, Kate.