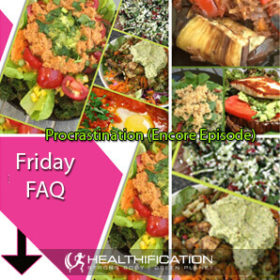 Podcast: Play in new window | Download
Subscribe: RSS
Although todays encore episode primarily focuses on the strategies I use daily to escape procrastination. I've also got a slightly different angle to share before we get rolling. Courtesy of an interview I heard with Rory Vaden, author of the book: Procrastinate on Purpose.
The concept is to focus today on doing the things that will give you time tomorrow.
So, as Rory puts it multiplying rather than managing time.
Time multiplying sounds pretty hugely appealing right?
The challenge is that it involves procrastinating with volition on things that may be important or urgent in favour of those things that are significant. The things that eat a bit of time today and give you time tomorrow. And more time next week. And even more time next month.
In business this might be the task you don't just power on through today. That you instead create a standard operating system for and teach someone else to do. It's going to take several times as long today and then you don't need to do it ever again.
In the body gain game, this might be the weekly shopping delivery. Those basics you need every week that you set up today. And then you don't need to do almost (!) ever again.
Onwards with,
Procrastination:
Here are the show notes for the original episode: Procrastination
The Healthification podcast is proudly bought to you by my online community for Vego's and Vegans who want to create a strong, healthy body and also help eradicate inhumane and unsustainable animal agriculture.
Learn more here:
If you liked this you'll also like: Getting Over Overwhelm.
If you're yet to share the Healthification love – just click here to zip over to iTunes and leave an honest rating and review. It'd help me out big time. With gratitude, Kate.