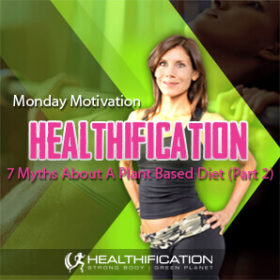 Podcast: Play in new window | Download
Subscribe: RSS
Last week I shared the first 3 of 7 Myths About A Plant Based Diet.
To recap:
Myth #1: You'll Get Sick …or Too Thin.
Myth #2: You'll Be Hungry.
Myth #3: You'll Miss Out On Vital Micronutrients.
I have the final 4 such myths to bust for you today.
Before we get rolling, I'm learning:
A) I need to get super articulate, 
B) In the same way that it's cool to comment freely (with judgement) on a little weight loss it also seems totally normal to scrutinize what might possibly be lacking in a vego / vegan meal plan even though you don't dish out any such level of scrutiny to a 'Normal' (huge inverted comma's) meat eating meal plan.
It's all good. The more objections there are to address – and this I'm sure applies to any new approach to nutrition or for that matter exercise – the more objections equals the more opportunities to dig deep and really uncover the best solutions.
Rather than just blindly power on into a new approach fuelled by emotion alone.
Which, I'll admit was my approach as a 16 year old when I became vegetarian. I put exactly zero thought into what I was giving my body so far as macro and micronutrients. It was just about not eating animals. 
Now, I'm, ready and willing to counter any objections with copious awesome alternatives.
Onwards with…
Myths About A Plant Based Diet #4: You'll Miss Out On Vital Macronutrients.
So far as macronutrients (so that's Carbs, Proteins and Fats), Protein is of course the one that is heralded as hard to meet adequate requirements of on a Vego or Vegan diet.
In a food based convo it's the first question I get asked: "But where do you get your protein?"
A few years ago I wouldn't have known where to turn for plant based protein. I'd ditched soy (after learning about it's unwelcome ability to mimic the effect of estrogen in your body and lead to extra fat storage in oestrogen sensitive areas – like your hips and thighs!)and was very reliant on Whey protein, cottage cheese and eggs. 
I still believed the myth that 'complete' proteins can only be found in animal products.
Amusingly, today eating 100% plant based I easily consume 90 grams of protein each and every day… which is more than the vast majority of my meat eating girlfriends.
Here's how my current day of plant based protein looks:
4-5 scoops of Raw Vegan Organic Protein powder. (Mine is brown rice based however hemp based is also a great option).
50-100 grams of roasted, unsalted Cashews.
2Tablespoons of Hemp seeds. 
1 Tablespoon of Tahini.And then the more recent additions to my shopping basket…
2Tablespoons of Chia seeds. 
1 Tablespoon of Pumpkin seeds. 
1 Teaspoon of Spirulina.
1 Teaspoon of Dulse Flakes.
You'll see that I've naturally got my good fats pretty covered with that list of proteins. I also enjoy: an assortment of oils like: coconut / olive / macadamia / avocado oil and also plenty of fresh avocado.
Carbs are not the macronutrient that any of us need to up the anti on including! My easy carb recommendation is to focus primarily on one ingredient foods and especially to get generous with a huge variety of fibrous veg.
So less bread and cereal – more brussels and cauli!
Myths About A #PlantBased Diet #4: You'll Miss Out On Vital Macronutrients.
Click To Tweet
Myths About A Plant Based Diet #5: It's really Hard. …and Inconvenient.
As I mentioned last week, this was perhaps the myth that I fell for most.
It absolutely turned out to be a happy mistake. In fact, I've gotten into the habit of making a big batch of curry once or twice a week so if anything, it's actually a little more convenient.
I'll link to the post with my vegan curry recipe in it in the show notes for today. It varies each time however the constant is starting with a nice smokey eggplant that I've rubbed in oil and grilled for 30 minutes before scooping out the flesh and discarding the skin and finishing with a tablespoon each of hemp + pumpkin seeds + 1 teaspoon of dulse flakes and 1/2 teaspoon of Spirulina.
But what about eating out you may ask?
Like any approach to eating if you look for the negatives… you'll find them! Equally (and more enjoyably) if you instead direct your focus towards what you'd like to see you're going to find it a lot easier.
You'll notice that funky new Vegan place that's just opened up. You'll see the potential in the roast veg salad at your local that doesn't need the cheese and perhaps could easily be served with a couple of extra sides. You might even find that carrying a little protein pack to pimp your meal out – a tablespoon each of hemp and pumpkin seeds – really isn't all that hard or inconvenient… in the overall scheme of things.
Beyond that, do you know what's really, brutally hard?
Watching YouTube videos detailing the cruelty that is animal agriculture. For years I kept myself ignorant so far as questions like: What happens to the little boy chicks who can't laid even free range organic eggs?
Perhaps they're just cruising round those lovely green pastures hangin with the ladies?
And what about the male calves that are born to dairy cows who need to be impregnated to keep them producing milk?
I chose not to think it through. I certainly wouldn't have jumped to the: separated from mum within 24 hours and slaughtered within 5 days answer that I now know to be true.
Myths About A Plant Based Diet #6: It's really Boring / Bland / Joyless!
On Saturday night I went out for dinner with a couple of girlfriends. It was the most delicious and satisfying meal I've had out in a long time. The type of meal you could happily demolish night after delicious night.
And Yes, it was a 100% Plant Based meal.
My non-Vego girlfriends loved their meals too. We shared: Caramelized organic tempeh, shiitake mushrooms & kale dumplings with chilli and miso spicy sauce to start. I then powered onwards with an amazing Veggie burger with a quinoa, brown rice, sundried tomato, & olive patty. It also had delish Vegan coleslaw & mind-blowing kumera chips plus I asked for 2 portobello caps instead of the burger bun which they were happy to supple.
Sounds good right?
The thing is any new approach to eating is going to be boring, bland and joyless if you just take your old approach and minus the bits you're now not eating. It takes a little more effort than that. However not too much effort. Please trust me when I say I'm a lazy cook and an emotional eater!
I need to LOVE my food and I need to not be stuck in the kitchen for hours.
The easy approach I recommend is to just overhaul ONE meal at a time. Breakfast is probably your easiest option.
Start by thinking of a vego Protein, a vego Fibrous Veg and a vego Good Fat you love.
I really am a fan of the food love – it's not just about great fuel – it's got to taste great too.
So perhaps you start with: Vegan chocolate protein powder, Baby spinach and almond butter? Maybe that works as is (with water!) or maybe you need / want to add any combo of kale / cucumber / spirulina / chia seeds / almond milk / apple / berries… or whatever takes your fancy.
My toughest Plant Based overhaul was dinner. I used to love my huge free range organic egg omelettes jam packed with as much veg as they could fit and a heap of tasty herbs and spices.
And then I asked myself: what do I love most? I love that it's great fuel for my body and HUGE + satisfying and that it tastes great. On analysis the eggs were so outnumbered by veg in my omelettes I could barely even taste them.
So I went back to chopping drawing board (!) and designed my vegan curry starting with (as I just recommended to you) first a vego Protein. Next a vego Fibrous Veg. Finally a vego Good Fat I love. The result?
Zero Boring. Zero Bland. And a whole lot of Joy!
Myths About A Plant Based Diet #7: Your Performance Will Suffer.
It's just not true. There are countless examples, perhaps the most prominent so far as plant based athletes is Rich Roll who Mens Fitness Magazine named as one of the fitness men in the world. Check out any form of sport, and you will find strong, healthy plant based athletes – men and women – performing at an elite level.
At this point I'd like to again shout out to Rich's article on: 10 Reasons To Consider A Plant Based Diet – For Yourself and The Planet and also quote him regarding his assertion that eating plant based actually boosts athletic performance.
"I truly believe that eating plant-based is a secret weapon for maximizing athletic performance, primarily because it optimizes immune system functionality and significantly expedites physiological recovery from exercise induced stress."
Of course every body is different and you need to see what works for your body. However, do you remember when athletic performance was all about the carbs? Primarily refined carbs like bread, cereal and pasta.
And then came Paleo, and so many other lower carb and no processed approaches to eating and there are certainly some pretty formidable athletes fuelling their bodies the Paleo way. Not to give Paleo a virtual high five. I'm certainly not a fan.
However my point is it's always going to be about the quality of the fuel you consume. 
You could eat Vegetarian and even Vegan yet not primarily one ingredient plant based and choose to fuel your poor body on a diet of processed breads, cereals and sweets. In the same way that you could eat Paleo focused primarily around cage eggs and factory farmed chickens and pigs and I genuinely believe that's going to be almost as detrimental for your body medium term as it is for those animals short term.
To get actionable today: I'd love to hear from you. If you're considering a plant based diet – or even more of a plant based approach – because as I shared with one of my dear podcast listeners yesterday: I really do believe everything counts. For your body. For the animals. And for the planet. Zero judgement on what works for you and everything counts… anyway back to the time of the actionable (!) is there a micronutrient you're concerned you may miss out on if you choose to eat more plant based?
I'd love to know. In fact I'd love to devote a whole show to it. You can let me know via the comments below.
If you liked this you'll also like: Deliberately Addictive Craving Causing Food: 3 Myths.
If you're yet to share the Healthification love – just click here to zip over to iTunes and leave an honest rating and review. It'd help me out big time. With gratitude, Kate.