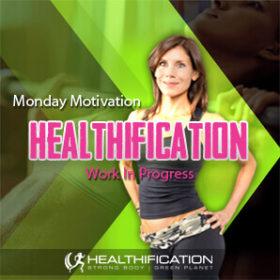 Podcast: Play in new window | Download
Subscribe: RSS
Todays show was inspired by a dear podcast listener.
Big shout out to, Amanda. Thank you. Your insight shared in this instance, in relation to the labelling we slap on ourselves with regard to how we eat, got me thinking…
In todays show I'm chatting a:
Work In Progress.
I often consider the notion of tipping point versus cold turkey.
Is any big change the result of multitudes of little changes? Seemingly insignificant decisions and actions that build on each other to eventually reach that tipping point of no return?
As Malcolm Gladwell, defines a tipping point in his book of the same name: "the moment of critical mass, the threshold, the boiling point".
Or, is it more a matter of if something is important enough there will be one big click into place moment where everything changes? "I'm getting closer" a client told me on the weekend.
To that point where making the best food choices just happens naturally and easily. To where she feeds herself the same quality of food she feeds her little girl.
With a little hint of frustration I thought: So what do we need to do to push you over the edge then hon? For everything you know to click into place? And then I checked myself.
At any time each of us is merely doing the very best we can with the information we have available. 
As I young child I used to like going to the Zoo. I loved animals and wanted to see them and although the concrete cages and metal bars seemed wrong I didn't yet have the info to articulate why it was wrong.
I even ate breakfast with the Orang-utans at Singapore Zoo.
Let's check out a Work In Progress as it relates to food.
Work In Progress, acknowledges that you're committed to continual improvement.
That you may not have it right yet and that's ok. You're progressing rather than doing nothing waiting for that perfect time to launch into the perfect approach.
It removes the guilt for a slight slip up. The standard you're striving for is not some unattainable impossibility – so a slip up – does not signal it's time to give up for good. It simply signals you're human.
You're susceptible to a couple of extra vino's, 3 days worth of roasted cashews in a sitting or perhaps demolishing a loaf of freshly baked sour dough olive bread without thinking.
And actually, the slip ups that happen when you're taking action are often the best feedback on what you need to look out for – to plan against – in the future.
I'm learning that in whatever area I'm looking to improve the skill is in finding that fine line to walk between hugely focused on what I want and supremely disciplined in my actions to achieve it AND ALSO a very genuine appreciation and mindfulness for where I am right now and what I've already achieved.
I often say "If I had to start again…" (and this is so far as achieving my body gain goal) I'd:
Eat less Carbs and do less Cardio.
and also,
Eat a greater variety of Veggies and more Good Fats. 
However, in hindsight for each of us there's likely only so many things you can be working on at once.
At 16 becoming vegetarian and also evicting the vast majority of refined carbs and sugar from my life might have been too much! Guzzling huge bags of pick and mix lollies with my girlfriends was common practice at 16… I always avoided the fatty, pimple causing chocolate though…
At 21 getting to the gym 6 days and also including green veg and good fat at each meal might have seemed hateful. Limiting. Even counter intuitive. I still saw fat as the enemy at 21… and was not yet convinced that a bite of chocolate might not cause me to break out!
At 31 I'd cut the cardio big time however was now seriously hooked on Soy, Whey Protein, Diet Coke, Low Carb Chocolate Protein Bars (!) and any number of other foods I choose not to consume today.
To get actionable today. Here are 3 ways to make a Work In Progress work for you:
One: Acknowledge The Progress.
I recommend doing this daily. It only takes a couple of minutes to jot down what you've done well today. The progress that otherwise it's so easy to gloss over in favour of piling more on your ever growing to-do list.
I'm also a fan of a running monthly tally of progress. For me, this looks like a separate sheet of paper that I add to as applicable and display front and centre in my work space.
Two: Seek Out Mentors Just A Little Ahead Of You.
As inspiring as they might initially appear, the person who appears as a magnificent masterpiece might morph into an image of intimidating unattainability.
Search for the mentor who is where you want to be, yet also appears to have the skills, the lifestyle, even the values that you can relate to. Or more-so, the mentor that seemed to have similar building blocks to work with when they were at the earlier stage of their journey that you're currently at.
Three: Have A Strategy To Get Back On Track When You Slip Up.
To slip up is human. The key is how quickly you drag yourself back to taking the best action again.
Do you wallow in comfort food and Netflix marathons? Or do you forgive yourself immediately and get back on track with that very next meal or workout?
A non negotiable training plan helps. As does ensuring home and work remain trigger food free zones. It could even be as simple as checking out that running monthly tally of progress you started in step one and with that bit of pass-progress-proof onboard also ask yourself: "What would (insert your mentor from step two) do in this situation?"
If you liked a Work In Progress you'll also like: Eat Better Not Less: Why you can't continue with the band-aide fix.
If you're yet to share the Healthification love – just click here to zip over to iTunes and leave an honest rating and review. It'd help me out big time. With gratitude, Kate.