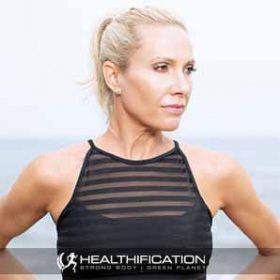 Podcast: Play in new window | Download
Subscribe: RSS
When pro cyclist Dotsie Bausch went plant based in 2009, it was an ethical decision made after watching a late night undercover investigation that revealed the horrific cruelty animals enslaved in our food system suffer. Dotsie wanted to help animals, not to improve her athletic performance. In fact she was nervous this new way of eating might be detrimental to her performance. Her coaches were nervous too.
Exactly the opposite happened. Powered by her plant based diet Dotsie won a silver medal at the 2012 London Olympics. She rode onto the Olympic podium at almost 40 as the oldest athlete in history in her cycling discipline and is now an outspoken advocate for the power of a plant based lifestyle.
Although Dotsie is a seven-time USA Cycling National Champion, a two-time Pan American Champion, and Yes an Olympic silver medalist it's not her immense athletic achievements that most impress and inspire me.
It's the adversity she overcame and the relentless focus and passion she now brings to animal rights advocacy, to her non-profit Switch4Good and to mentor other individuals struggling with eating disorders as she once did that really blows my mind.
In this chat we'll cover how Dotsie conquered the habits and addictions that nearly took her life. We'll discuss her "late start" with cycling at 26 towards the end of her healing journey from anorexia. And absolutely we'll dig in with Dotsie's athlete driven anti-Dairy non-profit Switch4Good and her role as one of the stars in the amazing film: The Game Changers. 
Let's discuss: True Strength and Being A Plant Powered Athlete with the amazing Dotsie Bausch.
In this chat we cover:
Dotsie shares how she first made the connection that she no longer could contribute to the suffering involved in eating animals. 
The adversities Dotsie has overcome and the learnings that she utilises to such great effect as an athlete, speaker and non for profit founder. 
The importance of being fit, strong, healthy and happy as a powerful form of advocacy for a vegan lifestyle.
Busting nutrition myths about competing at the highest level as a strong, healthy vegan.
What Dotsie would say to the individual who thinks there's a danger for a plant based lifestyle to be problematic, restrictive or triggering for someone who has battled with disordered eating?
The Switch4Good movement. What are Dotsie's top tips for ditching dairy?
What a truely lovely human! It blows my mind how much Dotsie has happening and I'm so very grateful she made time to share a little of her story with us.
Dotsie is exactly the type of woman I want leading the way and proving to the everyday consumer confronted with misleading marketing messages
just how unnecessary animal products are to compete at an elite level. If they're unnecessary for Olympic athletes they are absolute unnecessary for the non-athlete such as myself!
Hell, let's ditch "unnecessary" and go with harmful. I love Dotsie's advice regarding ditching dairy, to just give it a go and see how your body responds. Our bodies are amazingly responsive when we listen to them. The food that is good for us – whole plant foods – tend to make us feel awesome. The food that is bad for us tends to make us feel rubbish. And yet, there is soooo much resistance to even try.
I think about this A LOT. I think a part of the resistance to "try" might well be that the individual still consuming meat, dairy and eggs "knows" they are going to feel better without those products of cruelty. Both physically and emotionally. In the same way that the individual who has not yet watched a documentary like Dominion exposing standard practice in animal agriculture today "knows" once they see they can't un-see and there's a super-decent-chance they'll need to change their daily habits accordingly.
If this conversation has sparked a curiosity in you to further explore the negative impact dairy is surely having on your health please check out https://switch4good.org. Also Dotsie's podcast: The Switch4Good podcast with co-host Alexandra Paul.
I'm going to link to all these resources plus Dotsie's home site, her social pages, her fab chat on the Rich Roll Podcast: 355 and her TED Talk: Olympic Level Compassion in the show notes for today.
Connect with Dotsie via: Instagram and Twitter.
My diet was the most powerful aspect to me being able to perform and produce for the US team at the Olympic Games. Dotsie Bausch @Switch4GoodOrg #veganathlete
Click To Tweet
That's it for this week in Healthification. Huge thanks to YOU for sharing this week with me. You rock and I appreciate your support!
The Healthification podcast is proudly bought to you by my FREE 'Easy Vegan' plan. It took me 25 years to transition from a meat eater to a happy, healthy Vegan! You can do it in just 3 days with my simplified 'easy vegan' plan!  Get the fit, strong, and healthy plant based body you deserve… while avoiding ALL the mistakes I made along the way!
To learn more check out: strongbodygreenplanet.com
Till next time, remember Creating a body and life you love is Freedom. (If this ex-carb queen, non genetically gifted, naturally uncoordinated vegan chick can do it – so can YOU!!!)
If you liked "Dotsie Bausch | True Strength and Being A Plant Powered Athlete" you'll also like 7 Myths About A Plant Based Diet (Part 2)