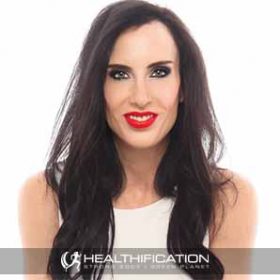 Podcast: Play in new window | Download
Subscribe: RSS
Dr. Tracy Thomas is a psychologist, best-selling author, and Ted Speaker, who helps people build the Emotional Strength they need to succeed in living life to the fullest, breaking damaging and addictive behaviours, and reaching their highest potential.
I've invited Tracy on the show to share her expertise relating to emotional strength as this is perhaps the most important (and most surprising) thing many people deal with when adopting a vegan / plant based lifestyle. Nourishing, delicious food is easy. The emotional strength to handle our relationships with loved ones, media, social media – less easy! Of course a little help with breaking addictive behaviours and living life to the fullest wouldn't go astray either!
For a little official bio: Dr. T is the founder of TheDrTSolution.com, the world's first Emotional Strength Training Center. Her company, DrTracyInc.com is an emotional training company, that offers comprehensive virtual programs for people looking to up-level their life.
Her book "The Method, The Practical Path to Living Your Purpose and Potential" has become a Best Seller in the area of personal transformation.
I'm excited to dig in with The Method as while prepping for this chat so much of what Dr T says resonates with me. Quick note up front – if this sounds the least airy fairy it's 100% NOT! We even talk a little physics – which is not nearly as scary or complicated as I would have imagined!
In this chat we cover:
Dr T's personal journey to her life's purpose and work and how her dad was both her hero and also the most emotionally sensitive person she's ever encountered. 
The turning point where Dr T took the steps to turn her passion into her mission.
We discuss emotionally sensitive people and how because they feel with such intensity, their emotions often rule their lives.
Some of the symptoms of emotional sensitivity. Turn to alcohol, drugs, food, shopping, gambling or more to stop feeling pain, anxiety and/or depression. Reacting to situations without control. Suppressing feelings.
Some of the issues people might struggle with if they don't yet have enough emotional strength.
Dr T created the Emotional Strength Training Center. What is emotional strength training? How does that differ from therapy and coaching?
Dr T's book is called, "The Method, The Practical Path to Living Your Purpose and Potential," we discuss what The Method is.
Dr T shares an Emotional Strength technique that you can implement into your life, beginning today.
Friends I'm back on my own and how do I describe this… first, I hope you found that chat as worthwhile as I did. I feel like Dr T has pulled together a few of the concepts that I've had a general awareness of and made them more implementable. As I mentioned I need to do a little marinating for it all to come together even more and I imagine a little bit more of a deep dive in The Method and Dr T's work.
If you feel the same then again, you can connect with Dr T via http://drtracyinc.com/.
Connect with Dr T via: Facebook | Instagram | Twitter | LinkedIn.
Take the test (50 quick multi-choice questions) to learn how emotionally sensitive you are:
I must share, I was a little hesitant prior to this interview in that Dr T mentions nothing about the vegan ethic or plant based living in her online content. Obviously I decided the potential value in the conversation out-weighed the potential conflict / lack of alignment and do you know what?
When we finished the official chat Tracy shared with me how important spreading the plant based message is to her. Awesome.
I think managing emotional sensitivity and building emotional strength is so hugely vital to my vegan friends and especially to animal rights activists. As activists we expose ourselves to content, situations and conversations that can be so emotionally exhausting.
I finished last year physically strong yet emotionally just done. I won't say, burnt out however WOW I learnt that I need to moderate both the amount of horrific content I expose myself to and challenging conversations I have and also (as re-enforced by this valuable conversation) the need to even better manage my emotions. I really can choose to let a situation or a conversation escalate, both so far as the interaction with another person and also so far as the emotions I let my self feel. This is something within your power to better control too.
I absolutely do not mean blocking your emotions. I've been brilliant at that to my detriment in the past too! There's no value in an outta-control, reactive spiral though right? And you know when you spiral. In the same way that you can let one cookie turn into a packet… you can also go on that YouTube spiral of horrific animal abuse that leads you down a hopeless, helpless, defeat'est  "humans are evil" "the world is doomed" "why even try?" track.
I loved the insight Dr T shared to ask in any situation: What is my intended outcome? That's something I began asking myself last year when I realised that feeling angry and frustrated was not healthy or effective and it certainly wasn't fun. I started focusing on my intended outcome: Helping to create a fit, strong, happy, healthy, compassionate Vegan World.
If you feel like you're prone to emotional sensitivity then I urge you to start doing the work to turn this characteristic into the potential super power it can be rather than let it drag you down and tire you out.
As I think about it, I'd hate to naturally be so damn chill that I don't feel intense pain when I observe the huge suffering we humans are inflicting on the animals, the planet and indeed our own health.
I don't want to be complacent, apathetic, blissfully ignorant or just selfish. I do want to manage my emotions to long term, sustainably be a part of the solution and I imagine you do too.
That's it for this week in Healthification. Huge thanks to YOU for sharing this week with me. If you've enjoyed this show and gotten value out of it I'd super appreciate it if you pop over to iTunes or wherever you listen to the show and leave me a review. It really counts in helping this little show achieve some visibility in the HUGE world of 800,000+ podcasts and it really counts in making my week! Thank you>
The Healthification podcast is proudly bought to you by my FREE 'Easy Vegan' plan. It took me 25 years to transition from a meat eater to a happy, healthy Vegan! You can do it in just 3 days with my simplified 'easy vegan' plan!  Get the fit, strong, and healthy plant based body you deserve… while avoiding ALL the mistakes I made along the way!
To learn more check out: strongbodygreenplanet.com
Till next time, remember Creating a body and life you love is Freedom. (If this ex-carb queen, non genetically gifted, naturally uncoordinated vegan chick can do it – so can YOU!!!)