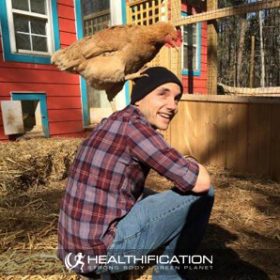 Podcast: Play in new window | Download
Subscribe: RSS
In todays show I'm excited to share my interview with Keith Burgeson from PETA's Vegan Mentor Program.
As you'll soon hear, Keith is a total sweetie who absolutely does the PETA Vegan Mentor Program proud with his open-heartedness, passion and compassion. 
Here's Keith's offical bio…
"A native of southern New Jersey, Keith Burgeson holds a bachelor's degree in advertising from Rowan University and a certificate in plant-based nutrition from Cornell. After college, he traveled across the United States for more than four years as an AmeriCorps volunteer, serving as an environmental educator, tackling food insecurity, and developing volunteer-enrichment programs. Before coming to PETA in 2014, he worked as an animal caregiver for a farmed-animal sanctuary in southern California. An ethical vegan since 2009, Burgeson is a testament to the performance benefits of vegan eating: As a competitive long-distance runner, he consistently places in the top three percent of finishers for most of the races he participates in."
I'd add that if I were a new vegan feeling a little isolated, overwhelmed or confused by everything involved in creating a healthy vegan lifestyle, Keith has exactly the perspective and attitude that is both welcoming and inclusive that I would love to encounter. Equally as an established vegan there's plenty in the way Keith conducts himself that some existing vegans (myself included) could take inspiration from too.
Listen to the Interview with Keith Burgeson from PETA's Vegan Mentor Program here:
In this interview we cover:
The particular catalyst or moment when Keith knew he needed to be Vegan.
What Keith would tell his 16 year old self now? 
Keith's morning routine/ritual.
(it start's with Avo!)
All about PETA's awesome Vegan Mentor Program.
The belief or habit Keith has changed in the last 5 years that's had the most positive impact on his life.
Someone Keith is yet to meet who inspires him from a distance.
Who is at the top of Keith's Vegan wish list and why?
Something often mis-understood about you personally, vegans in general or PETA specifically that Keith would like to shine a light on.
I was especially stuck by Keith's attitude towards his relationship with his dad who hunts. My dad had a meat selling business for a number of years and I struggle with his willingness to perpetuate the cycle of cruelty both in his food choices AND in his business choices. Keith's advice to focus on everything we have in common rather than the few things we don't agree on is applicable to so many personal relationships and indeed aspects of life.
If you're a new vegan and would like some one on one support from your own vegan coach while making the transition to this amazing yet potentially daunting lifestyle OR if you love the idea of sharing your expertise and experiences as one of PETA's Vegan Mentors then please check out: www.peta.org/veganmentor.
Again you can listen to the Interview with Keith Burgeson from PETA's Vegan Mentor Program here:
That's it for this week in Healthification. Huge thanks to YOU for sharing this week (and my first Healthification interview!) with me. You rock and I appreciate your support!
Till next time, remember Creating a body and life you love is Freedom. (If this ex-carb queen, NON-genetically gifted, naturally uncoordinated VEGAN-chick can do it – so can YOU!!!)
If you liked 'Interview with Keith Burgeson from PETA's Vegan Mentor Program' you'll also like: Month In Review plus: Do you need to train harder?
If you're yet to share the Healthification love – just click here to zip over to iTunes and leave an honest rating and review. It'd help me out big time. With gratitude, Kate.