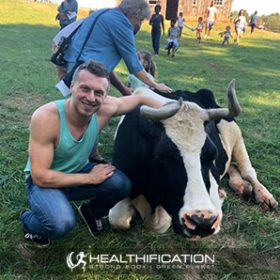 Podcast: Play in new window | Download
Subscribe: RSS
My guest today is a social media expert in the animal rights community, first running the social media for Vegan Outreach and most recently for The Humane League.
John Oberg believes we should: "Look at everything we post on social media as an opportunity to either help animals or hurt animals. It's about winning hearts and minds not arguments and debates."
In December 2018, John quit his job to focus on full-time social media activism. I'm glad he did as he share's the advice I really needed to hear!
If you're pretty good at winning debates and one by one smashing down the arguments and excuses non-vegans direct your way yet slowly realizing your current approach isn't always the most effective or the most enjoyable (you know I'm speaking to myself here right?!) then today's show is for you!
My conversation with John focuses on creating change by meeting people where they are rather than where we want them to be.
Let's Effectively Harness The Power Of Social Media To Make The World A Kinder Place For Animals with John Oberg:
In this interview we cover:
Making the world a kinder place for animals by utilizing the power of social media.What John has learnt that will benefit other activists around the world so far as getting the best possible engagement / outcomes and the best possible social media / media coverage.
Media "spin" on animals rights actions and activists.
John's personal approach when chatting to people about animal rights and veganism.
Masculinity and veganism. What would John say to the young man who is concerned with how his masculinity will be judged?
And so much more!
A little bit of personal accountability here. I'm genuinely going to implement John's advice. If you follow me on social expect to see even more positivity. My Facebook business page is generally way I share most of my longer form more actionable posts (stuff related to the most effective health mindset and the most delicious plant based food) however my personal Facebook page has for a while been the place where I let rip with sharing doom and gloom on mass in frustration at the overwhelming extent of animal exploitation globally.
Connect with me online via:
Twitter | Facebook | Instagram
To recap, here are few of my top takeaways from John:
Don't get caught in the vegan bubble. Post with the non-vegan in mind. Consider what content the non-vegan might share.
Your impact is not just impacting the person you're directly communicating with. Most people on social just lurk – however they're there and they're listening! Be the person they want to listen to. Don't be a jerk! 
Don't be all doom and gloom. It's ok to laugh and feel joy.
Show you have outside interests. This makes us relatable.
Actually, those outside interests are of course to your benefit more than anything. I'm finding time to chill, recharge and experience new things is the only way ensure I'm in the fight long term efficiently and effectively to make the world a kinder place for animals. 
Connect with John online via:
Twitter | Facebook | Instagram
Support John's independent project for animals through Patreon.
Read John's awesome Plant Based News series starting here:
That's it for this week in Healthification. Huge thanks to YOU for sharing this week with me. You rock and I appreciate your support!
The Healthification podcast is proudly bought to you by my FREE 'Easy Vegan' plan. It took me 25 years to transition from a meat eater to a happy, healthy Vegan! You can do it in just 3 days with  my simplified 'easy vegan' plan!  Get the fit, strong, and healthy plant based body you deserve… while avoiding ALL the mistakes I made along the way!
Till next time, remember Creating a body and life you love is Freedom. (If this ex-carb queen, non genetically gifted, naturally uncoordinated vegan chick can do it – so can YOU!!!)
If you liked "John Oberg and Effectively Harnessing The Power Of Social Media To Make The World A Kinder Place For Animals" you'll also like: Effective animal rights direct actions and advocacy with Isy Veira.
If you're yet to share the Healthification love – just click here to zip over to iTunes and leave an honest rating and review. It'd help me out big time. With gratitude, Kate.