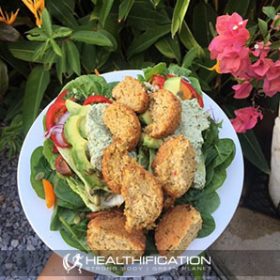 Podcast: Play in new window | Download
Subscribe: RSS
Todays show is inspired by huge, delicious, abundant meals to share with your non-vegan friends and family.
It's more 'attractavism' than pure activism… for the vegan or plant based eater who wants to ensure food shared with loved ones is a time for joy and harmony rather than heated debate and conflict. 
In addition to much deliciousness in the form of
Build Your Own Meals To Share With Non-Vegans 
this is also a month in review show. So I'll chat a little food, exercise, inspiration, what's been rockin this past month and what's been a tad more struggle street. Above all, my intention is to make this content applicable to YOU and creating and keeping a fit, healthy plant strong body.
Back to FOOD and one of my fav ways to eat, it's the serve your own spread!
As I fussy eater with a huge appetite I really do LOVE to be in control of what (and how much!) goes on my plate. When I look at the plates my family members compile for themselves on special occasions I'd never want to swap. It's not only the matter of my plate being an animal product free zone. Beyond that there are so many variables.
My dear Aunty has a tiny portion with close to zero greens which get moved around the plate and then abandoned.
My dad and my cousins hubby go super meat and sauce heavy.
Joyously mum's now on team #plantbased with me however her serve will still look different.
I imagine it's the same in your family and with your friends? Food is such a personal choice. And yet, I've found each of us can still build our ideal meal from a plant based serve your own spread. I've designed these suggestions with the knowledge that someone might use each as a base and add animal products to it. That'll happen at my next family gathering over the Easter long weekend however it's not necessary (or normal or natural) so I won't go into flesh and excretion details.
Here are my top 5 Build Your Own Meals To Share With Non-Vegans suggestions:
For each I'll share both the easy and the more fancy (!) approach.
One: Falafel Platter.
Easy option, grab some market or store bought falafel and assorted dips. I love hummus, tabouli and baba-ganoush. Plus wraps, plenty of avocado, optionally some hemp seeds and of course ALL the veg. I have cos leaves for those of us that don't want to waste our bread quota on wraps plus red onion, capsicum, tomato and baby spinach leaves.
The more fancy option?
Make your own falafel. I won't lie, I always just buy mine as I have AMAZING options both at home in Sydney from Nalini's in Bondi Junction or from the Noosa farmers marker when I visit my family.
Aquire or make some coconut yoghurt based tzatziki. The minimalist baker has a 6 ingredient vegan tzatziki.
Make your own cauli-kale-protein-pimped tabouli from my Free 3 Day Easy Vegan Plan.
Go wild and char grill or BBQ some red capsicum and eggplant slices.
Two: Burger Board.
Easy option, grab some market or store bought burgers (I like black bean and beetroot) plus assorted sauces. I love dairy free pesto and sun-dried tomato cashew cheese. Both also in my 3 Day Easy Vegan Plan or you can easily buy vegan versions. Make sure you have some tomato / chutney sauce for those family / friends into that stuff. Veganaise is also a crowd favourite. You'll need burger buns and I have BBQ'd or grilled portobello caps for those of us that don't want to waste our bread quota on buns plus red onion, avocado, tomato and mixed green leaves.
The more fancy option?
Mum makes fresh burger buns. That's certainly a WOW factor of deliciousness – though well beyond my personal skill / effort level.
Your vegan burger options are limitless however Avant-garde vegan shares 3 Incredible Vegan Burger Recipes (from the same base recipe) on his YouTube channel. Just to get your mouth watering they are: Sweet potato & piri peri burger, BBQ black bean burger & Dwight's beet burger (all gluten free and high protein).
Caramelised onion makes everything better!
Vegan bacon is pretty simple to make: I've tried coconut, however you can also use tofu, tempeh, eggplant and shiitake as a base. The coconut bacon recipe I used from onegreenplanet.org really gives your coconut flakes a heap of taste using liquid smoke, liquid aminos, maple syrup and smoked paprika.
Plenty of char grill or BBQ'd veg slices go great in burgers like: eggplant, capsicum and zucchini. BBQ'd corn is an awesome side.
Home made potato or sweet potato wedge / chips are tough to beat especially when baked with plenty of fresh herbs.
Three: Sushi Bowl.
Easy option, grab some market or store bought marinated tofu. Plus frozen edamame (it bakes or microwaves super fast and easy). Make rice or even better cauli-rice with salt and nutritional yeast. Stir-fry some veg on mass with sesame oil, garlic and tamari like: bok choy, mushroom, asparagus and peels of zucchini (ok this might be a little less traditional however I'm a fan of plenty of veg!). Add plenty of avocado, sliced cucumber and mango plus raw grated carrot and beetroot. Buy Sriracha, wasabi, toasted sesame seeds, pickled ginger, dried fried onions and dulse flakes and / or nori sheets / flakes.
The more fancy option?
Bake / flavour your own firm tofu. Even I bother with this step as it's really easy and you can bake it to your desired crispiness. I just slice firm tofu into squares and then shake it in a bag with whatever flavourings I have on hand (like: nutritional yeast, tamari, chilli and paprika) before dumping onto a baking paper lined tray and baking at around 200 degrees C for around 20-30 minutes.
Baked sweet potato goes super well with sushi ingredients.
Hot For Food vegan caviar: Now this is fancy right? I interviewed Lauren Toyota from Hot For Food in show E586: Vegan Comfort Food Classics with Lauren Toyota. Lauren is an absolute sweet heart and her food is amazing – though disclaimer, I've so far been too lazy to make her caviar (based around dulse and black quinoa), yet!
Use King Oyster mushrooms – here's a link to a recipe from olivesfordinner.com with an awesome looking vegan mayo and sriracha sauce. In fact most of the ideas I found via a post on chooseveg.com called 9 Vegan Sushi Recipes So Good You Can Finally Give Up Seafood look so fab.
As a side note: I'm more a fan of the sushi bowl, as it's quick, easy AND more amenable to the serve your own spread approach. It lets those of us who are fussy eaters fill up on less boring rice and more #plantstrong protein (for example!).
Four: Antipasto Wraps / Platter.
Easy option, you can basically buy everything you need ready to go for a gorgeous abundant plant based platter. From dips like: hummus, beetroot, spinach and artichoke or any number or bean or lentil based deliciousness. To marinated veg like: artichokes, sun-dried tomatoes, capsicum and olives. My word of warning though: it'll likely get rich, oily, salty and expensive fast! I'd prioritize a couple of dips and couple of store bought marinated veg that you know are great quality and then add a heap of freshness. Perhaps: with home grilled baby carrots, baby onions, capsicum, asparagus and zucchini glazed simply with balsamic and maple syrup. Plus crackers and / or wraps, vine-ripened cherrie tomatoes, sugar snaps and / or snow peas, melon slices and seedless grapes.
The more fancy option?
Buy or make vegan cheese. As mentioned in the 'burger board' build your own meal, I share my Go2 sun-dried tomato cashew cheese in my Free 3 Day Easy Vegan Plan. To up your cooking game (a heap) I recommend Julie Piatt's book: This Cheese Is Nuts. Alternatively the vegan cheese you can now purchase at your local supermarket can be amazing.
To win the day, try some cauliflower buffalo wings. Again, a shout out to Hot For Food here for the most delicious trio of recipes that I'll be making for my non-vegan family later this month.
Finally how about trying team Wicked Healthy's miso glazed eggplant with spicy chickpeas and ninja nuts! Those ninja nuts are pretty wicked made from Mango Sriracha Caramel (which has mango juice, a heap of cane sugar and sriracha) plus almonds and sea salt though the eggplant recipe looks so good I think it'd still be a winner with just roasted salted almonds.
Five: Curry Platter. 
Easy option, make one huge batch of curry – perhaps my smokey eggplant with all the other veg plus a can of four bean mix or any of the limitless plant based curries you can find online (I'll link to a few) and serve it with ALL the sides! My Go2 sides are hemp and pumpkin seeds + fresh coriander and zoodles tossed in sprirulina. When serving to my non-vegan friends and fam I'd make it a little less ultrar-outta-control-healthy and also have sides of rice, naan, papadums, assorted chutney and coconut yoghurt.
Thai green 'tofu-chicken' curry:
Thai yellow coconut curry with mango:
One pot coconut and tofu thai red curry:
The more fancy option?
Back to the Hot For Food blog (WOW, you'd think I had Lauren on the podcast or something right?!) however she shares an amazing vegan samosa recipe with mango chutney.
The Build Your Own Meals To Share With Non-Vegans options are limitless: Such as serve your own chilli bean and cashew cream nachos or tempeh mince and coconut yoghurt tacos, loaded baked potatoes and of course assemble your own #plantstrong pizza.
Let's move on to EXERCISE and specifically: the Language of Pressure verse the Language of Possibility. 
Earlier this week I was reminded by another trainers client of just how important our language surrounding a certain activity is. This lady was certainly making her session as hard on herself as possible. For example language of pressure sounds something like this:
"I have to…" and "I must…" in contrast to language of possibility such as: "I get to…" or "I want to…" or "I can…"
Let's take it for a spin. Imagine you: "Have to get up early to squeeze your exercise in before work" verse you: "Get to get up early and enjoy some pressure YOU time exercising before work that'll set you up for a positive and proactive day." There's a big difference right?
I know I might have taken it a little far! You might not yet see exercise as "precious you time" and you might not yet have noticed what an incredibly positive impact starting your day off with both exercise and with the knowledge that you've come through for you and kept your commitment to yourself can have. However both are true. If you struggle to keep a consistent exercising habit I strongly recommend you make the simple swap of any pressure filled "I have to…" language to the more empowering possibility filled "I get to…"
In case you're wondering, Yes it works for that habit that doesn't yet come easily. When I remind myself "I get to film a live video" it's a lot more attractive than "UGGGH, I have to film a live video!"
To make that activity even more doable let's throw back to show E592: Atomic Habits and Why True Behaviour Change Is Really Identity Change with James Clear and the 2 minute rule. So that exercising action you "Get to do"? If it's still feeling tough then start with just the first two minutes. Anyone can do 2 minutes. It's not yet about the results you'll get to see for that 2 minutes of effort it's much more about the votes you're casing for the person you want to be. The person that gets to exercise. Rather than the person that dreads and reasons yourself right out of exercise and right out of results.
My recommendation this month is, The Easy Vegan. I only recently discovered this gent who makes some fairly delicious meals via his YouTube channel.
However it's actually not the delicious and brilliantly edited short videos that I love – it's the fact that The Easy Vegan (Jules) is hilarious! I genuinely do not know why he hasn't blown up online yet! I strongly recommend you check out The Easy Vegan via YouTube even if you don't want to cook his recipes, just to be entertained. For a quick taste of his skills though, top of my to try list is a flaky vegan fish and chips that looks amazing. That might not sound too earth shattering however it's actually really creative. In his short YouTube bio Jules says: I like animals so I don't cook them or their bodily fluids. If that interests you, consider subscribing 🙂
Let's talk struggle-street and I think I'M my struggle-street this month. Though I guess so far as accepting full responsibility that could almost always be the case! Anyway, as usual my struggle-street revolves around interactions with non-vegans. For once though, it's not so much the fact that consistently I interact with people who seem either wilfully ignorant or proudly apathetic to our broken food system and the impact of animal agriculture on animals, our health and the planet… the real frustration right now is my personal lack of control in such interactions.
I'll bite my tongue A LOT and then I'll seemingly (yet not) out of the blue let fly with some brutal vegan #truthbomb. I know it's not the most effective approach. If I contain myself too much in face to face interactions then I find myself going on a sharing frenzy of horrific animal abuse online. Again, it's not the most effective approach.
So far as the face to face interactions I certainly need to listen to my interview with vegan psychologist Clare Mann back in show #538. So far as the most effective way to conduct myself online I'm really excited about this one. If you can relate to getting a little carried away online I have help for us both because later this week I'm interviewing social media expert John Oberg on Effectively Harnessing The Power Of Social Media To Make The World A Kinder Place For Animals. So that interview will go live just a few days after this one.
I've learnt a lot already just in prep for my chat with John so I look forward to sharing his expertise with you soon. For now, I'm reminding myself (to quote John) "Look at everything we post on social media as an opportunity to either help animals or hurt animals. It's about winning hearts and minds not arguments and debates."
Finally on the matter of who's inspiring me this month? It's the individuals involved in Alex Lockward's short film 73 Cows. 
I've been eagerly waiting the release of this BAFTA winning short film and now it's free to watch on Vimeo. To quote from the Vimeo page:
A beef farmer battles with his conscience every time he takes his cows to slaughter. He knows he must make a change. 73 Cows is a short documentary about the journey and personal conflict of Jay Wilde, the first farmer in the UK to embark upon transitioning from beef farming to entirely organic plant based farming.
I'd love to chat to film maker Alex Lockward on the podcast. Fingers crossed.
The thing that really struck me in both 73 Cows and also in The Last Pig which I covered in show E561 with Emmy award winning director Allison Argo is first how well the films shared the experience of the individual farmers, their immense internal battles, their brutal honesty and vulnerability.
As an unapologetic vegan animal rights activist who wants to see an end to all animal agriculture and impatiently envisions the world where farmers only farm crops… I felt such empathy and compassion for both cow farmer Jay and pig farmer Bob. 
The other thing that struck me was the stark contrast between Jay and Bob and the farmers who still see their animals as products, numbers, units to be exploited for profit. The surprising thing is that the conditions Bob's pigs and Jays cows lived in were among the best a farm animal could hope for. They were not imprisoned in factory farms never to see sun, feel fresh air or touch grass. And yet, Jay and Bob both came to realise that each of their animals were individuals who feel pain, suffer and do not want to die. Equally they came to understand each individual was also capable of joy if given the opportunity.
At a time when there is so much depressing information to flood your (my!) mind with I'm consciously looking to focus on a few more good news stories as inputs for my mind. In closing, to suggest a time of the actionable this week it's just that.
What is one current input you let into your mind that is overwhelming, depressing, anxiety inducing or just not working for you and what is the more positive, uplifting, amusing input you could swap to instead?
Perhaps a true crime podcast swaps to a comedy? Or even just some uplifting (daggy!) old 80's music?
Maybe a darker Netflix series (don't watch Delhi Crime – I can't stop thinking about it) swaps to a comedy special or some uplifting as much as it is sad like Ricky Gervais's Afterlife?
Possibly it means culling your social media feeds of those friends / pages that prompt you to feel rubbish and instead you source some of the pages and friends that focus on the wins.
That's it for today in Healthification.
If you've enjoyed this show and gotten value out of it would you consider sharing it with someone close to you? I've been doing some work to improve distribution / visibility of the show so it's now available across iTunes, Stitcher, Spotify and hopefully other platforms too. However a recommendation from you to someone who you think would find value in the show would truly be most awesome!
The Healthification podcast is proudly bought to you by my FREE 'Easy Vegan' plan. It took me 25 years to transition from a meat eater to a happy, healthy Vegan! You can do it in just 3 days with  my simplified 'easy vegan' plan!  Get the fit, strong, and healthy plant based body you deserve… while avoiding ALL the mistakes I made along the way!
Till next time, remember Creating a body and life you love is Freedom. (If this ex-carb queen, non genetically gifted, naturally uncoordinated vegan chick can do it – so can YOU!!!)
If you liked "Build Your Own Meals To Share With Non-Vegans PLUS Month In Review" you'll also like: Vegan Festive Season Food and Sanity Savers
If you're yet to share the Healthification love – just click here to zip over to iTunes and leave an honest rating and review. It'd help me out big time. With gratitude, Kate.