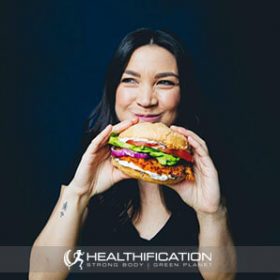 Podcast: Play in new window | Download
Subscribe: RSS
My guest today is all about making vegan food fast, fun and of course absolutely delicious!
Lauren Toyota is a former MuchMusic VJ and MTV Canada host and you can tell, this lady is polished! Her popular Youtube channel and blog, Hot For Food, attracts a wide and engaged audience… in fact the Hot For Food YouTube channel is fast approaching 500,000 subscribers!  
Lauren's new book "Vegan Comfort Classics: 101 Recipes to Feed Your Face" shares indulgent gourmet vegan food that even your non-vegan friends and family will love. Lauren is the person I would LOVE to have on hand (regularly) at that moment when a loved one, colleague, client, friend or stranger declares "I'd rather die than eat vegan food" or "I love food too much to eat vegan food" to deliciously prove them wrong!
There's a metaphor here, something alone the lines of attracting more non-vegans with maple syrup than with vinegar… hopefully you know what I mean! It's a lesson I'm slowly learning: lead first with delicious vegan food… talking of which let's get going with the interview and
Vegan Comfort Food Classics with Lauren Toyota.
In this interview we cover:
Lauren's tips for the "non chef" vegan wanting to up their cooking game.  
I have so many non-vegan loved ones who refuse to watch / listen to anything related to the ethics of eating animals. Lauren speaks to the value of delicious vegan comfort food as a means by which to effectively encourage them to take the blinders off.
Eating a balanced plant-based diet free from negative emotions and societal standards or perceptions of what a vegan is "supposed" to be.
Lauren's tips to transform dishes again and again so nothing goes to waste.
Hope, the difference one person can make and the importance of imperfect action over inaction.
What's next for Lauren and Hot For food. Including the next book and an amazing sounding vegan health retreat in Bali!
I'm really excited to hear that Lauren is planning to include more repurposing / meals on mass type options in her next book and via the Hot For Food Channel.
One myth that well and truly has been exploded is the idea that vegan food is restrictive, bland or boring. However, I will say that as a somewhat lazy cook my most common thought when looking at vegan deliciousness online after "I want that now!" is often "I want someone else to cook that for me now!" A perfect example Lauren's recent video on cornmeal bilini's with vegan caviar. It looks amazing! I hated caviar as a meat eater – in fact smoked trout and fish roe soup was The (horrifically rich vomit inducing) Meal that turned me vegetarian 26 years ago.
The way I see it, in the same way that we need ALL types of vegan activists to appeal to ALL types of non vegans we also need ALL types of vegan food and vegan chefs. 
Finding a few meals to make on mass each week is a sustainable solution for those of us who love food so much more than we love excessive kitchen time. Equally finding a few extra indulgent meals to impress your not-yet-vegan loved ones is also hugely valuable. I strongly recommend you check out the Hot For Food blog / Youtube and also Lauren's book Vegan Comfort Food Classics as they've certainly opened my eyes to a whole new level of deliciousness. In fact Vegan Comfort Food Classics is the latest book I've just eagerly ordered for my mum who is now 7 weeks into her #plantstrong journey. That's a Win:Win:Win surely?
To connect with Lauren online check out:
Here's a link to all the places you can purchase Vegan Comfort Classics: 101 Recipes to Feed Your Face:
Finally, although Lauren's upcoming Bali vegan health retreat is sold out check out TheGetawayCo on Instagram for more events.
The Healthification podcast is proudly bought to you by my FREE 'Easy Vegan' plan. It took me 25 years to transition from a meat eater to a happy, healthy Vegan! You can do it in just 3 days with  my simplified 'easy vegan' plan!  Get the fit, strong, and healthy plant based body you deserve… while avoiding ALL the mistakes I made along the way!
Till next time, remember Creating a body and life you love is Freedom. (If this ex-carb queen, non genetically gifted, naturally uncoordinated vegan chick can do it – so can YOU!!!)
If you liked "Vegan Comfort Food Classics with Lauren Toyota" you'll also like: E547: The Ultimate Vegan Food Pyramid For Getting and Staying Lean.
If you're yet to share the Healthification love – just click here to zip over to iTunes and leave an honest rating and review. It'd help me out big time. With gratitude, Kate.