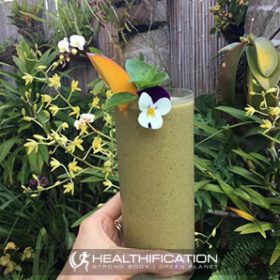 Podcast: Play in new window | Download
Subscribe: RSS
How often have you resorted to the snack you later regretted simply because it was at hand and quick and easy?
As with everything nutrition, eating great snacks comes down to planning more than discipline.
In todays show I'm sharing:
Simple, Healthy Vegan Snacks for Home, Work and On The Go.
Your winning snacks will be:
=> Always on hand.
=> Quick and easy.
=> Non-trigger foods or portioned controlled.
It's worth having a glass or two of water before eating an unscheduled snack or getting a 5 minute chore done first and seeing if the desire to eat is still there.
Before we get rolling with a list of healthy vegan snacks there are two common pitfalls to avoid:
'TOO GOOD'
That's the snack you're initially really proud of… that cheating your body little UN-satisfying number that leaves you craving something else. Needing something else. Obsessed with something else! The too good snack is more trouble than it's worth.
So that's the celery stick. Or the '6' almonds.
'TOOO GOOD'
That's the snack you over indulge in every time… its super more'ish, addictive and absolutely tests your ability to stop once you start gobbling. The 'just one more' snack. Or perhaps the 'I'll have double today and miss it tomorrow' snack. How often do you manage that though? The tooo good snack is a discipline exhauster.
So that's the 1/2 packet of roasted nuts… or 1/2 jar of nut butter.
Ok, pitfalls covered. Here are some great options and for your snacking convenience I've listed them under 3 categories:
One. Keep at HOME Healthy Vegan Snacks:
Smoothies. What I love about smoothies is the limitless variety and the super high micronutrient value.
Start with a liquid of choice: water, almond milk or coconut milk.
Add fruit: berries, apple, mango, kiwifruit are my favs but anything goes.
Next add some veg: spinach, kale, broccoli, cucumber.
Finish with a good fat: nuts / nut butter, seeds, avocado.
AND optionally turbo charge with: plant based protein powder, spirulina or a mix of super greens or even, mushroom extract (check out show E585: The Magical Health Benefits Of Mushrooms With Jeff Chilton to learn why Reishi is a great choice but should taste so bitter it's better added to your coffee rather than your smoothie!
=> Here's a Time Saver. Buy your fruit and veg on mass at the markets, whatever is in season.
Freeze portions of everything except liquid in reusable snap lock bags.
It's now ready to add a cup of liquid to and blend in 60 seconds.
Patties. They don't need to be confined to dinner time. Whatever your fav mix, make on mass and freeze for an easy snack.
Start with your fav bean, grain or starchy veg.
Add (more) veg: grated carrot, beetroot, zucchini, mushroom, onion.
Next add your fav herbs and spices and a chia/flax egg to bind.
AND optionally turbo charge with: nuts and / or more seeds.
Optionally serve with a low sugar salsa, tahini or similar dip.
=> Here's a Time Saver. Add an undressed bag of coleslaw mix (my fav includes kale, carrot, broccoli and beetroot) to your fav canned bean mix (drain and mash 1/2 the beans) and season with a quality dried mixed herb / spice blend.
Two: Keep at WORK Healthy Vegan Snacks:
Nuts. The easiest option. Portion control is key. I recommend buying an amount and committing to the numbers of days/servings it needs to last. So a 400gm bag of my fav roasted cashews should last me a week. I might have a 200gm serve on day 1, a 40 gm serve on day 5 and zero day 6 and 7 however it lasts a week!
Kale crisps. If you can make on mass and not devour straight away they store in an airtight container well. I like mind made with coconut oil, sea salt and nutritional yeast for that's cheesy flavour with bonus  B12 and protein.
Protein shakes. Keep the powder at work and add a tablespoon of nut butter to make it more satisfying.
If you have a fridge at work…
Quick stuffed veg. Keep a veg of choice at work, I like capsicum and fill with your fav quick combo.
So perhaps, 1/2 capsicum with 1/4 avocado and 50gm of vegan cheese / hummus. Maybe for my friends that work well with quality fat, half an avocado stuffed with a tablespoon of hemp or pumpkin seeds.
Dates stuffed with nut butter.
If you have a freezer and microwave at work…
Edamame. i love these little green balls of protein, calcium and iron! They are best baked, however when you're at work they are just fine straight from freezer to microwave too.
Banana slices wedged with nut (or seed) butter and frozen.
Three: At the SUPERMARKET / On The Go Health Vegan Snacks:
The supermarket is a massive temptation zone. In show #155 I cover How To Stop Supermarket Sabotage. Here's the brief overview:
Step 1. Choose set shopping day/s each week to allow for less temptation time.
Step 2. Have a solid general idea of the meals you/your family consume on a weekly basis.
Step 3. Create a shopping list around these meals, for that once or twice a week shop… ideally at a time when you are not hungry or stressed.
Step 4. Armed with your list, have flexibly in relation to what veg and fruit is seasonal / on special / looking awesome.
Step 5. Be ok with spending a little more on those quality items that allow you to feel satisfied while still fuelling your body with nutritious food.
Beyond supermarket sabotage and back to On The Go Vegan Snacks…
Nuts. Again buy the size that divides easily into the number of servings you want to get out of it.
Fruit spread with nut butter. Like an apple with a tablespoon of almond butter. (adding the good fat is going to make that fruit more satisfying).
Mini can of 4 bean mix or ready to eat seaweed crisps. 
Veg sticks/pieces (most supermarkets sell snack size ready to go now) with your fav dip. Actually possibly NOT your most fav as they can have a hugely high caloric density! Go for the #plantstrong one with just a few ingredients and the best combo of high protein, medium fat and low carb that you can find.
(In hot weather!) Mixed frozen berries. One of my fav Sydney activists taught me this snack. At outreach the other day he offered me a bag of frozen berries – he had a reusable spoon – and I thought wow that's a really good idea. I shared as much: "WOW dude, that's a great idea for a hot day!" "A great idea for a hot date?!" (he must have misheard me) "No, I can't remember my last hot DATE, a hot Day!"
Anyway, I digress… 
What about those easy to grab 'Health Bars'?
Some can be ok. I used to be hooked on fake-processed protein bars. They served a purpose, as they are quick and easy and a good replacement when I wanted to switch from chocolate bars. Long term I believe they encourage the taste for that fake fix and that's not super helpful.
Some can be chock full of sugar and fat to surpass even your fav chocolate bar. If a bar has to advertise it's 'healthy' or 'light' or 'natural' it's probably worth avoiding! Ignore the front of packet advertising and check the nutritional break down on the back of the bar. Look for:
=> The less ingredients the better AND do you recognise them all?
=> The higher protein and lower carbs and fat the better… they can be tricky, just because you see '10' that could mean 10% carbs, or 10% of your daily requirement (how can they know that anyway) OR 10 gms.
=> Portion size… again never assume a bar is a portion.
The safest cheapest option is to instead make your own no bake energy balls. Here's a fab article from onegreenplanet on 24 energy packed snack balls.
My fav has to be the High Protein Green Buzz Balls because Buzz was my nickname as a little kid (apparently I was always a "busy little bee") and green in my fav colour!
Alternatively here's an Energy Ball Template from the team at youngandraw.com 
Energy Ball Base:
12 Pitted Medjool Dates
1/2 Cup Cashews
1 Cup Coconut Flakes
2 tbsp. Almond or Coconut Butter
Choose your add ons: (pick 1 or more to add to your base recipe)
1 tbsp. Maca Powder
2 tbsp. Goji Berries
2 tbsp. Raisins
2 tbsp. Chia Seeds
2 tbsp. Sunflower Seeds
2 tbsp. Carob Powder
1 Scoop Plant Based Protein Powder
Ok, to get actionable today I'd love to hear some of your fav vegan go2snacks?
Or, perhaps those snacks you used to indulge in that really didn't do your best body any favours?
To illustrate how possible it is to absolutely change your eating habits and cravings AND still get just as much enjoyment from food that fuels your best body I'll get the traded-in-snacks ball rolling…
As a teenager my best afternoon tea was a six pack of white sour dough rolls from the supermarket filled with a packet of raw (chicken flavoured) 2 minute noodles. Processed crap-o-la carb overload, right?!
I'm now not big on afternoon tea as I have a delicious substantial lunch however if lunch was light and I felt the need I'd be super satisfied with some nuts, edamame, kale crisps or a plant based protein powder with almond milk and chia seeds shake.
That's it for today in Healthification. Thanks so much for hanging with me today. If you know someone who struggles with snacking who you think might benefit from today's show then please share this episode with them. It'd mean so much to me. Equally, if there's something you'd like to hear about in an upcoming show or a guest you think might be a fab fit for the show then I'd love to hear from you! You can always reach me via kate@strongbodygreenplanet.com.
The Healthification podcast is proudly bought to you by my FREE 'Easy Vegan' plan. It took me 25 years to transition from a meat eater to a happy, healthy Vegan! You can do it in just 3 days with  my simplified 'easy vegan' plan!  Get the fit, strong, and healthy plant based body you deserve… while avoiding ALL the mistakes I made along the way!
Till next time, remember Creating a body and life you love is Freedom. (If this ex-carb queen, non genetically gifted, naturally uncoordinated vegan chick can do it – so can YOU!!!)
If you liked "Simple, Healthy Vegan Snacks for Home, Work and On The Go" you'll also like: Vegan Recipe Wins PLUS 5 Exercises For A Flab Free Belly
If you're yet to share the Healthification love – just click here to zip over to iTunes and leave an honest rating and review. It'd help me out big time. With gratitude, Kate.