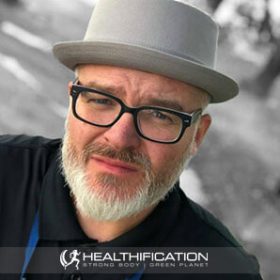 Podcast: Play in new window | Download
Subscribe: RSS
Eric Lindstrom spent first half of his life as an adamant omnivore, nourished to obesity on meaty sauces, fried eggs, and butter-laden cookies by his doting Italian mother and grandmother. Then, perhaps most surprisingly to himself  Eric went 100% vegan overnight. 
As The Sceptical Vegan, Eric shares the trials and tribulations of veganism via both his hilariously, unique and non-judgemental YouTube channel and his first book "The Skeptical Vegan." His second book, "The Smart Parent's Guide to Raising Vegan Kids" is a subject I'm excited to discuss today. The question of how to raise healthy vegan kids was something I felt confused by prior to becoming vegan. I believed the myths perpetuated by animal agriculture and mainstream media and although I felt certain the ethics of not eating animals out-weighed any (perceived) potential personal health risks I did wonder at the possibility of raising happy, healthy vegan kids.
It's testament to the dark power of marketing geared to maintain society's dominant carnist belief system that eating animals is natural, normal AND necessary. Thankfully I know better now, however I thought it'd be insightful to hear from a gent who's actually living it. In fact as I scheduled this interview with Eric his one stipulation was "after 4:30 pm weekdays is challenging with the two vegan toddlers dangling off of me!"
It's a funny vision and that in fact is one of the things I really appreciate about Eric's approach. As an ethical vegan on a mission to create a vegan world he advocates with a humour and lightness that helps balance out the heavy vegan truth bombs, and I'll say it, brutally passionate force some of us vegans and animals rights activists can lead with.
Let's chat
Raising Healthy Vegan Kids with Eric Lindstrom.
In this interview we cover:
Why Eric went vegan overnight.
How annoying vegans can be. 
Raising healthy vegan kids.
Masculinity and veganism. What would Eric say to the young man (or perhaps himself before he was vegan) who is concerned with how his masculinity will be judged.
What is something new that Eric recommends us trying in the kitchen.
Ex-vegans! 
Who's at the top of Eric's "Vegan wish list."
What Eric sees as the biggest threat to Veganism globally.
I'm back on my own and I have a few more thoughts I'd love to share regarding raising healthy vegan kids.
I'm not 100% where I first heard this however most likely it was curtesy of the amazing vegan activist Earthling Ed: Teaching our kids that some animals are friends and some animals are food is likely the first discrimination they encounter. It begs the question: How might our world look today if instead we taught our kids to have compassion for all creatures irrespective of whether they looked like us or not?
I imagine that might be a world where children grow up to be more loving, peaceful and compassionate to other humans too.
Equally it would be a world built on love, equality and transparency rather than the current social norms perpetuated in our Carnist culture where farmed animals are treated like products to be exploited for profit and children are fed blatant lies to numb their natural compassion and indoctrinate them into our culture of supposed "humane" meat, dairy, eggs, fish and the myth that it's normal, natural and necessary to consume flesh and excretions.
If the process behind how an animal came to arrive on your plate is too horrific for your kids to see, and if you can be fit, strong, happy and healthy AT ANY AGE without consuming animal products then why or earth would you ever perpetuate the cycle of misery that is animal agriculture?
Well, that got heavy quick (!) so if you'd like a lighter approach then I really do recommend you check out Eric's YouTube videos via The Skeptical Vegan. A couple of my favs are: You don't look like a vegan and Do you love animals.
Check out Eric's books The Skeptical Vegan and The Smart Parent's Guide to Raising Vegan Kids.
The Skeptical Vegan on Facebook:
A couple of other resources / vegan legends (!) Eric mentioned:
Not for profit Compassion Over Killing:
Aussie animal rights activist James Aspey:
Vegan body builder Torres Washington:
Australian documentary Dominion:
That's it for today in Healthification. Please stay tuned for my next interview with a Sydney based activist I've admired from a far for a while now. Pat Bateman (aka Vegan Asylum) is a fiercely articulate, brutally honest force for animal rights and womens rights. I promise there will be no sugar coating in this episode!
The Healthification podcast is proudly bought to you by my FREE 'Easy Vegan' plan. It took me 25 years to transition from a meat eater to a happy, healthy Vegan! You can do it in just 3 days with  my simplified 'easy vegan' plan!  Get the fit, strong, and healthy plant based body you deserve… while avoiding ALL the mistakes I made along the way!
Till next time, remember Creating a body and life you love is Freedom. (If this ex-carb queen, non genetically gifted, naturally uncoordinated vegan chick can do it – so can YOU!!!)
If you liked "Raising Healthy Vegan Kids with Eric Lindstrom" you'll also like: 6 Things I Wish I Knew Before Making The Switch To 100% Plant Based Eating
If you're yet to share the Healthification love – just click here to zip over to iTunes and leave an honest rating and review. It'd help me out big time. With gratitude, Kate.