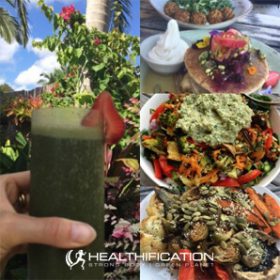 Podcast: Play in new window | Download
Subscribe: RSS
I haven't bought shoes for over a year.
Now I wouldn't say I was ever a shoe fanatic however certainly I've experienced that "I must have you now!" desire for an especially gorgeous pair of perfectly chunky and shapely boots or impractical yet stunningly delicate heels.
As I awkwardly manoeuvred my way across flooding footpaths to a 2 day business event last week in Sydney's unusually wet, windy and miserable weather I regretted my laziness in not yet hunting down a decent pair of non-leather shoes.
I know a good replacement for the old, open toed sandals I was wearing exist. I just haven't yet put in the time to locate them.
It's the ONLY thing in my list of 6:
Things I Wish I Knew Before Making The Switch To Plant Based Eating 
that was harder than I anticipated. And it's not even about the food!
The biggest surprise – number one of 6 Things I Wish I Knew Before Making The Switch To 100% Plant Based Eating is contrary to the first observation of anyone who has yet to try a more plant based approach to eating.
In todays show I'll first share 6 common misconceptions about plant based eating and then reveal the reality according to my experience.
Common misconception #1: Isn't Eating Plant Based Really HARD?
One: It's Much Easier Than You Expect.
If I'd known this I would have made the switch at least a decade earlier. Perhaps two. Sure it might have been a little (ok A LOT!) tougher then, however the key takeaway is now it really is not hard.
For sure you need to plan and I'll cover that in misconception #4 however you need to plan your meals if you want great, reliable results following any eating strategy. Paleo. Gluten Free. Low Carb. Primarily One Ingredient Whole Food approaches all take planning.
Planning simply means coming up with a handful each of Go2Breakfasts, Go2Lunches and Go2Dinners. Meals that you can make on mass if you're a lazy cook such as myself. Meals that are built first around a fibrous veg (or 12!) you love. Then pimped with a plant based protein. And finally finished with a satisfying good fat. Of course there are some essential micronutrients to account for however I have those covered over at the 'Plant Based Food' section of the http://strongbodygreenplanet.com blog.
Do you know what is really, genuinely HARD?
Watching documentaries like Cowspiracy, Forks Over Knifes and Earthlings and knowing the devastating effect animal agriculture has on Yes the animals, yet also the environment, your health and even world hunger.
Globally we are not facing a food shortage – rather a vastly ineffective method of food production and distribution.
While 1.5 acres of land can produce 37,000 pounds of plant based food in contrast,
5 acres of land can produce 375 pounds of meat.
Disturbingly 82% of starving children live in countries where food is fed to animals and those animal are eaten in Western countries. 
(for more information on these facts and the articles they were published in check out: http://www.cowspiracy.com/facts/ )
Common misconception #2: Aren't You Always The Odd One Out?
Two: There Is Minimal Judgement. People Are Very Accepting.
At that 2 day business event last week I came prepared. I had my little bags of hemp and pumpkin seeds. Some nuts. Some nutritional yeast. Some vegan protein powder.
Throwing that together took all of 2 minutes. As I sat at a table with other attendees I'd only just met and scattered my seeds and nutritional yeast over the merger offering of salad and fruit available from the buffet I got exactly ZERO judgmental questions.
People just weren't interested.
As I stirred chocolate protein powder into my coffee the only reaction was: "Gosh, that looks good!"
I'm a firm believer that judgement is reflected back at you. If I'm judging the meat eaters on their choices I can expect some judgement to be reflected back at me. If I'm happily, healthily minding my own business the most I ever seem to get is genuine curiosity. 
So far as being the odd one out? As I share in the 018 show on Why You Need To Be Proud To Be Contrary in today's society I don't want to look, feel or perform like everyone else! So I'm super fine with being the odd one out.
Common misconception #3: Don't You Feel Restricted and Like You're Missing Out?
Three: There Is An Alternative For Every Animal Product I Used To Consume.
I LOVE every single meal I eat. At least at much as when I was Vego or when I ate meat. Perhaps even more so because:
I plan my meals so I never get caught short arriving home from work late, tired, irrational and willing to resort to some disappointing throw together meal.
I actively seek out (usually on Instagram) delicious plant based alternatives for all my old danger foods. The added super benefit here is that along with never feeling like I'm missing out the plant based options are generally healthier so I never feel guilty for demolishing a whole large pizza covered in cheese PLUS a side of buttery garlic bread.
If that NON plant based pizza still sounds tempting please check out my Cauli-crust pizza with dairy-free-kale-basil pesto and sun-dried tomato cheese! It's in show #122: Low Carb Takeaway Favs.
Common misconception #4: Isn't Eating Plant Based Super INCONVENIENT?
Four: It Takes Planning however No More Planning Than Any Other Upgrade To Your Eating.
I hinted at this in the first of 6 Things I Wish I Knew Before Making The Switch To 100% Plant Based Eating. In any of your life in which you enjoy success – especially continued success – you commit to a degree of planning.
It perplexes me that people will accept success in your career, success raising children, success saving money to buy a house all require planning and then consistently sticking to the plan. Adjusting accordingly when your situation changes or when you encounter an obstacle. Even having the discipline to take the right actions – whether that is working late, getting up in the middle of the night for your kids or putting money away for that first property when really it'd be more fun to blow it all on a gorgeous holiday… that is all considered reasonable and logical yet when it comes to meal planning? And exercise for that matter?
Too many people expect to enjoy great results without committing to a plan and sticking to it.
I see the time I invest planning is time, energy and grief I save myself when I'm not wasting time feeling guilty for that blow out meal.  It's also time I don't get to waste suffering through ineffective and boring moderate intensity cardio in an attempt to 'make up for' that unscheduled treat. It's certainly time I no longer sacrifice to UN-fun thoughts such as: "Why am I so undisciplined? Inconsistent? Weak? Lazy?"
Common misconception #5: Isn't Eating Plant Based UNHEALTHY?
Five: Like Any Approach To Eating You Can Eat Plant Based The Unhealthy Way OR The Super Healthy Way.
The unhealthy argument is partially a convenient excuse if you're not willing to do your research. However as someone super committed to exploring the evidence surrounding healthy plant based eating I absolutely appreciate it can get extremely confusing.
In fact the unhealthy argument definitely helped keep me vego those extra couple of decades. That with a side of ignorance fuelled vanity which led me to believe I'd lose all my hard fought for lean muscle when I ditched my 20 egg whites a day habit. In hindsight, a huge variety of plant based protein has got to be more healthy than a reliance on one type of animal protein. It's certainly more healthy than consuming poor quality factory farm breed animal protein. 
I trust that you know when you're succumbing to confirmation bias and hunting down the evidence that supports your current view.
If you're committed enough to steak, bacon and ice-cream you'll be able to find the studies in favour of excessive amounts of animal protein.
You'll see one or two weak looking vegans and conclude that's how we all look.
You'll eagerly devour those articles that insist vegans lack iron, B12, calcium, zinc and omega 3's rather than working out how to incorporate those vital micronutrients into your delicious plant based meals. Or checking out my mega-posts on just how to do that 🙂
Healthy Vegetarian Eating (step by step).
High Protein Low Carb Vegetarian (my day on a plate).
Low Carb High Protein Vegan Meal Plan (Part 1)
6 Steps To Easy Plant Based Eating (Part 1):
The alternative is to have a truly open mind. To gather quality information from sources you trust and to be ready to change your mind when you're presented with better information. That attitude has led me to now believe something as previously heinously unjustifiable as hunting can in fact be a better solution than buying your food all prettily packaged at the supermarket.
I no longer believe ignorance is an excuse. if you're ignorant to the cruelty surrounding every single aspect of what I hatefully label the crate to plate process it's because you're choosing ignorance with volition.
Common misconception #6: Are You Some Extreme Animal Rights Advocate Now?
Six: Finding Cruelty Free Products For Everything Beyond Food Is A Massive Ongoing Journey. 
In answer to that common misconception… you can be unwaveringly committed to a cause. Hugely passionate. Relentlessly focused. And still, recognise that trying to impose your own views, values and beliefs on another person is a wildly ineffective approach.
Equally with all the commitment, passion and focus in the world, it's been my experience that expecting myself to live 100% cruelty free is not only vastly harder than I expected… it's impossible.
It's the type of unrealistic perfectionist expectation that could cause me to give up before I'd even begun. 
So I'm starting with what is simple, easy and sustainable. That's the plant based food. And upgrading – at a pace I can manage – everything else. Well not even everything, because all manner of small beings are killed in large scale plant based crop production. And then there's leather in the transportation I utilize. The old make-up products I haven't thrown out. And of course there's those partially leather sandals that survived Sydney's flooding footpaths last week and are still residing in my wardrobe.
Any big and worthwhile lifestyle change is going to be an ongoing journey. A matter of upgrading what you can today. Sticking with it till it gets easy and then – at YOUR own pace – making that next manageable upgrade. 
My biggest takeaway is please don't delay making the switch to any level of plant based eating because you think it's going to be too:
Hard. Or that you'll endure too much Judgement. Or because you'll feel like you're Restricted.
Don't delay on account of Inconvenience or Health.
Perhaps just prepare yourself for the reality that'll it'll be an Ongoing Journey. A massive, at times confronting and frustrating and at times for filling and joyful journey.
That brings us to the end of today in Healthification.
Till next week thanks so very much for hanging with me today. I appreciate it. If you've enjoyed this show and gotten value out of it I'd truly appreciate it if you pop over to iTunes and leave me a review. It helps other people find Healthification and it inspires me to power on!
Cheers!
If you liked Things I Wish I Knew Before Making The Switch To Plant Based Eating, you'll also like: Low Carb Vegan Meal Plan
If you're yet to share the Healthification love – just click here to zip over to iTunes and leave an honest rating and review. It'd help me out big time. With gratitude, Kate.