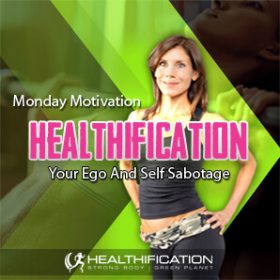 Podcast: Play in new window | Download
Subscribe: RSS
Although the term is thrown around fairly freely it's initially hard to imagine WHY any of us would Self Sabotage.
Surely we all must have our own best interests at heart?
Indeed even those most compassionate, selfless and generous of us must realize to serve others to our full potential we need to first look out for our own basic needs?
And yet…with frustrating frequency self sabotage rears it's ugly, pervasive head.
I have a theory on the WHY.
For sure there have got to be a multiple of reasons however I'm certain from personal experience and also from observing so many of my clients that one huge component is the relationship between:
Your Ego And Self Sabotage.
Like two people in a bad relationship Your Ego and Self Sabotage bring out the worst in each other!
Put another way the two combined could be described as self handicapping. That is, setting up conditions for your own failure. In advance. Either consciously or even subconsciously to protect your ego if you don't succeed.
Does that sound far fetched?
I've certainly had clients share with me: "Why would I risk giving it 100% because if I do and I don't succeed that would make me a failure." If you have a fear of failure that's a perfectly logical excuse.
Even for those us more – well comfortable isn't the word – however perhaps for those of us who know failure isn't final. Who expect and anticipate failure and Yes as cliched as it sounds learn from it because that's preferable to being first frozen and then shattered by it.
For those of us… I also know how tempting it can still be to lay sneaky little Get Out Of Jail (get out of fail!) disclaimer cards along the way.
In today's show on: Your Ego And Self Sabotage I'm going to cover 5 sneaky Get Out Of Fail self handicapping obstacles that you may be putting in the way of your success. Also how to overcome those self imposed obstacles.
As always let's make the examples applicable to achieving a fit, healthy plant strong body.
One: Setting An Unrealistic Goal.
This is the classic, "I'll go from meat eating, takeaway loving, dessert queen to organic raw vegan…" 
A unrealistic goal sets the bar so high it's tempting to give up before you've even begun. It invites failure. In fact that goal was so huge no one will even blame you for throwing in the towel.
Although success achieving an unrealistic goal is possible it's not likely. Anything worthy of invoking your ego protecting self sabotage mechanism is going to be much easier to tackle one small milestone at a time.
=> Perhaps you start with eliminating the animal products you find it most easy to give up. And instead of refined carbs and processed crap-o-la, focus on filling your meals with nutritious one ingredient plant based foods. Then it's not "Game over" when your mum glazes her glorious freshly baked bread rolls with egg white or a few vino's in you can't decline the gorgeous salty, fatty haloumi at a mates BBQ.
The unrealistic-goal-self-saboteurs' solution is: A series of realistic goals that let you gather reference points for success and gain momentum by focusing on steady achievable progress. As such it's supporting your ego. Or better yet, your self belief – rather than being ruled buy it.
Two: Setting An Unrealistic Timeframe.
Let's roll with our first example with a slight twist, "I'll go from meat eating, takeaway loving, dessert queen to organic raw vegan… overnight." 
Especially with an emotion charged goal it's tempting to set a timeframe based on how much you want to achieve your goal rather than what is possible. 
This is a specialty of mine! Generally you decide on that unrealistic timeframe in a time of high emotion, where you're chocka full of drive, discipline and focus.
=> Perhaps you're even coming off the back of an unrealistic goal you missed and (to protect that ever present ego) you declare to yourself this time it'll be different (insert emotionally charged reasoning here!) and to make up for lost time you'll make that goal happen overnight (or your unrealistic timeframe).
The unrealistic-timeframe-self-saboteurs' solution is: To first press pause! Next brainstorm the milestones required to achieve your greater goal. Yes, that's a whole lot less sexy than charging your goal with nothing but blind faith in your own stamina however it's going to be more effective long term. Once you decide on the first, most important milestone to achieve (it's likely that first realistic goal from point #one) your task is to decide on a manageable period of time in which to achieve it.
If necessary ask for help – if that's a challenge for you I've got your covered in point #five!
Three: Zero Flexibility.
So what happens when the meat eating, takeaway loving, dessert queen transitioning to organic raw vegan overnight… encounters her first obstacle?
An attitude of zero flexibility – you might also know this as perfectionism or a dichotomous approach – assumes there will be no obstacles to traverse around, smash through or climb over. 
That's hugely unlikely. Anything worthy of invoking your ego protecting self sabotage mechanism is going to involve obstacles.
=> Perhaps even though you prepared a week of meals on mass to turn to when you arrive home from work exhausted and running super low on discipline… you're not going to have access to them when you have to work back extra late. Or at the impromptu work celebration it's mandatory to attend.
Flexibility does not just apply to the alternate options for food or exercise you'll need if circumstances change.
The zero-flexibility-self-saboteurs' solution is: To cultivate the flexibility of MINDSET that allows you to see an obstacle, a failure, a set back as something to overcome rather than a reason to give up.
 Four: Prioritizing Others To Your Detriment.
Now let's assume the meat eating, takeaway loving, dessert queen transitioning to organic raw vegan overnight encounters a very specific obstacle… her commendable, generous, nurturing nature is put to the test when a dear girlfriends calls and she's distraught. She's just found out her partners been cheating and needs you NOW not after that carefully prepared plant based dinner waiting for you at home! Personally I certainly would drop everything to be there for that friend. Perhaps my only stop would be to the bottle store en route! However there is a line where you will have to decide when saying YES to someone else means saying NO to you and your goal.
If you're tempted by "helping a girlfriend out" with a second spoon and a colossal tub of Ben and Jerry's choc chip cookie dough in my humble yet passionate opinion you're simultaneously and to your detriment plunging into that ice-cream and over the line. Or perhaps, you always cancel your gym session to look after the grandkids while your daughter in law heads off to yoga? Maybe you have time to prepare meals on mass for others and then just throw together toast or cereal for yourself?
The prioritizing-others-self-saboteurs' solution is: To get honest and ask yourself, what you're getting out of saying NO to you and your goal.
Irrespective of how it might initially appear there is a benefit to you. A secondary gain. Something you either get, like love or significance. Or something you get to avoid, like your ego dealing with failure or perceived failure.
Awareness is the first step. It might be enough to admit you prioritize other peoples basic needs because you're fearful of facing yours. Or maybe you need both the awareness and then the strategy decided in advance to deploy when you're next facing a similar situation. Because you will soon be facing a similar situation.
Five: Not Asking For Help.
Finally, what happens when the meat eating, takeaway loving, dessert queen transitioning to organic raw vegan overnight… encounters a reoccurring obstacle… an obstacle she's faced time and time again and has no idea how to handle?
Again I'm speaking from experience. It's tempting to confuse: Backing yourself / Being independent / Not wanting to trouble others. With stubbornly staying stuck refusing to seek help because: It should be easy / I should know what to do / how does it look that I do't know what to do? 
The not-asking-for-help-self-saboteurs' solution is: To remember how good you feel when someone asks you for help. To understand you have the opportunity to let someone else feel that same satisfaction. To acknowledge every big success requires help and also subsequently the vulnerability, maturity and self awareness to be able to ask for that help at the right time.
Finally to accept that Your Ego and Self Sabotage bring out the worst in each other! As long as your ego is ruling you'll be susceptible – even inviting – sneaky self handicapping obstacles.
That brings us to the end of today in Healthification.
Till next week thanks so very much for hanging with me today. I value your time and I'm grateful you've chosen to spend it with me. If you've enjoyed this show and gotten value out of it I'd truly appreciate it if you pop over to iTunes and leave me a review. It helps other people find Healthification and it inspires me to power on!
Cheers!
If you liked Your Ego And Self Sabotage, you'll also like: A Day In The Life Of An Effective Fat Loss Mindset.
If you're yet to share the Healthification love – just click here to zip over to iTunes and leave an honest rating and review. It'd help me out big time. With gratitude, Kate.