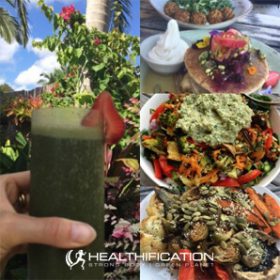 Podcast: Play in new window | Download
Subscribe: RSS
As I hung out over the kitchen sink on a lovely sunny Sydney Sunday afternoon I realized I devote a stupid amount of time to washing and prepping green leaves!
It's just one of those things that eats time. Certainly an area of my food prep that could do with an upgrade. So it's timely that in todays show on:
How To Prepare Quick And Easy Yet Still Natural And Healthy Plant Based Meals 
I'm sharing some of my favourite strategies to minimise your (and my!) kitchen time. Without sacrificing taste, nutritional value or excessive cash-o-la.
First up I'll cover, 2 guidelines to keep your plant based meals quick and easy.
Next I'll share a simple, 3 step strategy to build a day of healthy plant based meals. 
Let's get rolling with those quick and easy guidelines…
One: Pick Your Battles.
A). As much as I love the look of bountiful bunches of organic spinach, kale and swiss chard I do find myself resenting the time it takes to get this green leafy deliciousness ready for consumption. The quick and easy alternative?
=> those premixed and pre-washed bags of green leaves are massive time savers.
=> as are the undressed coleslaw mixes.
B). Some fresh fruit and veg (like cauliflower and zucchini) is pretty easy to prep and loses a lot (so far as texture) in the freezing and defrosting. However it's certainly worth taking the quick and easy frozen fresh alternative for other fruit and veg.
=> frozen berries and cubes of kale and spinach are smoothie time savers.
=> I also like mixed frozen veg like 'Stir fry style' carrot, broccoli, beans, peas and corn.
C). There's no doubt that making your own dips and dressings from scratch is the most desirable option. However if I'm traveling or extra under the pump I'm less likely to whip up a weekly batch of protein pimped zucchini hummus or dairy free pesto. The quick and easy alternative?
=> pick your battle and pay a little extra for a store (or market) bought dip / dressing.
D). Unless you find getting creative in the kitchen enjoyable I'd certainly recommend letting someone else fight the dessert battle!
=> there are so many brilliant raw plant based dessert options available now. 
Yes, they are more expensive however a little goes a long way as they tend to be much richer and more satisfying than the cheap and nasty processed / refined sugar based alternatives.
Two: Versatile Go2Meals.
There are a few types of Versatile Go2Meals.
A). The meal on mass you make once a week and freeze in portions. It might be a curry that you eat either over zoodles or cauli-rice.
Or if you need a little more variety perhaps it's a chilli that you could eat on it's own. Or as the base for a vegan shepherds pie with a handful of greens stirred though and topped with a cauli-mash spiked with coconut cream and nutritional yeast. Or even nachos style over kale crisps and cos leaves topped with guacamole and cashew cheese.
B). The healthy (yet likely insubstantial and protein lacking) takeaway you make over. So this might be a nice yet light weight salad or mix of baked veg that's a quick meal starter and just needs a couple of handfuls of those nifty premixed and pre-washed green leaves and a tablespoon each of hemp seeds and pumpkin seeds to turn into a more balanced and filling meal.
C). The supermarket bought prepackaged meal you make over. These options are only getting better and better. It's going to be dependant on where you live however if last time you investigated prepackaged supermarket meals was back in the day of only frozen refined carb crap-o-la with huge lists of unrecognised and absolutely undesirable ingredients… then it could be time for a reinvestigation! I was pleasantly surprised to see some of the plant based burger patties on offer. You actually can get tasty options with only recognisable ingredients, adequate protein and completely acceptable carb counts. What's adequate and acceptable for you will be dependant on your goal however personally I certainly want at least 10 grams of protein and ideally 15 in a serve and less than 20 grams of carbs and ideally closer to 10.
A few options to make over your plant based burger patty (or equivalent) quickly and easily?
I'm a huge fan of the portobello burger where you use 2 large portobello cap mushrooms as buns and sandwich your plant based burger with all your fav extras. Perhaps baby spinach, grated zucchini, avocado, tomato, red onion and dairy free pesto.
Alternatively you can throw your plant based burger on the BBQ with rounds of eggplant, mushroom, zucchini sliced lengthways, onion, corn, tomato or whatever you most love!
Or you can simple crumble your cooked plant based burger or two over the salad that everyone else is eating. Or for super fast, over that mix of both premixed / pre-washed green leaves and the premixed undressed coleslaw. In that scenario I'd also add a dash of balsamic and a tablespoon of nutritional yeast.
Now let's move on to the 3 step strategy to build a healthy plant based meal…
FIRST: Think of 3 of your fav Fibrous Veg, Plant Based Proteins, Good Fats.
For example:
Kale. Zucchini. Mushroom.
Vegan protein powder. Hemp seeds. Tahini transformed into my protein pimped hummus.
Cashews. Avocado. Coconut oil.
The idea is to build a balanced meal covering your most important macro-nutrients (that's carbs, protein, fat) and to do it using food you love.
NEXT: Match one of each to form the start of a breakfast, a lunch, a dinner. 
For example:
Breakfast might be a smoothie that starts with: Kale, vegan protein powder and cashews.
Or maybe your smoothie might have: Spinach, chia seeds and avocado.
Lunch might be a salad that starts with: Baby spinach and rocket leaves, tahini based protein pimped hummus and avocado.
Or maybe your salad might have: Broccoli, pumpkin seeds and almonds.
Dinner might be a mushroom cap pizza that starts with: Portobello mushroom, hemp seeds and coconut oil (to cook your accompanying kale or brussel crisps).
Or maybe your pizza might have a: Grilled eggplant base, nutritional yeast, dairy free pesto.
This isn't the end of the meal however it's a good start.
FINALLY: Add flavour enhancers and micro-nutrient maximisers to complete your meal.
I cover 5 of the vital micronutrients vegans and vegos can miss out on in shows #346 and 347 My Day On A Plate:
As a healthy, active 40 year old female my ideal target for those chosen nutrients each day would look like this:
1,000 milligrams of Calcium.
18 milligrams of Iron.
4-7 MICRO-grams of Vitamin B12.
500 – 1000 milligrams of Omega 3.
8 milligrams of Zinc.
I recommend you check out shows #346 and #347 however here's what I'll add to each meal to get it tasting awesome as well as giving my body the vital micronutrients it needs:
To the breakfast smoothie that starts with: Kale, vegan protein powder and cashews… I'll add,
1 cup of almond milk(contains 188mg of calcium). The kale and cashews also contain calcium.
3 grams / a good half a teaspoon of Spirilina (contains 1.33mg of iron).
1 cup of raw spinach (contains 1.2mg of iron).
For flavour I'll add,
1/2 a small cucumber
50-100 grams of frozen raspberries (contains 0.83 – 1.64 milligrams of iron)
 To the lunch salad that starts with: Baby spinach and rocket leaves, tahini based protein pimped hummus and avocado… I'll add,
dairy free pesto made using nutritional yeast (a generous tablespoon of nutritional yeast that has been fortified with B12 can contain 100% of your daily target)
1 cup of cooked broccoli (contains .8mg of zinc and 100mg of calcium)
100 gm of cooked mushroom (contains .9mg of zinc)
For flavour I'll add,
fresh salad veg like tomato, red capsicum and red onion
balsamic vinegar
To the dinner pizza that starts with: Portobello mushroom, hemp seeds and coconut oil (for accompanying kale or brussel crisps)… I'll add,
dairy free cashew and sun-dried tomato cheese made using nutritional yeast (between the nutritional yeast and the cashews I'm ticking the B12, iron, zinc and calcium boxes) In addition that mushroom has .9mg of zinc per 100 gms and a tablespoon of hemp seeds has 1,000mg of omega 3's.
2 cups of kale made into crisps (contains 360mg of calcium).
For flavour / colour I'll add,
red capsicum, red onion and peels of zucchini / asparagus
Now I don't want to get too exacting in audio format however a quick glance at my healthy plant based day tell me so far as micro-nutrients Calcium, B12 and Omega 3's are looking good.
That leaves Iron and Zinc just a little lacking. It's an easy fix though.
Straight from show #351 on Vegetarian Iron Boosters I have you covered with an easy trail mix:
25 grams pumpkin seeds = 3.75 milligrams of iron and 2.6 milligrams of zinc
25 grams raw cashews = 1.5 milligrams of iron and 1.5 milligrams of zinc
25 grams dark chocolate =  4.25 milligrams of iron and 1.7 milligrams of zinc
50 grams raspberries = 0.83 milligrams of iron.
That's 10.33 milligrams of iron and 5.8 milligrams of zinc (or over half your daily requirement) in one high energy mix!
As we draw to the close of todays show on, How To Prepare Quick And Easy Yet Still Natural And Healthy Plant Based Meals I have a final consideration:
Have you noticed how much scrutiny is directed towards potential deficiencies in a plant based plant diet compared to the scary lack of consideration give to the standard diet of a meat eater? 
I'm in appalled and disgusted AWE of the marketing machines that lie behind big meat, dairy and processed food companies.  
I'm not advocating for a second that the fuel you feed your body with should be a decision taken lightly without research and consideration.
However I'm a firm believer that so far as eating plant based – or more plant based – everything counts. And the journey, should be just that. Rather than an attempt at perfection from the get go, it's a chance for constant and gradual upgrades and improvement.
That's it for me today. Thanks so much for choosing to hang with me today. It means a lot. I appreciate you. Till next week, Cheers!
If you liked How To Prepare Quick And Easy Yet Still Natural And Healthy Plant Based Meals, you'll also like: Confused About What To Eat To Lose Weight?
If you're yet to share the Healthification love – just click here to zip over to iTunes and leave an honest rating and review. It'd help me out big time. With gratitude, Kate.