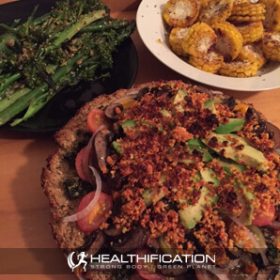 Podcast: Play in new window | Download
Subscribe: RSS
This morning during a nutrition session with a dear client I was reminded of the self perpetuating cycle through which we can find ourselves either detrimentally spiralling out of control OR easily building momentum with each reference point for success.
You've likely experienced both the spiral and the success.
When the rubbish food decision you make fuels the next rubbish food decision. And the next. Either through cravings. Guilt. Or perhaps just an overwhelming sense of NON-self belief with a disillusioned side of: "What's the point anyway?"
Equally, the great food decision you make – and for the purpose of todays encore episode lets refer to it as the healthy plant based substitute decision – fuels the next awesome food decision. And the next. Either because those previous pesky cravings are now a little less insistent. Or perhaps because the plant based substitute tasted great. It likely also left you feeling better both physically and so far as your belief in yourself and your ability to give your body the great fuel it deserves.
Before we get rolling with
5 Healthy Plant Based Substitutes
I want to share an upgraded substitute!
Back when I recorded the original podcast I was moving away from dairy yet still eating some cheese and certainly still eating range free organic eggs. Now that I've been 100% plant based for well over a year I've had to up my dairy free cheese game!!!
The recipe I share in the original show is still really good. However my current go to recipe is SUPER really good!
(I put it on cauli-crust / portobello cap pizza or kale crisp nacho's or anything really!)
To my fellow cheese loving friends here it is…
2 heaped tablespoons Nutritional yeast
1 cup raw cashews (soaked for a couple of hours or covered in boiling water for a couple of minutes)
1/4 cup sun-dried tomatoes (I put them in boiling water with the cashews for a couple of minutes)
1 tablespoon of garlic powder.
1 tablespoon of onion powder.
1 teaspoon of chilli flakes.
1 teaspoon of sea salt.
To make the cashew cheese: Drain the cashews and sun-dried tomatoes. Use food processor to blend both with 2 heaped tablespoons nutritional yeast and also the garlic powder, onion powder, chill flakes and sea salt. (it freezes fine too)
If dairy really is your sticking point so far as making the jump to eating plant based check out the 389 show on:
5 Ways To Eat Less Dairy Without Sacrificing Protein.
Now lets power onwards with, 5 Healthy Plant Based Substitutes:
Here are the show notes for the original 127 episode: 5 Healthy Substitutes:
The Healthification podcast is proudly bought to you by my online community for Vego's and Vegans (launching soon) who want to create a strong, healthy body and also help eradicate inhumane and unsustainable animal agriculture.
Learn more here:
If you liked Healthy Plant Based Substitutes you'll also like: 5 Ways To Eat Less Dairy Without Sacrificing Protein.
If you're yet to share the Healthification love – just click here to zip over to iTunes and leave an honest rating and review. It'd help me out big time. With gratitude, Kate.