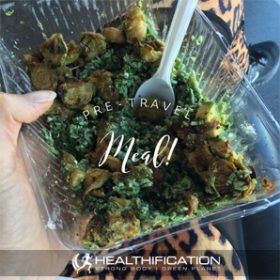 Podcast: Play in new window | Download
Subscribe: RSS
As I write this I'm sitting at the airport ready to fly home to Sydney after a lovely long weekend with the family in stunning Noosa.
It's a lunch time flight so beside me sits a little container of 3 delish stuffed mushrooms. Sorting your pre and post travel meals is one of the simple strategies I cover in today's show on:
4 Plant Based Eating Travel Tips.
You may find it surprising however it's been my experience that it's much easier to stay on track with healthy plant based eating when you're traveling than as a vego. (more on that at the end of the show) Possibly even easier than as a meat eater.
It simply takes a little prior planning. Which brings us to the first tip:
Tip One: Rock Your Pre and Post Travel Meals.
So far as pre-travel, I know it's often a busy time getting sorted to travel. However it's also an ideal time to clear out the fridge with a throw together yet veg rich meal for your last meal at home and also a meal at the airport if you're traveling round meal time.
A couple of my fav portable meals are:
Kale-cauli tabbouleh with mixed seeds and nutritional yeast
Stuffed mushrooms with hemp seeds and cashew cheese or hummus.
Equally the way home is the perfect time to slot straight back into your normal best eating habits. As much as I'm a fan of delicious, indulgent holiday meals I prioritize choosing each of those meals with volition rather than out of convenience.
My food focus this weekend was to enjoy copious gigantic servings of mums roast veg, dads BBQ'd veg and mums freshly baked olive and focaccia bread while also avoiding any airport dodgy stodgy carb fest meal.
In short: Don't trust airport food!
Tip Two: Travel with Protein Pimps.
I'm not sure about you however the last thing I want to think about when on holiday is extensive meal prep… or much meal prep at all really!
The alternative is to put a little thought into your protein pimps prior to travel.
When traveling interstate I'll always take an assortment of:
Vegan Protein powder
Hemp seeds
Pumpkin seeds
Chia seeds
Nutritional yeast
Spirulina and Dulse flakes
So far as international travel, the easiest solution is to source a good health food store prior to travel and to do a one stop shop as soon as you can on arrival.
In short: Portable protein pimps lets you transform a non ideal meal in just a couple of minutes rather than: starve, start from scratch or settle for rubbish.
Tip Three: Ring Ahead Prior To Dining Out.
It's fairly common to be the only plant based eater in your family or close group of friends. That's certainly my situation and as such I do my best to not let my eating choices impact on those around me.
As much as I would love the world to be plant based I recognize each individual will make that decision in their own good time. And it's only going to be an easier decision if ordering plant based out looks as low fuss as possible. 
It's took me a few years, and much eye rolling, groaning and frustration on the part of family, friends and boyfriends before I learnt to do my homework ahead of time!
When making that phone call some handy tips:
If this is true I'll say something along the lines of "your restaurant is my / my parents / my friends favourite in (insert area name?) and we're dining there tomorrow night. The thing is I'm vegan and don't eat any animal products I just wanted to check if that's going to be ok?"
The (insert dish / dishes name) look amazing. I just want to check if it'd be possible to have it without the (whatever the listed animal products are) please?
The key thing is to be polite and if you can manage it a little less fussy so far as everything that is still vegan yet you may not eat at home. For example I'll eat tofu out however I'd never make it at home.
The way I see it the more polite, accommodating and appreciative vegans restaurants encounter the more likely they'll be to start to offer plant based options of their own accord.
In short: Phoning a restaurant ahead of time is a good way to ensure no dramas when you turn up.
Tip Four: Have A Delicious, Nutritious Plant Based Meal That's Easy To Share. 
This is the meal you prepare for family events, BBQ's or whatever celebration / gathering it may be where you're not sure what else will be on offer. Perhaps some sort of HUGE salad that is super substantial. The meat eaters can have it with their animal protein and you can have it with those handy portable protein pimps.
As holiday time is a time to cook as little as possible I'll always make enough for several meals worth of leftovers. Although often it's delicious enough that the meat eaters foil my leftover plans with some serious plant based devouring!
To ensure that salad is both creative and substantial I'll include stuff like:
steamed broccoli
spiralised zucchini 
grated carrot and beetroot
avocado and roasted nuts such as almonds, pecans or macadamias
kale or brussel crisps
fruit like crispy pear, juicy mango or dry fried nectarines
In short: Make a meal on mass and casually share the plant based deliciousness.
For what it's worth as I mentioned at the top of the show, I'm finding it much easier to make the best food choices as a vegan than it was as a vego. It's the case at home and certainly when traveling. I guess it's a combo of:
Zero low quality dairy to contend with.
I used to regularly devour the full weeks supply of (low fat SUPER HIGH sugar) delicious mango yoghurt in one mindless and guilt inducing sitting when visiting my parents.
Needing to check foods more thoroughly before demolishing.
It gives you time to think and actually decide before you suddenly find yourself half way through that freshly baked giant (healthy yet not!) muffin or scone.
Getting to eat larger quantities of foods with less caloric density.
Every time I visit the family I get to enjoy massive plates of food that earn me a bemused comment along the lines of "you got enough there?!"
I then, without fail get to enjoy a second massive serving.
Most importantly, I'm generally the only one at family gatherings NOT feeling stuffed, over full, sick or guilty. It just does not happen when prioritizing primarily one ingredient plant based foods.
and,
Perhaps the simple fact that there are still less options available when I'm outso I'm less likely to succumb to unplanned eating of something that's randomly on offer! 
(Can you tell I'm an emotional eater?!)

That brings us to the end of today in Healthification.
Till next week thanks so very much for hanging with me today. I value your time and I'm grateful you've chosen to spend it with me. If you've enjoyed this show and gotten value out of it I'd truly appreciate it if you pop over to iTunes and leave me a review. It helps other people find Healthification and it inspires me to power on!
Cheers!
If you liked Plant Based Eating Travel Tips you'll also like: Low Carb Vegan Meal Plan (My 7 Day Plant Strong Fuel Log For A Fit Healthy Plant Based Body)
If you're yet to share the Healthification love – just click here to zip over to iTunes and leave an honest rating and review. It'd help me out big time. With gratitude, Kate.