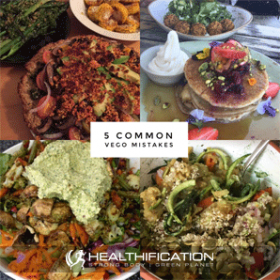 Podcast: Play in new window | Download
Subscribe: RSS
Spoiler alert (!) in this brief intro to todays encore episode on 5 Common Mistakes Vegetarians And Vegans Make I'm going to jump straight to the ONE mistake I almost never made as a Vego!
It's for better or worse the mistake some Vegans perhaps should make more often 🙂
Common mistake #5 is: TOO POLITE / Caring Too Much What Others Think!
Perhaps I'm mellowing as I age however I prefer to think my focus is moving beyond just ME. I'll admit I was a selfish, stubborn, opinionated teenager. Most of us were weren't we?!
However now, I find myself seeking out ways to encourage, support and welcome people who are interested in eating less animal products. It's both a more enjoyable and also a more effective approach than leveling harsh, unyielding judgment at those who currently hold an alternate view point.
I'd rather quietly prepare a gorgeous cauli-crust pizza with marinated mushrooms, kale basil diary free pesto and cashew sun-dried tomato cheese for my meat eating friends. To serve it with some fresh roasted corn and crispy-salty-cheesy-yet-NOT-cheese-kale-chips. Or perhaps to take them out for breakie to my local cafe and enjoy caramelised banana vegan pancakes with pistachios, berries and coco whip.
I know they'd prefer it that way too.
Today's show is for my Vego, Vegan or perhaps Vego-Vegan curious friends. I want you to know you can eat plant based happily, healthily and sustainably. That the food can be delicious and nutritious. And, that when you avoid these 5 Common Mistakes Vegetarians And Vegans Make you can also rock around 24/7 in a fit, healthy plant strong body you love!
Having said that, everything counts. One plant based meal is a start. A great start.
Now lets power onwards with, 5 Common Mistakes Vegetarians And Vegans Make:
Here are the show notes for the original 240 episode: 5 Common Mistakes Vegetarians Make For Fat Loss:
The Healthification podcast is proudly bought to you by my online community for Vego's and Vegans (launching 01.04.17) who want to create a strong, healthy body and also help eradicate inhumane and unsustainable animal agriculture.
Learn more here:
If you liked Common Mistakes Vegetarians And Vegans Make you'll also like: 5 Ways To Eat Less Meat Without Sacrificing Protein.
If you're yet to share the Healthification love – just click here to zip over to iTunes and leave an honest rating and review. It'd help me out big time. With gratitude, Kate.