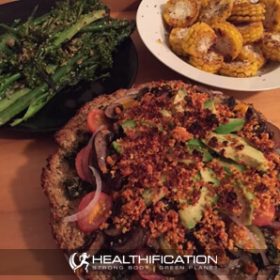 Podcast: Play in new window | Download
Subscribe: RSS
So I'm feeling a little proud today as I got my inner – rarely seen – Culinary Goddess on yesterday.
Yes, Kitchen Kate is generally as scarcely seen as Cardio Kate.
Generally the pleasure in food for me, is all about the eating and not so much about the preparing. However I do recognise that there are some super gorgeous takeaway options that while absolutely not supportive of my (and likely YOUR) best body, are still pretty tough to ignore.
The food that is fine once a week. On cheat day. However, what if you could indulge in this gorgeousness multiple times a week and still have the body and the health you want?
You can.
Thankfully with a little creativity there is a best body solution to every single carbie, fatty, stodgy-dodgy take-out. I genuinely believe that.
In today's tucker show I'm transforming 3 favs: SUSHI, BURGERS and PIZZA.
Let's start with yesterday's success story… the previously sneaky UN-healthy-health-food-carb-fest, sushi and a simple swap:
Download FREE 3 Day Easy Vegan Plan (PDF)
Low Carb Takeaway Favourites #1: Cauliflower-rice Sushi.
This tasted better than any regular old rice sushi I've ever eaten. It looked a little messy as I made the beginner mistake of over stuffing my rolls! I made the following quantity of rice and filling into 3 rolls, if you make it into 4 it'll be perfect.
4 Nori sheets
1/4 of a cauliflower head
1/4 of a small avocado
1/4 teaspoon himalayan salt
1/4 of a fresh lime
Filling 1,
2 whole organic eggs cooked into an omelette with chili, smoked paprika and coconut oil
1/3 a sweet potato baked with a sprinkle of cinnamon and mashed with fork (skin removed)
finely diced 1/4 red onion with similar quantity of finely chopped fresh coriander (stalks + leaves) with 4 sun-dried tomato halves finely chopped.
1/2 a grated zucchini
Filling 2,
fish of choice, I used 50 grams of left-over fresh salmon fillet cooked for dinner the night before
fresh peels of asparagus (3 stalks)
1/4 red capsicum sliced into strips
1/4 of a small avocado sliced
1/2 tablespoon of pesto
To make rice either pulse cauli in food processor till rice like or steam/microwave until soft and mash with a potato masher. Add 1/4 avocado, salt, lime and mix well.
Place 4 nori sheets (one at a time) on a damp cutting board and spread upper middle of each sheet with 1/4 of rice mix. Add/layer fillings as desired. Fold over the top of the nori and roll. Use a very sharp knife to slice in rolls.
[100% Plant Based Update]
Filling 1,
baked eggplant slices cooked with chili, smoked paprika and coconut oil
1/3 a sweet potato baked with a sprinkle of cinnamon and mashed with fork (skin removed)
finely diced 1/4 red onion with similar quantity of finely chopped fresh coriander (stalks + leaves) with 4 sun-dried tomato halves finely chopped
1/4 of a small avocado sliced
1/2 a grated zucchini tossed with 1 teaspoon of spirulina
1 tablespoon of hemp seeds
Filling 2,
mix of 1/2 large grated carrot + 1/2 a large grated beetroot tossed with 1 teaspoon of dulse flakes
fresh peels of asparagus (3 stalks)
1/4 red capsicum sliced into strips
1/4 of a small avocado sliced
1 tablespoon of vegan pesto
1 tablespoon of hemp seeds
Moving on to that big, satisfying hearty essential… the ever available late-night-saboteur, the burger and it's awesome alternative:
Low Carb Takeaway Favourites #2: Portobello Burger.
So the bun is the main best body saboteur in a burger. But what if you're super hungry – you're already ditching the chips right – and going bun-less is just a lil light-weight? Enter mushie love (!) a couple of baked (or BBQ'd) Portobello caps are the perfect substantial replacement.
If you're a cook you'll have your fav vego pattie however here is a simple felafel burger option – it'll make 4 serves if made into generous sized burgers.
2 400g canned chickpeas
2 tablespoons psyllium husks
1 carrot, grated
1 onion, diced
1 cup fresh kale finely chopped
6 garlic cloves, crushed
4 tablespoons chickpea flour, or any other type of flour
1 teaspoon sweet paprika
1/2 teaspoon ground cumin
Sea salt and freshly ground pepper, to taste
2 tablespoons tahini
olive / coconut oil (2-4 tablespoons) for frying
Blend chickpeas in the food processor till they have a paste-like consistency. Transfer to a large bowl and mix in all the other ingredients, except the oil. Heat some oil in a non-stick frying pan. Make the patties 2-3 tablespoons per patty. Fry them 2-3 minutes on each side or till cooked. Drain the falafel patties on a plate covered with a paper towel to absorb excess oil. Bake, grill, or best of all BBQ.
To assemble,
2 cooked Portobello caps, one spread with basil pesto
A couple of thick slices of tomato and some thin slices of red onion
A handful of rocket or baby spinach
Your pattie OR if you eat dairy a slab of BBQ'ed haloumi
A thick slice of eggplant that best case scenario was cooked on the BBQ
1/4 avocado mashed with a little fresh coriander
And of course the crowd pleaser and my personal-previous-possible-number-one food in the world, pizza and it's equally stunning stand-in:
Low Carb Takeaway Favourites #3: Cauliflower-crust Pizza.
I used to be proud that I could devour a whole large gourmet pizza and a side of bread… I'd tidy away anyone else's meat-free leftovers too… of course back then I also used to have 2 hours a day to commit to the gym and a little more thigh fat than I'd love!
Let's cover lazy first with this creation because I'm not going to lie, baking your crust from scratch is a little effort.
Lazy option 1,
Mushroom cap pizza. Yes a mushie base doesn't go crispy however it does hold a lot of fabulous fillings… I like:
Basil pesto, red onion, green capsicum, sun dried tomato, olives, cottage cheese and a sprinkle of parmesan.
Lazy option 2,
Zucchini bite pizza's. Cut your zuc's into 1/4 inch rounds, then spray with coconut or brush with olive oil and grill for a couple of minutes each side. Next arrange your bites on a lined baking sheet and top with tomato paste, marinated artichoke, a slice of goats cheese, fresh basil and black pepper before cooking.
Moving on to the cauliflower crust, one that I used to love uses just,
1 medium-sized cauliflower, grated (by hand or in food processor until rice-sized, but not pulverised) and cooked, well drained, cooled slightly, 100 g goat's cheese, 1 egg, sea salt and freshly ground black pepper.
Here's a link to the full recipe, because it's not mine, it's from the team at 'I Quit Sugar.com'
[100% Plant Based Update]
This makes 2 huge serves for dinner or 4 serves for lunch. The recipe is curtesy of edgarraw on Instagram. I've just added more toppings and a side of green veg.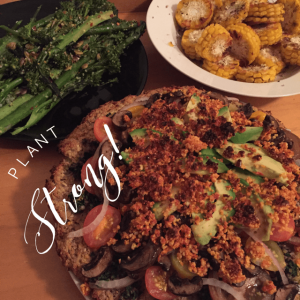 For the pizza crust,
2 cups cauli-rice (raw cauli shredded in food processor)
4 tablespoons chia seeds
8 tablespoons water
1/2 cup almond meal
1/2 cup of oat or chickpea flour
2 tablespoons nutritional yeast
1 teaspoon garlic powder
1 teaspoon pink salt
black pepper to taste
Preheat oven to 200 degrees C. Mix chia seeds and water well and let sit for 6 minutes. Add all other ingredients and kneed into a dough. Shape into a round of your desired thickness (1/3-1/4 inch) and turn onto a cooking sheet lined with baking paper. (I also coated the paper lightly with coconut oil). Cooking time will vary based on thickness of crust. Around 30-35 minutes. Once crust bottom is nice and golden let it cool on a cooling rake for 30 minutes.
To top,
1 cup sliced mushrooms
2-3 heaped tablespoons vegan pesto
multi-coloured cherry tomatoes, sliced
1/8 red onion, finely sliced
1/2 ripe avocado, sliced
2-3 heaped tablespoons cashew sun-dried tomato cheese (recipe in Free 3 Day Easy Vegan Plan eBook)
For the veg side dish,
1 bunch of asparagus + 1 bunch of broccolini
1 teaspoon coconut oil
sprinkle of chilli flakes, onion powder, dried herbs to taste
1 tablespoon each of nutritional yeast, hemp seeds, pumpkin seeds.
Wash greens and slice any large bits of broccolini in half length ways so they're a similar size to asparagus. Heat coconut oil in a baking dish and coat greens in oil. Sprinkle flavourings over greens and toss to coat. Cook greens 200 degree oven for around 10 minutes.
To assemble,
Spread pizza crust with pesto. Arrange tomatoes, onion and mushrooms. Add avocado to centre of pizza. Sprinkle with cashew cheese.
Now place pizza under grill for a further 5 minutes and serve with green veg.
To get actionable today I'd love to hear your favourite low carb takeaway transformations?
What are you either making at home or eating out that used to be stodgy-dodgy and likely leave you feeling fairly rubbish and now you've found an awesome alternative?
That's it for today. In the Wednesday Weigh-in show I'm covering: Self Talk.
If you liked Low Carb Takeaway Favourites you'll also like: How To Cut Carbs To Lose Weight
It's 100% free. It's fun. It's easy.
Here's what to expect each day: 3 abundant plant based meals. An awesome equipment free fat burning workout. And also the mindset tips that make your best eating and exercising choices simple and sustainable.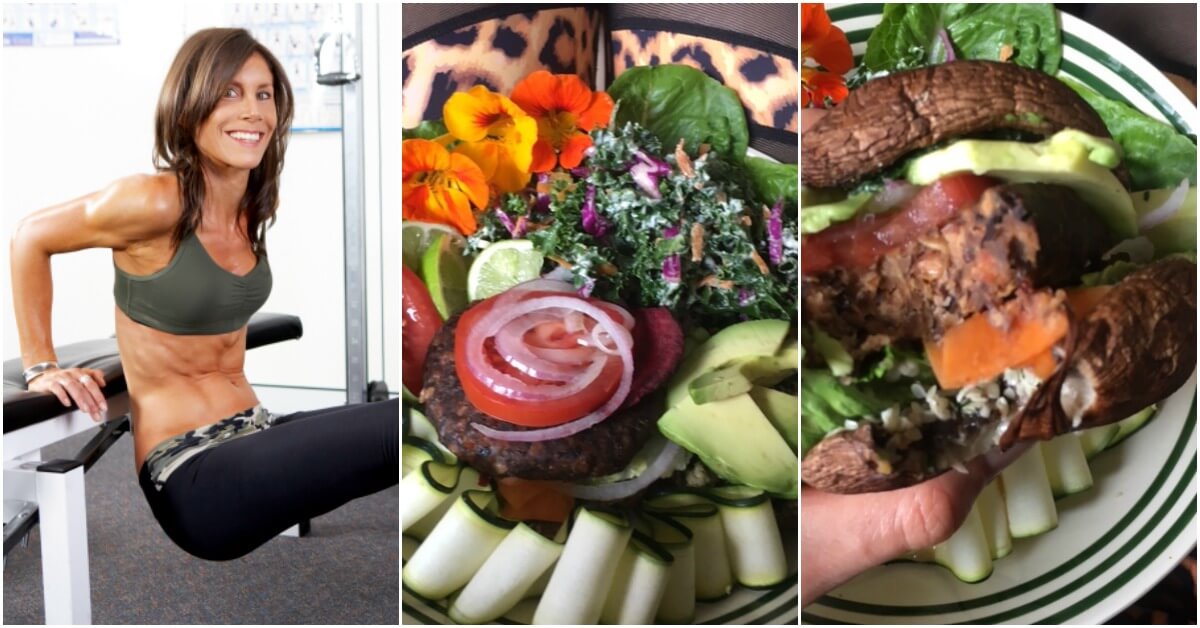 If you're yet to share the Healthification love – just click here to zip over to iTunes and leave an honest rating and review. It'd help me out big time. With gratitude, Kate.