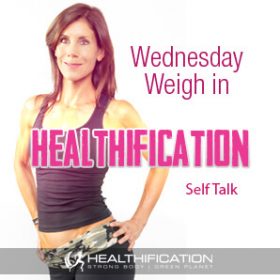 Podcast: Play in new window | Download
Subscribe: RSS
What would you do if your boss – or colleague – or anyone, regularly asked you to: "Get outta the way fatso"?
I'm hoping you're tell them where to go right? You'd absolutely not stand for that type of ignorant-abusive-crap!
You'd speak your mind and do everything within your power to get a new job quick smart as my dear friend did when she recently found herself in this UN-fun position.
The thing is although it's easy to recognise that this is unacceptable behaviour from someone else… How supportive and positive and caring is your personal self talk?
In todays show I'm weighing in on: Self Talk.
The only person you get to spend 24/7 with, is of course YOU and that means the way you talk to yourself will likely have a far greater impact than all of the misguided, malicious, moronic people you ever encounter!
I train a lady who 17 times within her first few minutes of exercise would declare: "No, I can't" …I'm really not exaggerating.
Her self-talk was totally defeatist. She told herself over and over that she couldn't, and not surprisingly exercise was very much 'struggle-street' for her. I'm happy to say, this lady is now not one of the couple of clients I drag kicking and screaming through their sessions… I called her on her self-talk – which basically means, I drew it to her attention and affirmed my faith in her and showed her that more positive, more supportive, more caring self-talk was going to help her progress with her exercise.
She took it onboard and the change in what she can do is astounding.
Self talk takeaway #1: Focus on what you CAN, even before you can.
It's no coincidence that the people with the most positive attitude have the most positive results. I know that sounds simplistic – and Yes from time to time there will be an exception – however that little voice in your head is going to be chattering away anyway so why OH WHY (!) would you ever let it run with hurtful, negative chatter when you can catch it each time and reframe the negative to something a while lot more supportive?
You've likely met the person who's struggling through a rut… a self perpetuating cycle of: "Why does this always happen to me?" or "Whats wrong with me?" …heck, we've all been there right? I know I have!
The thing is your self talk will build momentum, for better or worse. Thankfully you can consciously choose to create positive momentum. Absolutely it'll seem a little forced at first to catch yourself however as with everything it'll only get easier.
Self talk takeaway #2: Manufacture and build positive MOMENTUM.
Switch: "Why does this always happen to me?" to "How can I find the best in this?"
Switch: "What's wrong with me?" to "What have I done really well today?"
Ditch: "Yuk, my thighs are so fat and flabby." and choose "Wow, I can feel my thighs getting stronger and leaner with each rep."
Ditch: "I'm feeling lazy and unmotivated today." and choose "What can I do that will make me feel best at the end of the day?"
Do you sometimes wonder at the super-overly-conifdent-dude that knows he's just killing it – God's gift to the ladies – and yet, you're not so sure as to why he's so chocka-block over-full of confidence???
I'm sure there are chicks like this too – I'm just picturing a particular gent right now!
Now this dude or dudette is rockin some pretty damn supportive self-talk. Yes, maybe even a tad too much – however it's better than the alternative right? …because the thing is: We teach others how to treat us.
Self talk takeaway #3: The way YOU talk to you, sets the stage for how others will perceive you.
You don't have to be all over-the-top with this one. Be genuine and move at your own pace.
In the long run you want others recognising your unique and well deserved awesomeness and treating you accordingly… rather than falling for a bunch of all-talk-no-action-ANNOYING-hot air and feeling duped!
To get actionable today let's revisit, Self talk takeaway #1: Focus on what you CAN, even before you can.
I'd love you to eradicate "I can't" so far as one aspect of achieving your body gain goal.
=> perhaps, "I can't" get up that early.
=> maybe, "I can't" eat that.
=> possibly, "I can't" be consistent with my exercising and eating.
Take "I can't" and ditch it today, choose to take "How CAN I make this happen?" for a spin and see if you prefer the results and also see how you WILL enjoy the process a whole lot more as well.
'How can I?" is so much more fun than "I can't".
That's it for today… in tomorrows Thursday Training show I cover: Super Quick Pyramiding Power.
I hope you can join me.
If you liked this you'll also like: How Certainty In Yourself Beats Weight Loss Overwhelm.
If you're yet to share the Healthification love – just click here to zip over to iTunes and leave an honest rating and review. It'd help me out big time. With gratitude, Kate.