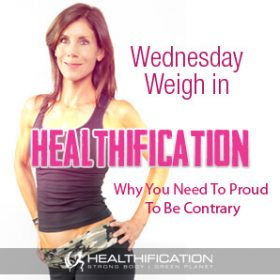 Podcast: Play in new window | Download
Subscribe: RSS
Most of us did unique fairly well as kids.
I was super comfortable being the TOM-BOY-girl in ugly scoop shorts, an assortment of hideous 'I Love Australia' t-shirts and homemade paper headbands with seagull feathers stuck in them.
A certain obsession with American Indians led also me to make bow and arrows to compliment the headband, I intentionally ran like a horse (no I don't mean fast I just mean a weird 'canter' sort of a thing) and I'd carry on and sulk and wear my trusty scoop shorts to bed if my ever patient mum actually did manage to maneuverer me into a dress for a special event.
Yes, I was unique even contrary and I imagine you were too.
However at some point we learnt to get less unique.  And it's not necessarily a good thing… although I do still prefer short shorts to pretty dresses…
Today I'm weighing in on: Why You Need To Proud To Be Contrary.
Unless you want to look, feel and perform like everyone else it's necessary to resist ordinary behaviour. Ordinary behaviour will involve the following to name just a few:
=> Let an existing or planned exercise routine slip whenever a better, easier, more enjoyable or more socially acceptive alternative presents.
=> Eat the canapes and whatever beverage happens to be provided free because they are right there in front of you… and 'all you can eat/drink' is too good an opportunity to miss.
=> Skip meals when busy and overeat crap-o-la to compensate later that evening.
=> Buy the 'on special' chocolates, biscuits etc because they are right there irresistibly flaunting their
sparklely wrapping at you.
In addition to embracing contrary, in order to enlist the support of all those close to you it's important that you are able to communicate exactly why you're choosing contrary.
The person who no longer has the pudding they never even loved anyway or stops at one big serve of roast rather than stuffing themselves to the point of discomfort or asks for an adjustment to the menu when eating out.
This person who perhaps gets up early to get a walk in or buys vodka when beer and bubbles are part of the bar tab… will INITIALLY have to deflect some questions.
We teach others how to treat us.
The first couple of times you take a new habit for a spin, it'll likely attract some attention.
As you stick with it it'll become normal, for you and for the people closest to you – who are likely just trying to justify their own indulgences by drawing attention to your choices.
In saying this I am laboring 'choices' …what you eat and when you exercise is your business. As is what the people closest to you eat and whether they exercise.
ZERO JUDGEMENT.
The goal is to get you feeling and looking awesome, certainly not to leave anyone else feeling worse. 
You know the couple where the 'naturally skinny one' always critics whatever the 'bigger one' consumes? Not effective. Not nice.
If it's important to you to fuel your body the food that best helps it look and function as you would love it too – to prove to yourself that you can – then there is no shame in that.
It's not fussy, it's a simple decision to take the actions that allow your to achieve your goal.
Finally, it does not matter whether you've just decided a few days ago or whether you've maintained your goal physique for years and are committed to continuing that path. (likely you're in between)
My point is if you were to fear judgment in the form of "why is she/he even bothering" then you'd never start anything new and positive.
Here are 8 simple actions to make C.O.N.T.R.A.R.Y. work for you:  
1) Cut the connection with nighttime TV. Get to bed by 10pm. Rise by 6am.
2) Order an off-the-menu option that's aligned with your goal.  It's not fussy.  It's committed.
3) Never allow your training to slip too much.  Most people need massive pain before they 'get back on track'…let your signal be 'slightly' tighter clothes.
4) Train heavy but safe.  With big compound movements that use multiple joints and multiple muscles…YES, ladies you too (only if you want to be tight & lean though)
5) Rain or shine a scheduled exercise session stands.
6) Avoid hating or being jealous of anyone.  It's a waste of your energy….AND that energy is better put towards achieving your goal.
7) Remember your goal on Public holidays: it's a day off work NOT off exercise and great nutrition.
8) YES to your exercise and nutrition as a priority is not selfish. If you want to take care of your family and friends first you must take care of Yourself.
As always lets make this actionable:  Choose just one simple contrary action to get awesome at.  
Commit to it… ideally publicly via the comments section below.
AND. if you ever feel yourself wavering here are 3 questions to ask yourself:
One. "Is there is value in dealing with this?" (i.e: clothes feeling a tad tighter)
Two. "Will it get easier with time/procrastination?" (likely not!)
Three. "Will it fix itself?" (very likely not!!)
OK, why let it grow (literally) into a far greater more daunting challenge – it's time to raise your standards and take action to rectify the situation immediately.
If you liked this you'll also like: How To Prevent Weight Gain Over Christmas and New Year (6 step survival blueprint).
Thank you so much for your support! To rock even more – and share the Healthification love – just click here to zip over to iTunes and leave an honest rating and review. It'd help me out big time. With gratitude, Kate.