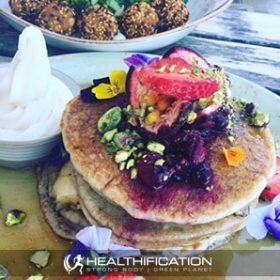 Podcast: Play in new window | Download
Subscribe: RSS
How often does eating out lead to meal choices that really aren't bringing you any closer to your ideal body?
It really doesn't have to be the case.  The vast majority of the time I hear "I had to have…" it's really just an excuse.
No one forced you to order the (whatever it was) – and if they did – then it's time you stand up for your own unique food choices… in fact let's devote a whole show to that tomorrow where I weigh in on being proud to be contrary.
Today's tucker show however, is time to share my Top Dining Out Tips For Fat Loss. 
I want all your meals to be informed choices.
Once you're armed with the tips it's your choice whether you choose to follow them or not.  And of course some of the time should be a not… food's fun and there to be enjoyed – however a fit body is also fun so hopefully this show will help get you to that healthy middle ground of having some of the food and all of the body.
The most important component in dining out and not derailing all the great work you've put into your eating and exercising this week actually happens before you even take a peek at the menu.
Here are 3 key points to apply to any meal you eat out:
1. Plan what and where. Don't end up at a burger joint and expect you'll be ok with a boring, unsatisfying green salad while everyone else chows down hearty burgers and crispy fries.
The more input you can have in choosing a restaurant with great food options, the better.
2. Be fine with moving if it's not what you expected. What? You're not down with letting the people you choose to spend time with see how you prioritise giving your body the fuel that keeps it healthy? You teach your loved ones how to treat you. It's 100% your choice what standards you set and keep for your body and the fuel you give it… they will follow your lead.
3. Ask for adjustments to the menu. Be polite, be appreciative, and be fine with your fussiness!
Ordinary or 'normal' is now unhealthy, unfit and over-weight. If you want extraordinary or simply just healthy, it'll take extra-ordinary behaviour. I like to think the more I (and you) ask, the sooner our preferences will be available as a standard (fuss-free!) order.
And it's working, one of my local cafes is now serving almond milk – finally – and I've swapped to this cafe solely for that very reason.
Next up, and we still haven't perused that tempting menu yet – is the strategy that will help make your food choices easy.  It's going to simplify the decision making process and gently steer you in the right direction… rather than leave you at the mercy of whatever is sounding most scrumptious and difficult to decline.
This strategy is simply to: Know Your Standards.
Standards are little self imposed rules that you abide by either consciously or unconsciously that allow you to get and keep a body you love. Such as:
=> what are you comfortable eating… and serving?
=> number or cheat/off the plan meals per week.
=> how many days or to what degree you'll let your eating standards lapse for.
=> even what you'll prepared to do to make up for the lapse.
For example, when I go home to visit my mum and dad there is an abundance of lovely baking, sweets, chocolate and dessert.  It's one of the many ways my mum demonstrates her love and generosity.
I decide how much I'm going to deviate from what is normal eating for me before I arrive home… and it's the same before I eat a meal out.
It's not a conscious decision that actually takes any time, more-so just an awareness of what is aligned with my standards and what isn't.
Ok, so you've got your standards sorted let's go rapid fire with 5 top dining out tips:
These tips apply to the meals that are not your weekly cheat meal… so they are all about getting that meal your eat out as close to the ideal (for your body) meal you cook for yourself as possible.
1. Prioritise lean protein that you love… if the barramundi with chips and salad sounds great, then ask for it with no chips and green veg instead of salad.  In my experience salad is all too often a bit of boring lettuce, a piece of tomato and some coarsely cut red onion.  It's not satisfying.  I'm yet to be turned down when I politely ask for 'any greens' instead of the chips and salad.
2. Ask for the dressing or creamy sauce on the side or not at all.  You knew that though right? Each time you DO it, it'll get easier and in time become a habit.
3. Get the burger, wrap, toast or whatever refined carb it happens to be – without the bread – and ask for a side of something else that they serve anyway, like mushrooms or spinach or avocado. The side of something else is important as otherwise you may not be satisfied and that dessert menu will be tougher to decline.
4. Equally, ask for the stir fry without the noodles or rice and ask for extra protein or green veg.  You may have to pay a little more for this one… however think of it as saving you exercise time.
5. Consider extra sides over greasy entrees or fatty desserts… some of the veg and salad dishes you can get out are pretty awesome so fill up some fibrous love and save yourself from an unnecessary sugar or fat fix.
Today's action step is learning from that last meal out that was really not the most awesome choice. What was the factor that caused you to make that choice and how can you out-smart it next time?
=> Perhaps you ended up at a take-away joint because you didn't speak your mind when everyone fall back to the default quick, easy and greasy option?
=> Or maybe you focused on cheapest not best and went for the pizza at the pub?
=> Possibly you skipped lunch and in a desperately hungry state could not resist the pasta and garlic bread combo?
Yes, it sounds like a little work thinking through the situations that have gotten in your way in the past and out-planning them for your future.
It will however only get easier.
=> Your friends and family will begin to expect a more healthy restaurant suggestion from you, and to be honest, as long as you'e not crazy-outta-control-extreme it's likely going to be better for everyone.
=> You'll feel good about once in a while paying for the great quality meal.  In the long term quality fuel and better health is cheaper AND in the immediate term it's symbolic of your commitment to and focus on your best health.
=> You'll find those quick and easy lunch solutions that mean you don't ever have to skip lunch and get to dinner all hangry and volatile and COMPLETELY IRRATIONAL… or is that just me?
In addition it's a whole lot less work than repeating the same result destroying choices time and frustrating time again.
If you liked this you'll also like: Weight loss tips: my 5 best quick fixes
Thank you so much for your support! To rock even more – and share the Healthification love – just click here to zip over to iTunes and leave an honest rating and review. It'd help me out big time. With gratitude, Kate.