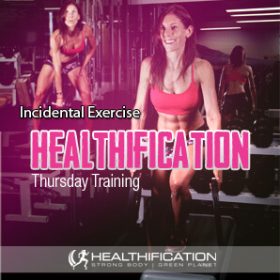 Podcast: Play in new window | Download
Subscribe: RSS
Often the most effective advice is so obvious we discard it.
Todays training show is devoted to something that is a non-negotiable part of my routine… and often the missing link in a training plan that just isn't giving you the results you're seeking.
It saves me from tedious-cardio-time and helps me stay calm and happy.
Today lets talk incidental exercise and specifically how it will help you get and keep the body you love.
It's super obvious that life today is hugely sedentary so that's not going to be my focus for this show… you already know moving more is a good thing.
There are however 2 other important factors that make incidental exercise so effective:
One. The Dread Factor.  Not sure if this happens to you, it absolutely used to happen to me.  When I was scheduled to do cardio I'd dread it.  It was hard and boring and daunting AND I'd just waste so much energy thinking about it.  I'd often not do it.  And then I'd feel guilty… all day.
Then there's the practicalities of getting all sweaty and needing to shower again and WOW it can just eat up a lot of time.  Talking of eating… when I did do cardio, I'd struggle with the desire to consume or OVER-consume after my session.  That old "now i deserve" thought would pop up as I discussed in Healthification 008 Fitter and Fatter.
With incidental exercise there is no dread factor and no need to over-cosnume.  It's just something you do.
Which leads me to important factor # Two. The Sched Factor.  As is schedule.  Incidental exercise is just that much easy to work into your schedule and make a non-negotiable part of your routine.  You don't need to get to the gym or have access to a shower or even be totally decked out in gym gear.  It can just slip in either side of work… or brunch on the weekend… even as a walking meeting with colleagues or a walking catch up with a girlfriend.
So, no dread and easier to sched, here are a couple more factors to consider with incidental exercise:
1. You can turn this into something you actually look forward to.
=> Find some podcasts you love or download an audio book you're excited to listen to and save them for incidental exercise. I have so many favs, however here are my top 2:
PODCAST: 'Think Act Get' with James Schramko and Ezra Firestone.
AUDIOBOOK: 'Fascinate' by Sally Hogshead. (I bought the audio version from audible.com)
=> At least once a week aim for your incidental exercise to be somewhere gorgeous and calming… for me it's a walk along the beaches.  This is a much longer walk to work for me so it is not the norm however whenever I do make it happen I feel so much better-calmer-happier for it.  It's very often where I get my most creative ideas too.
2. Incidental exercise when worked into your routine can actually be super time effective.
=> I'm not usually a fan of multi-tasking however walking while listening to a great podcast while getting to work is ticking the exercise-education and commute boxes in one effective sweep.  It's also more enjoyable than being in one of those cars stuck in traffic… and you're on your own steam so no need to worry about public transport or traffic making you late.
=> How about that week when you've gotten less exercise in than you would love and you have Sunday brunch with girlfriends planned though you know you should really get to the gym instead?  Choose your shoes carefully and walk to brunch – it's nicer than forgoing sacred-Sunday-sleep-in to get to the gym or going for a run and then needing to shower and get presentable.
Lets make this actionable: Todays action step is to find and commit to one time each week which is an opportunity for more incidental exercise.
Maybe it's that weekly phone call with someone dear to you? I chat to my mum every Sunday… while we're both out for a walk.
I'd love to hear how you're going to work a lil more incidental exercise into your weekly routine. You can let me know via the comments at todays show notes – again that's strongbodygreenplanet.com and type 019 in the search box at top right.
If you liked this you'll also like: Do I NEED To Do Cardio?
Thank you so much for your support! To rock even more – and share the Healthification love – just click here to zip over to iTunes and leave an honest rating and review. It'd help me out big time. With gratitude, Kate.