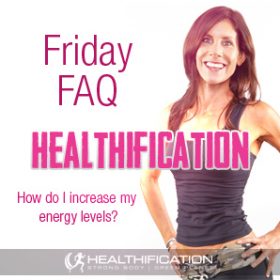 Podcast: Play in new window | Download
Subscribe: RSS
Over the years I've experimented with plenty of ways to increase my energy levels.
A lot were fairly ineffective… like my old Go2-afternoon-tea of a 600ml diet coke and a huge low-carb protein bar. Some were a little scary… like the time a lovely gent in the supplement store gave me a 'caffeine tablet' which my body responded to not with 'a heap of energy' but with a heap of hot, angry, bright red stripes traveling down my arms and legs…
Today I'm covering one of the questions I regularly get asked by clients struggling to stick to meal planning and exercise, and that is: How do I increase my energy levels?
Energy is something most of us would love more of so today I've got 7 tips for you:
A little caveat first. Tip number one is vital – perhaps my fav – however it will not work on it's own and is not safe on it's own… are you curious?
1. Fake it till you make it.
When I first became a Personal Trainer I decided I wanted to be the trainer with the bouncing outta her skin energy and positivity. I made this decision because I wanted to motivate, inspire and even entertain my clients and I knew the last thing they need when they're tired and sluggish first thing in the am or after a long day at work is a tired and sluggish trainer.
The thing is, even though it benefited my clients – I've only had one lady over almost 10 years who asked NOT to train with me because I was too happy first thing in the morning (Yes, I still remember her!) – anyway, the true benefit was to me.
I discovered that if I act like I've got energy as I rock into the studio each morning – the funny thing is I actually do have energy. Motion creates emotion.
And the reverse is true. You've met the person you almost get tired just looking at right? They move slow, they hang their head, slump their shoulders, drag their feet and even speak slow… everything is just such an effort – the temptation is to bound right up and shake some life into them (!) however that's probably a little extreme.
2. Get enough sleep… and an off to bed routine that works for you. 
Enough sleep may sound easier said than done however like everything it comes down to priorities.
Also to treating your body with respect rather than pushing and pushing it – with work – with social – even with exercise… without giving it the adequate rest and recovery it needs and deserves.
Each night you will have triggers that either work in your sweets dreams favour or make it that much more likely you'll have an UNsound nights sleep.
It's a matter of being intentional with your evening ritual.
=> commit to the time you want to get to bed by.
=> disconnect from the devices that stimulate your thoughts well before that time.
=> create the calming and comfortable bedroom environment that supports your sleep.
=> Yes, with young kids a lot of these ideals will not always (or ever) be possible… however some will be possible some of the time and there's still value in that.
3. Get up at a set time.
This is about making it easier on you. Letting your body clock get into a routine is a lot easier than getting up at 5am one day, 8 the next and 6.30 the day after. 6 days I'm up at 4.30am because I find that easier. If I don't have clients early I'll get some super productive work done early.
On the 7th day – Sleep in Sunday – I actually always find myself getting up early for a bit and then crawling back to bed later just because I can.
Getting up at a set time also allow you to escape that draining "will I" "won't I" self negotiation when deciding whether to get up now or not. Talking of draining…
4. Avoid negative – draining – input.
This is the biggest, most worthless ENERGY SAP. No matter how much sleep you're getting if you allow yourself to be consumed by negative input – be it from negative people, depressing TV shows or whatever, then you're just throwing good energy down the drain.
And what you focus on expands.
I genuinely cannot imagine the person fixated on negative, draining input who is also full of energy. It's just incongruent.
5. Prioritise energy giving food…and water.
You knew I was going to go here right? Lets get specific. I'm talking unprocessed, micronutrient rich, primarily one ingredient foods. Such as;
=> a green juice or dairy free smoothie
=> a veggie omelette
=> a huge green salad with substantial fibrous veg
=> fresh sashimi
=> a piece of fresh fruit or nuts or seeds
=> a serve of meat or fish with multiple veg on mass
Nothing too tough to find there so lets cover the food that will sap your energy levels while nurturing your fat levels…
6. Ditch energy sapping food…and drinks.
As I shared, I struggled with this for years… I'd have the fake crap-o-la that although it didn't 'make me fat' – it didn't help me feel awesome either. Here are some foods that will sap your energy: 
=> Refined carbohydrates like white flour and sugar.
These 'foods' will cause your blood sugar levels to soar, which your body will scramble to process by producing insulin. The insulin then causes blood sugar to drop, which results in your energy levels crashing… and it's time for that next sugar hit.  The vicious cycle continues.
=> Zero value diet and sugar free processed rubbish that fuels your desire for the sweet fix and deprives your body of the micronutrient rich foods that actually give you energy.
I want to focus more on what to enjoy than on what to avoid so I've put together this 'Top Energy Giving Foods Cheat Sheet' PDF. (pdf to come 03.05.14)
7. Prioritise your exercise.
We're back to motion creates emotion here and that simple fact that moving gives energy rather than sapping energy.
Look at the evidence around you. The people that make time to exercise just have more energy. The people that are too exhausted to exercise and slump onto the couch in front of T.V. each night have less energy… it's a cycle so let's make sure the cycle is spinning in your favour.
And that brings us to action step time: I'm going to suggest you pick the tip that you believe would have the most impact on your energy levels and to make that tip a part of your routine for one week. Just take it for a spin and see if you like the results.
So to recap it's:
1. Fake it till you make it.
2. Get enough sleep… and an off to bed routine that works for you.
3. Get up at a set time.
4. Avoid negative – draining – input. 
5. Prioritise energy giving food…and water.
6. Ditch energy sapping food…and drinks.
7. Prioritise your exercise.
I'm going to take my own advice and refine my off to bed routine… because I've let face-book back into my bed and it's not a good thing! As fun as face-book can be it's not the quality of input I want to be fueling my mind with just before sleep.
That's it for week 4 and pretty much month one of Healthification, super huge thanks to you and especially to YOU if you've left me an iTunes rating and review.
I'm incredibly grateful.
If you liked this you'll also like: Choosing Your Curves: exercises to tone hips and thighs PLUS lose stubborn belly flab.
If you're yet to share the Healthification love – just click here to zip over to iTunes and leave an honest rating and review. It'd help me out big time. With gratitude, Kate.