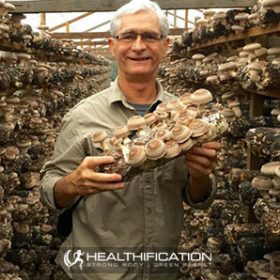 Podcast: Play in new window | Download
Subscribe: RSS
Today I'm chatting with a mushroom expert! If you know me you know I LOVE mushies. If you're not currently a fan of this fabulous fungi I hope you'll be tempted to give them another go once you hear some of:
The Magical Health Benefits Of Mushrooms With Jeff Chilton.
Jeff Chilton studied Ethno-mycology (I had to google that – it means the study of human-fungal interactions) at the University of Washington in the late sixties and in 1973 began a 10 year career as a large scale commercial mushroom grower. In 1989 Jeff established Nammex, the first company to supply medicinal mushroom extracts to the US Nutritional Supplement industry. Nammex extracts are used by many supplement companies and are noted for their high quality based on scientific analysis of the active compounds.
A founding member of the World Society for Mushroom Biology and Mushroom Products in 1994 and a Member of the International Society for Mushroom Science – Jeff is a wealth of knowledge on the countless health benefits of mushrooms, both edible and medicinal.
He also has valuable advice on what to look for and what mistakes to avoid when choosing a mushroom supplement. The hour I had with Jeff flew by. I genuinely found this chat fascinating. I hope you do too!
Let's explore: The Magical Health Benefits Of Mushrooms With Jeff Chilton.
In this interview we cover:
Jeff's early experiences mushroom hunting and what he means by:"Meeting with very special mushrooms in the 60's when I was looking at the Shamanistic aspect of them."
The anatomy of a mushroom (3 plant parts): "Mushroom spores germinate into a network of mycelium. Mycelium amasses nutrients and then produces a mushroom. The mushroom completes the cycle by producing and releasing spores."
The medicinal power of mushrooms.
Here are some of the more popular varieties Nammex sells: Reishi Mushroom Extract Cordyceps Mushroom Extract Chaga Mushroom* Extract Lions Mane Mushroom Extract.
We dig in a little with adaptogens. 
Jeff's Redefining Medicinal Mushrooms study. (lots of information on what mushrooms do, but very little on product quality)
Product Quality issues:Production methods for mushrooms and mushroom extracts. What is mycelium on grain biomass. Labelling issues.
Check out this full post on Jeff's site: https://www.nammex.com/10-questions-to-ask-about-your-mushroom-supplement/
Jeff's advice: "Before you supplement with mushrooms, eat mushrooms!" Cooking techniques and tips.
What types of edible mushrooms and medicinal mushroom extracts Jeff regularly consumes?
The prospect of converting chicken farms to mushroom farming. (I had to ask!)
To get actionable! Jeff's advice for the individual who loves the taste of mushrooms and is up for getting a little more creative?
Also for the individual who does not love the taste yet might want to experiment with medicinal / extracts?
I'm excited by all the possibilities for more mushie love in my life! I love the advice "Before you supplement with mushrooms, eat mushrooms!" That's very genuine and ethical advice from a man who sells mushroom based supplements.
So far as fresh edible mushrooms I'm super keen to try both lions mane and if I can hunt it down cordyceps. For cooking advice, beyond a searing hot pan and (vegan!) butter I strongly recommend you check out the gents from Wicked Healthy. So that's wickedhealthyfood.com and they are Derek and Chad. They utterly excel at cooking mushrooms to get that charred, roasted, caramelized part wicked part healthy deliciousness. To quote the gents "Our plant-pushing philosophy is 80/20: shoot for 80% healthy, 20% wicked and you'll be 100% awesome"
Sounds good right?
To avoid ruining my plant strong meals I'm going to take Jeff's advice to try Reishi, the extra bitter mushroom extract (with the highest amount of beta-glucans) in coffee. I know we covered a lot in todays show and some of the "science'y" stuff went over my head at first when I was prepping for the show listening to other interviews however I think Jeff did a really good job of keeping it simple today.
To dig deeper or check out the article I mentioned on 10 Questions To Ask About Your Mushroom Supplement please head to: www.nammex.com. Some of the questions covered:
Is the product made from mushrooms or mycelium?
Why are there so many companies selling mycelium on grain (MOG)?
Is the product a mushroom powder or an extract?
Where is your product made? Where does it come from? (and home grown is likely NOT best here I was surprised to learn)
His other site for purchasing top quality mushroom extracts is realmushrooms.com.
That's it for this week in Healthification. Huge thanks to YOU for sharing this week with me. You rock and I appreciate your support!
If you've enjoyed this show and gotten value out of it I'd love to invite you to go to iTunes or wherever you listen to this podcast and search for Healthification and leave me a review. I'd super appreciate it. It gives me great feedback to keep on powering through the twice weekly shows and helps other people to find Healthification as well.
Till next time, remember Creating a body and life you love is Freedom. (If this ex-carb queen, NON-genetically gifted, naturally uncoordinated VEGAN-chick can do it – so can YOU!!!)
If you liked "The Magical Health Benefits Of Mushrooms With Jeff Chilton" you'll also like: No Fuss Vegan / The Advice I'm Giving My Mum!
If you're yet to share the Healthification love – just click here to zip over to iTunes and leave an honest rating and review. It'd help me out big time. With gratitude, Kate.