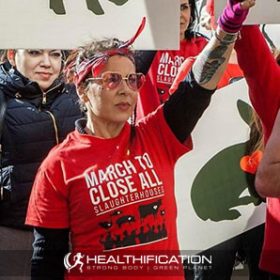 Podcast: Play in new window | Download
Subscribe: RSS
Isy V is co-founder of Legion DX Sydney a dedicated group of activists committed to non-violent, assertive direct action with the sole intent of abolishing the exploitation and killing of ALL Animals.
A impressively relentless activist, strong leader and voice of reason, I'm really excited to learn more about "behind the scenes" Isy today.
It's fair to say I've admired her unwavering yet measured leadership from a distance and wondered at the calm force she brings to situations of such intensity, emotion, volatility. I have nothing but huge respect for this powerful woman. Let's chat:
Effective animal rights direct actions and advocacy with Isy Veira.
In this interview we cover:
Isy's becoming vegan story.
Legion DX Sydney. The work behind the scenes. What Isy has learnt that will benefit other activists around the world so far as getting the best possible engagement / outcomes and the best possible media coverage.
Media "spin" on animals rights actions and activists.
What Isy sees as the biggest threat to veganism globally.
Isy's personal approach when chatting to people about animal rights and veganism.
The most challenging part of Isy activism journey.
Who are Isy's role models – especially other strong females in the movement.
And so much more!
I hope you enjoyed this chat with Isy V as much as me! You're hopefully also getting the sense of how strong the animal rights scene is here in Sydney and actually in many parts of Australia. If you live local then I urge you to jump on social media and seek out some like minded people to meet with in real life!
If you don't live local then I super urge you to get something started in your local area!
You can see how swiftly momentum builds when like minded individuals with an undeniable desire to make the world a better place for animals (and humans for that matter) band together. Activism has added so much to my life. I can genuinely say, it helps me stay sane as a vegan living in a non-vegan world.
Here are links to the resources and activists Isy mentioned in todays show as well as where you can connect with Isy and Legion DX Sydney online.
Australian documentary on animal exploitation Dominion:
Anonymous for the Voiceless (where Isy and I do the Cube of Truth):
Meat the Victims on Instagram:
You might also enjoy checking out these fellow Sydney activists I've interviewed:
E566: Andy Faulkner and Why Animals Need You The Most.
E548: Lucy Verde Roze and Liberation Through Meditation.
E556: Michael McNally and The Progression of Sydney's Animal Rights Activism Scene.
E538: Clare Mann and Vystopia: The Anguish Of Being Vegan In A Non-Vegan World.
E544: Ben Johnstone and Behind the scenes of animal rights activism.
That's it for this week in Healthification. Huge thanks to YOU for sharing this week with me. You rock and I appreciate your support!
If you've enjoyed this show and gotten value out of it I'd love to invite you to go to iTunes or wherever you listen to this podcast and search for Healthification and leave me a review. I'd super appreciate it. It gives me great feedback to keep on powering through the twice weekly shows and helps other people to find Healthification as well.
Till next time, remember Creating a body and life you love is Freedom. (If this ex-carb queen, NON-genetically gifted, naturally uncoordinated VEGAN-chick can do it – so can YOU!!!)
If you liked "Effective animal rights direct actions and advocacy with Isy Veira" you'll also like: Dr Melanie Joy, Carnism and Creating Effective Communication Between Vegans and Non-vegans
If you're yet to share the Healthification love – just click here to zip over to iTunes and leave an honest rating and review. It'd help me out big time. With gratitude, Kate.