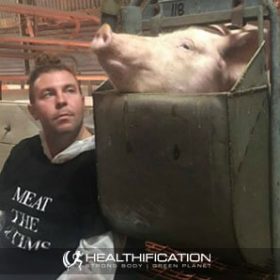 Podcast: Play in new window | Download
Subscribe: RSS
In todays show we go behind the scenes of animal rights activism with Ben Johnstone.
Ben is a fellow vegan street outreach volunteer and I see him most weeks as we each engage in conversations with Sydney-siders who stand shocked at the horrific footage we're showing of the individual animals who suffer and die to meet consumer demand for meat, dairy, eggs and fish here in Aus. 
I love this conversation based activism however I'm aware there are so many other ways to end animal suffering as an activist. Likely even more confronting than spending hours in front of TV's depicting slaughter house kill floors – because if it's heart breaking to watch, what's it like to actually be there?
To actually connect with the individual animals?
Even to sometimes be able to save ONE?
To regularly be forced to just bare witness as 1,000's go to their death?
I found todays chat fascinating – I'm excited to share it with you.
Let's go behind the scenes of animal rights activism with Ben Johnstone…
In this interview we cover:
The particular catalyst or moment when Ben knew he needed to be Vegan.
The advice Ben would give his 16 year old self.
What Ben does when he feels overwhelmed by all the animal exploitation in our world… or does he?!
What was Ben's first form of activism and what / who prompted it.
The most challenging moment of Ben's activism journey.
How Ben handles negative feedback from friends / family etc that may not understand why he does what he does.
Beside going vegan and getting active (!) what is the belief or habit Ben has changed in the last 5 years that's had the most positive impact on his life.
Who inspires Ben from a distance. In fact here are some of the awesome activists Ben mentioned:
Ronnie Lee: https://en.wikipedia.org/wiki/Ronnie_Lee
Keith Mann: http://www.animalliberationfront.com/ALFront/Interviews/KeithMann06.htm
Barry Horne: http://www.animalliberationfront.com/Saints/ARHallOfFame/BarryHorne/BarrySite.htm
Jill Phipps: http://www.animalliberationfront.com/Practical/Shop–ToDo/Activism/Jill_Phipps.htm
Gary Yourofsky: http://www.adaptt.org
Here is Ben's own You Tube Channel, Peaceful Anarchist:
Go show him some love! Watch, subscribe and comment because the videos really are unique and absolutely fascinating.
I have so much respect for the activists such as Ben who work behind the scenes at times risking their safety and freedom to rescue, to bare witness and to shine a light on the suffering of animals. Without them those of us engaging in conversation based activism would not have the footage that we rely so heavily on.
Heck, with out the activists that some may deem a little more extreme I'd still be vego naively believing the misleading marketing of animal agriculture that no one was dying for my foods choices.
That's it for this week in Healthification. Huge thanks to YOU for sharing this week with me. You rock and I appreciate your support!
Till next time, remember Creating a body and life you love is Freedom. (If this ex-carb queen, non-genetically gifted, naturally uncoordinated vegan chick can do it – so can you!)
If you liked 'Behind the scenes of animal rights activism with Ben Johnstone' you'll also like: Lessons From Conversations With Carnivores
If you're yet to share the Healthification love – just click here to zip over to iTunes and leave an honest rating and review. It'd help me out big time. With gratitude, Kate.