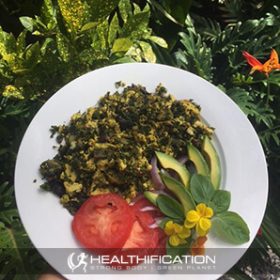 Podcast: Play in new window | Download
Subscribe: RSS
You might be surprised to hear the thing I was most apprehensive about giving up prior to going vegan.
I've never been a mad cheese addict. Ice cream hasn't been my thing for 20+ years now. I'm not a chocolate girl and so far as meat, I've likely forgotten what it tastes like as I haven't tasted it for 26 years. The thing I thought it'd be super tough to find a substitute for was eggs.
It's with guilt and regret that I share with you I used to consume up to 20 free range organic egg whites and 2 egg yolks a day.
I thought egg whites were the perfect high protein zero carb vegetarian food. I'd turn them into meringue with protein powder and Natvia – first raw, that makes my stomach heave now, and later I'd cook that same meringue mix into a protein pancake. I'd make a mammoth 2 whole eggs + 2 egg whites frittata for dinner each night.
Sadly my thoughts were purely focused on the high value for my body. Yes, just a few years ago – as someone who'd devoted over a decade to health and fitness as my career I thought eggs were a "health food."
Did you know it's actually illegal for the American Egg Board, to claim eggs are: "nutritious, low fat, part of a balanced diet, low calorie, healthful, healthy, good for you, or even safe?"
The USDA (US Department of Agriculture) even admits that "because eggs have the amount of cholesterol they do," the words healthy and nutritious "are problematic."
Spreading mis-information about the health food status of eggs is not why I feel guilty though.
What I wish I knew earlier is,
Why Free Range Organic Means Nothing To Chickens.
Let's cover the ethics of eggs (or lack there of) first and then I have 5 Vegan Egg Alternatives that will allow you to enjoy all your fav egg dishes with non of the suffering. 
First some rapid fire facts:
The chickens we use in the egg industry have been selectively bred to lay up to 300 eggs a year rather than the natural 20-30. Can you even begin to imagine the havoc that wrecks on their bodies?
Only girls lay eggs. So the boys are waste products to the eggs industry. On day one they are separated from their sisters and either macerated (that's like being chucked in a blender), or gassed or thrown in a huge plastic bag to suffocate. Their little bodies aren't worth being fattened up for meat because meat birds are selectively bred too – to be kill size at just 6-8 weeks old.
Even with free range, organic eggs the boys are waste products. Though they're likely the lucky ones to die early. Their sisters are debeaked without pain killer and then spend their short lives living on top of each other in huge sheds where they don't get to feel fresh air or see the sun. Yes, even free range chickens can live in this huge filthy sheds.
To see the footage for your self please watch the Dominion documentary via https://www.dominionmovement.com/watch:
Wiki: "Free-range eggs are eggs produced from birds that may be permitted outdoors. The term "free-range" may be used differently depending on the country and the relevant laws, and is not regulated in many areas." Here in Australia the national standard for free-range eggs has no requirement for chickens to actually go outside, and allows a maximum stocking density of 10,000 hens per hectare.
In short, any sort of labeling for any sort of animal product is there for the consumer NOT the animal. It's marketing to ease consumers conscience and assure us it's ok this animal gives us: "happy eggs" or "happy meat" however when you stop and think about it that's ridiculous.
They didn't give. We took.
To quote an upcoming guest on the podcast Gary Francione: "The happy exploitation movement has people believing that we can exploit compassionately."
So to move onwards to something that genuinely does make me happy, here are: 5 Vegan Egg Alternatives:
One: Tofu Scramble. 
This is the most delicious and versatile dish! Where was tofu scramble all my life?
I like to start with a sauce mix straight from the greatist.com including:
1 tablespoon of nutritional yeast (they said a teaspoon however… anything goes!)
1/4 teaspoon turmeric
1/4 teaspoon ground cumin
1/4 teaspoon paprika
1 tablespoon of water
pinch of sea salt and 1/8 teaspoon of pepper.
I then sauté an iron packed mix of veg in little olive oil, onion and garlic. In this case:
4 cubes frozen kale (defrosted)
1/2 a portobello mushroom
5 olives
Next step, crumble in:
Finally add sauce mix. Stir and heat through. I served this with some avocado and fresh tomato. Obviously it'd be amazing on a good grainy toast which option avocado too.
To up your egg-free-scramble game and really get that egg'y flavour add 1/4 teaspoon of black salt to the sauce mix. 
Two: Chickpea Omelette.
My first egg-free omelette attempt was an ugly yet yummy happy mess.
Next time round I'm going to try a version from forkandbeans.com as follows.
For the chickpea batter:
3/4 cup chickpea flour
3/4 cup + 1 tablespoon unsweetened nondairy milk
2 teaspoon apple cider vinegar
2 teaspoon nutritional yeast 
1/4 teaspoon turmeric powder
1/4 teaspoon garlic powder
1/4 teaspoon onion powder
1/4 teaspoon baking soda
1/8–1/4 teaspoon sea salt to taste.
Filling options:
1/4 of a red onion, chopped
2 garlic cloves, minced
1/4 cup tomatoes, chopped
1/4 cup small broccoli florets
1 tablespoon coriander.
I'll link to the full recipe in the show notes and you'll find those by causing to strongbodygreenplanet.com and searching 597. Alternatively just google "chickpea omelette" and choose the version (from 9+ million results) that looks most delicious to you.
Three: Aquafaba Meringue. 
The one thing I thought there might not be a vegan substitute for? Whipped peaks of meringue that go all glorious and crispy when baked!
Aquafaba is the liquid / brine from a can of chickpeas and amazingly it acts just like egg whites when whipped. Equally amazingly, when combined with just a few other ingredients and baked it does not taste like chickpeas!
Again you'll find an abundance of recipes online however I recommend this one from lovingitvegan.com.
6 tablespoons aquafaba (liquid from a can of chickpeas)
1/4 teaspoon cream of tartar
1/2 cup (100g) white sugar
1/2 teaspoon vanilla extract.
To learn more about this miracle ingredient I recommend the site aquafaba.com.
They have an FAQ page for questions which as: "How much aquafaba replaces one egg?" 
To quote the site: Generally 3 tbsp of aquafaba to one egg, but this really depends on whether your aquafaba is close to the right consistency. It should be a bit slimy, but not too thick, and not too runny. Ideally it should be the same consistency as egg whites. If you are using aquafaba from a can of beans and it seems very watery, you can reduce it on the stove by 25% or 33% to get a slightly thicker consistency. Thicker is generally better, but you don't want it to end up goopy or solid, so don't reduce too much.
Four: Chia or Flaxseed Egg Replacer.
Both chia and flaxseed work well as a binder in baking or burger recipes. Flaxseeds have a stronger earthy flavour so perhaps are a better option for more hearty recipes. They must be ground first. Chia seeds have a lighter flavour for your delicate desserts. In fact I know they use them deliciously in my fav caramelized banana + chai vegan pancakes down at my local Bondi cafe: Speedo's.
Proportions for a chia or flax egg are 1 tablespoon of seeds to 3 tablespoons of room temperature / warm water. Let the mix sit for 5-10 minutes to turn into a gel.
For a simple vegan carrot cake with cream cheese icing recipe using a chia egg check out the Hot For Food blog:
For a scrumptious hot cross cupcake recipe using flax eggs check out the Mrs Hollingworth's blog:
Since I'm obviously chatting Easter themed recipes how about some carrot no bake energy bites? The team at veganheaven.org share one using:
1/3 cup almonds
1/2 cup dates
1/2 cup grated orange carrots
1/2 cup grated purple carrots
1/2 cup rolled oats
1/3 cup coconut flakes
1 teaspoon ground cinnamon
1/2 teaspoon vanilla extract
Five: Mashed Banana and Applesauce. 
The humble banana can become a bit of a hero in vegan baking. I'm quoting from thekitchn.com when I share: "To replace whole eggs in chewy baked goods like brownies, use one ripe mashed banana for every egg the recipe calls for. As a general rule, one tablespoon applesauce can replace one egg in most baking recipes."
In fact the article I'm referring to on: Vegan substitutes for 8 common baking ingredients is so fab I'll also link to it in the show notes.
The main takeaway is, there's literally nothing you cannot enjoy a vegan version of. So that's taste taken care of however what about the valuable micronutrients in eggs you might be thinking? Australianeggs.org assures us:
"The humble egg is a superfood with 11 different vitamins and nutrients packed into only 300 kilojoules.
Eggs are a perfect protein source because they contain all the essential amino acids our bodies need in the right amounts. They're a natural source of key nutrients including omega-3 fatty acids, vitamins A, E and B12, antioxidants and choline."
I next turned to Dr Michael Greger of nutritionfacts.org to hunt down the science based facts rather than profit driven marketing:
In a video I'll link to Greger shares: Egg industry claims about egg safety found to be patently false, misleading, and deceptive by the U.S. Court of Appeals. 
I was appalled to learn that egg industry spends hundreds of millions of dollars trying to convince consumers that eggs are not going to kill us.
In a response to consumer concern (and severe economic loss) over eggs and cholesterol / heart health the egg industry in America created a national commission on egg nutrition and ran ads making 7 claims each of which was determined by the US court of appeals to be false, misleading and deceptive. In a move even more brazen than the tobacco industry which focused on introducing doubt so far as the health risks of smoking the egg industry denies the existence of scientific evidence and even keeps track of "who is and is not a friend of eggs."
So eggs are exploitative to enslaved egg laying hens and a death sentence to their waste product baby boys irrespective of the marketing used to try and convince us otherwise.
And it's not legal for the American Egg Board, to claim eggs are: "nutritious, low fat, part of a balanced diet, low calorie, healthful, healthy, good for you, or even safe?"
So where to get your key nutrients including "all the essential amino acids our bodies need in the right amounts" omega-3 fatty acids, vitamins A, E and B12, antioxidants and choline"?
As I shared back in show E593: The Myth Of Complementary Protein, for decades now experts have agreed: any single whole plant food or any combination of whole plant foods if eaten as your sole source of calories in a day would provide all the essential amino acids humans need. Not just the minimum requirements either, as long as you're eating enough calories you're getting more than enough essential amino acids.
So let's get specific with Omega 3's, vitamins A, E and B12, antioxidants and choline.
Vegan / Plant based sources of Omega 3's: Hemp seeds, flax seeds, chia seeds, seaweed and algae. Walnuts, edamame, kidney beans and even brussel sprouts! 
Vegan / Plant based sources of vitamin A; Sweet potato, carrots, black eyed peas, spinach, broccoli, red capsicum, mango, rock melon, dried apricots, pumpkin and tomato juice.
Vegan / Plant based sources of vitamin E: All nuts, all seeds, avocados, spinach, whole grains, broccoli, mango, tomatoes, kiwi fruit, asparagus and the list goes on – E is for Easy!
Vegan / Plant based sources of vitamin B12: Fortified products such as nutritional yeast, and some plant milks / cereals. However this is one I would recommend supplementing with. To be clear, animals don't make B12, they eat from plants. Our overly sterile and processed modern food system means vegans eating plants no longer get adequate B12 so supplementation is necessary for both vegans AND many omnivores.
Antioxidants are abundant throughout the plant kingdom however here are a few favs: Dark Chocolate (most is vegan – check though), pecans, blueberries, strawberries, artichokes, goji berries, raspberries and kale.
Vegan / Plant based sources of choline: Soymilk, tofu, quinoa, most beans, many nuts like: cashews, peanuts, hazelnuts, almonds and many veg like: swiss chard, spinach, brussel sprouts and broccoli.
It should go with out saying that by choosing the plant based sources of all these key nutrients you're avoiding all the cholesterol and all the cruelty in eggs.
Of course we have not even touched on the egg replacement products that try to really closely mimic eggs in every way. Although I applaud the technology companies working to produce such innovative options and get them to market cost effectively at scale I'm certainly not their target market. Since becoming aware of the inherent cruelty in animal agriculture I just do not want my plant based food to mimic the old flesh and excretion based products I used to enjoy. It'd genuinely leave a bad taste in my mouth.
To get actionable today, does one of these 5 Vegan Egg Alternatives sound like something you're tempted to try?
By the time this goes live I'll be home with my family in Noosa for a whole week. It'll be a great time for some new recipes especially since my mum is still going #plantstrong over 3 months on from suggesting she'd: "give it a try for 2 weeks."
I'm thinking it might just be the time to try the only cake I ever really loved: Carrot cake. Plus I need to introduce mum to tofu scramble and maybe with her kitchen expertise we can nail the egg-free-omelette together! I'd love to know your wins with vegan egg alternatives?
You can let me know via the show notes – via an iTunes review (that'd rock!) or even via email, I'm kate@strongbodygreenplanet.com.
That's it for today in Healthification. Thank you so very must for trusting me with your time and attention today. It means a lot.
The Healthification podcast is proudly bought to you by my FREE 'Easy Vegan' plan. It took me 25 years to transition from a meat eater to a happy, healthy Vegan! You can do it in just 3 days with  my simplified 'easy vegan' plan!  Get the fit, strong, and healthy plant based body you deserve… while avoiding ALL the mistakes I made along the way!
Till next time, remember Creating a body and life you love is Freedom. (If this ex-carb queen, non genetically gifted, naturally uncoordinated vegan chick can do it – so can YOU!!!)
If you liked "5 Vegan Egg Alternatives and Why Free Range Organic Means Nothing To Chickens" you'll also like: The Value Of Veganish and Creating Vegan Allies
If you're yet to share the Healthification love – just click here to zip over to iTunes and leave an honest rating and review. It'd help me out big time. With gratitude, Kate.