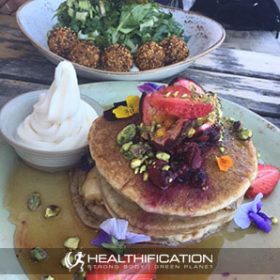 Podcast: Play in new window | Download
Subscribe: RSS
Around 6 months into my vegan journey I dated a non-vegan.
In fact this gent was into body building and ate the very old school, super high animal protein body building diet. It actually wasn't an issue for either of us then. I prepared delicious high protein, low carb vegan meals for him and he even cooked a seriously impressive vegan meal for me. When we ate out more often than not he would choose a vegan option and when he chose meat, fish or eggs I was cool with it.
However if we were still together it would be an issue for me. In fact now I can't imagine being in a romantic relationship with a non-vegan.
Having said that, in today's show I'm discussing:
The Value Of Veganish and Creating Vegan Allies. 
For most of us who choose to live a vegan lifestyle there will be many people close to us who continue to eat the flesh and excretions of animals. My recent interview with Dr Melanie Joy has revealed to me that we can allow this to cause us huge pain and frustration. Or we can recognize the value of veganish. To gather (as Dr Joy puts it) "vegan allies." These are people who may not be vegan however they support us and they support our vegan values. 
Perhaps they are experimenting with eating less animal products. Gradually trying simple plant based alternatives like almond milk, coconut yoghurt and black bean burgers? Today I want to focus on how to encourage these vegan allies in their journey and respect the inevitability that they will move at their own pace. Your support will likely hasten that pace while your judgement will likely cause them to dig their heels in.
Whether we're discussing a partner, family, friends or colleagues here are 4 ways to encourage your vegan allies.
One: Wow them with your cooking and only the best vegan options in restaurants.
Taste really is a hugely motivating factor for most of us. I'll readily put my hand up and admit that I thought I'd miss out on taste when I first turned vego and later as a vegan. I was so wrong however I didn't know that until after I'd made the change.
Here are a few tips:
Go for low hanging fruit. There are some vegan alternatives that are really so easy to love. Dessert and sweets for example. Often, these are of such a higher quality than the animal product versions jammed full of refined sugar and white flour. Instead choose vegan sweets made with nuts, dates, tahini, coconut and other such deliciousness that has value (not just empty calories) to offer your body. Whether you're making it yourself or eating out I would also classify vegan lasagne, hearty curries and acai breakfast bowls as low hanging fruit however go with what you think would be most attractive to your loved ones.
Use ingredients they love. When making salads, burgers, pizza's or pasta's (for example) choose their fav plant based ingredients. So for example my ex liked peas and edamame so I incorporated them into salads and burgers. For the cauli-hater perhaps steer clear of a cauli-crust pizza or cauli-rice – at least in those early days!
Start with meals where meat isn't the star. Nacho's using chili beans, taco's with tempeh mince and sushi with marinated tofu and roast veg are good examples. Rather than serving your meat loving friend a cauli-steak or trying to win your mum over with coconut bacon (Yes, I did that!). When dining out breakfast is a good starting point. Maybe your vegan allies aren't quite up to scrambled tofu (though it's amazing) however breakfast bowls, porridge, spicy beans and avo on toast are enjoyed by most and I'm yet to dine with a non-vegan who isn't seriously impressed by the huge stack of vegan pancakes I order at my local cafe.
Make it extra hearty extra flavoursome. Counter the unfounded assumption that vegan food is light-weight and bland by pumping up the taste and making extra generous serves. I'll serve a huge pizza with multiple sides and go a little extra generous with fresh herbs, nutritional yeast and even the coconut oil and salt I cook with. It's still going to be a gazillion times healthier than most of what you buy out anyway.
Two: Focus on positive reinforcement over guilt or perfectionism.
This is all about making veganish seem inclusive rather than exclusive. About being the vegan you would have wanted to meet before you were vegan. When you're focusing on the progress your vegan allies are making you'll feel less pressure and they'll be less defensiveness.
Remember, (and I have to keep reminding myself this too!) no one is ever shamed into a decision. Here are a few things that are helping me steer myself away from my natural inclination to explode in frustration at common excuses to justify eating animals:
Meditate. I'm serious. It's gives you space between stimuli and your reaction. So often I'll hear something and then thankfully feel able to first take a couple of deep breaths and consider: "what is the most effective action?" rather than "what does emotional Kate want to charge forward with?!"
Remind yourself of the progress this loved one / potential vegan ally has made so far. Perhaps it's the colleague who eats chicken carcass in front of you yet still asks you genuine questions about your beliefs rather than making cruel jokes. They might not yet be changing their food choices however they are becoming more open to the information that will help them consider if their actions are truly aligned with their values. 
Give yourself credit for the progress you're making in calm and effective communication. Every time you choose "the most effective response" recognize it. Equally, when you slip up, consider how you could have handled it better? It can be exhausting biting your tongue however each time I let slip with a comment like "Yes let's save the poor sheep from starving to death so we can stab them in the throat instead" I know it's something I can handle better next time!
Three: Take opportunities to share your story / the benefits. 
This is not only more effective it's also less exhausting and more sustainable.
Focusing a discussion about "why vegan" on your story rather than why they should make the change will allow your vegan allies to be more open to seeing the benefits. Rather than feeling like they need shelter behind the defences society has conditioned them to believe.
Sharing your fears and hesitations (pre going vegan) also makes you less judge'y and more relatable. I like the Feel, Felt, Found technique. For example: "I understand how you feel because I used to feel like that too. I felt giving up animal products would be totally restrictive. That I'd lose muscle and gain fat. That eating out would be impossible and that all my friends would judge me. What I've found is that I LOVE all my food at least as much as I used to as a vego and even as a meat eater. My body has not changed and neither has my energy. I'm stronger and get sick even less often. And eating out really isn't an issue, in fact it gets easier every single day."
As vegans we need to get better at sharing the benefits of a veganish lifestyle. Rather than just focusing on the overwhelming and potentially all consuming cruelty, environmental detriment and health risks of eating animals. We have so much to share so far as benefits however our natural inclination can be to focus on all the suffering that urgently needs to be stopped when unfortunately our potential vegan allies are still deeply indoctrinated into the invisible belief system Carnism that leads us to falsely belief it's ok to eat some animals. If I still believe it's Normal, Necessary and Natural to eat animals I'm going to need to hear about some serious benefits to help me shift my consciousness. Happily we have those benefits in abundance to share! I cover Carnism as coined by Dr Melanie Joy in my interview with Dr Joy in show E552.
Four: Plant seeds – and water them – rather than rip into the roots of someone's deeply held beliefs.
Identity beliefs are those beliefs someone believes about themselves and as such will defend passionately. Patience and the truth delivered with compassion and support will allow someone to upgrade / evolve their beliefs around eating animals in their own time for their own reasons.
Align your seeds with what is most important to them. We all have such different values, life experiences and expectations / goals / purposes. I've had enough outreach conversations on the street and with clients in the gym to know that many people just don't really care so much about the suffering of 56 billion land animals and 2.7 trillion marine creatures slaughtered unnecessarily for food every single year. More gruesome details or even more logical debate is not likely to compel them or touch their heart. However something will. Often their health. Or the health of their children. Potentially the environment. Or global hunger and the un-sustainability of our broken food system.
Small steps are much more achievable than massive action. For some of us that went cold tofu with veganism after seeing a particularly impactful documentary or other such epiphany moment, taking massive action to align our actions with our beliefs is easy and non-negotiable. However that's not the case for everyone and it's likely not the case for most people. If you think about the change that didn't come easily to YOU – perhaps making exercise a consistent part of your routine or swapping to a less processed diet –you likely found success through achievable small steps that both built momentum and built your belief in your ability to achieve that somewhat struggle-street goal. 
Finally, consider unconscious seeds as the Trojan horse! Your seeds to share the value of veganish and create vegan allies might be sown super subtly. Simply being the fit, strong, lean, healthy, happy,  compassionate, energized partner, family member, friend or colleague is going to be having an impact. It gets noticed. The Trojan horse approach works especially well in a fitness context as people love to ask advice from people who have the results they're seeking. Importantly when any potential vegan ally asks you – rather than you volunteering the information that I know we're so compelled to share – they are always going to be more receptive to hear your response.
To get actionable today is there a vegan ally in your life you could encourage more effectively? As a quick recap here are the 4 ways I'm committed to getting better at every single day:
One: Wow them with your cooking and only the best vegan options in restaurants.
Two: Focus on positive reinforcement over guilt or perfectionism. 
Three: Take opportunities to share your story / the benefits. 
Four: Plant seeds – and water them – rather than rip into the roots of someone's deeply held beliefs.
That's it for today in Healthification. Huge thanks to YOU for sharing today with me. I appreciate it with all my heart.
I'll be back later in the week with the interview format show and Stephanie Feldstein who in her latest book: 'The Animal Lover's Guide to Changing the World' shares how one person truly can make a difference in leading a more animal friendly life.
If you've enjoyed this show and gotten value out of it I'd super appreciate it if you pop over to iTunes and leave me a review. It helps other people find Healthification and it really does inspire me to power on with the weekly and sometimes twice weekly episodes.
The Healthification podcast is proudly bought to you by my FREE 'Easy Vegan' plan. It took me 25 years to transition from a meat eater to a happy, healthy Vegan! You can do it in just 3 days with  my simplified 'easy vegan' plan!  Get the fit, strong, and healthy plant based body you deserve… while avoiding ALL the mistakes I made along the way!
Till next time, remember Creating a body and life you love is Freedom. (If this ex-carb queen, NON-genetically gifted, naturally uncoordinated VEGAN-chick can do it – so can YOU!!!)
If you liked "The Value Of Veganish and Creating Vegan Allies" you'll also like: Your Ideal Veganish Day Starts The Night Before
If you're yet to share the Healthification love – just click here to zip over to iTunes and leave an honest rating and review. It'd help me out big time. With gratitude, Kate.