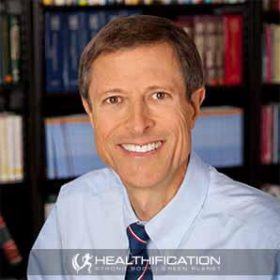 Podcast: Play in new window | Download
Subscribe: RSS
Understanding your hormones, their functions, potential imbalances and subsequent health problems can seem like an overwhelming, confusing and complicated undertaking.
I know in the health and fitness world, "hormonal imbalance" can be a bit of a throw away comment as to why someone might not be losing weight. Yet hormone related conditions stretch well beyond weight gain. Infertility, menopausal symptoms, breast and prostate cancers, thyroid problems, and acne – are impacted by your hormones and vitally can be improved by simple diet changes.
Dr Neal Barnard MD's latest (and 18!) book, Your Body in Balance: The New Science of Food, Hormones, and Health, gives new hope for people struggling with health issues through the strategic dietary changes. 
I've long been a huge fan of Dr Barnards work and have so much respect for his calm, yet fiercely uncompromising approach to advocating for plant based nutrition and ethical research and medical training. In fact, back in medical school Neal declared he would not take part in "Dog Lab." I imagine you can guess what dog lab might entail so no details needed aside from the cruel fact that back then rubbish bags containing dogs bodies would end up littering the corridors of medical schools. A determined 10+ year struggle saw Neal succeed in eliminating all of those barbaric and totally unnecessary labs at every medical school in the US.
For a little official bio: Neal Barnard, M.D. is a physician, clinical researcher, author, a fellow of the American College of Cardiology, and an adjunct associate professor of medicine at the George Washington University School of Medicine and Health Sciences. 
In 1985, Dr. Barnard established the Physicians Committee for Responsible Medicine to promote preventive medicine, conduct clinical research, and advocate for higher ethical standards in research. The Physicians Committee also provides direct medical care through its subsidiary, Barnard Medical Center. Dr. Barnard works with patients with diabetes, obesity, and other chronic conditions in clinical research studies, aiming to improve the prevention and treatment of these health problems.
Some of his previous best selling books include: Power Foods for the Brain, 21-Day Weight Loss Kickstart, and Dr. Neal Barnard's Program for Reversing Diabetes and his work has been featured in What the Health and Forks Over Knives.
I've invited Dr Barnard on the podcast to share with us exactly how we can control our hormones and the problems they cause with the food choices we make every day. The heartening and hopeful news is it's easier than you might imagine.
Equally, it's encouraging to hear that there is a common solution to so many debilitating, frustrating and life-threatening conditions. Don't take my word for it though, I know there's much more explanation needed and thankfully we're in super competent hands. Let's get Your Body In Balance by
Optimising Hormonal Health with Dr Neal Barnard…
In this chat we cover:
Why when we have more knowledge than ever we are not healthier than ever. 
Neals personal journey to veganism and to helping others take control of their health. 
Why it's a good idea to look at certain foods as drugs.Check out Neals 2017 book The Cheese Trap.
How the changing economic situation is negatively impacting the food choices and health (disease) in developing countries. 
How whole food plant based diet can restore insulin function and help manage type 2 diabetes.
How whole food plant based diet can boost metabolic rate and affect how body fat is stored and burned. 
The impact of food on mood. Special (hateful) shout out to Keto here!
Environmental chemicals.
The link between chicken and urinary tract infections.
And so much more.
I'm back on my own, and I feel like we touched on A LOT in that chat.
Hopefully it sparked your interest to dig deeper into just how much you have to benefit from whole foods plant based nutrition. Even for my longer term vegan friends, I find the more research I do for these chats the more I'm tweaking my own food choices.
Your Body In Balance is the perfect gift of actionable – even life saving – knowledge to give yourself or share with a loved one. 
At the start of Your Body In Balance Dr Barnard shares that much of the information presented in the book is a new scientific frontier. Quote: "It is possible that your doctor may not have heard of it… most continuing medical education programs are sponsored by drug companies. At PCRM, our research is teasing apart the relationships between foods and health and giving doctors and patients new and powerful tools."
That's one of the things I'm so very grateful for. Neal is not only educating the patients he sees and the individuals who purchase his books or coming to his speaking events. He's committed to creating a new generation of medical professionals who practice health care not sick care. Doctors who can utilise the essential life saving drugs and technology that we now have access to and yet also have an understanding of just how incredibly powerful lifestyle measures like nutrition, exercise, sleep and community are to an individuals health, longevity and happiness.
I know I got a tad "fan-girly" when thanking Dr Barnard, so I'll finish up soon however I do want to re-iterate, if you liked this chat please dig a little deeper with Neal and his plethora of work. For my activist and vegan friends, you'll especially appreciate how genuinely moved this extremely capable and credentialed doc is when he discuss's the animals that he, and I and most likely you used to view as food.
Purchase Your Body in Balance here: 
Your Body in Balance provides step-by-step guidance for understanding what's at the root of your suffering-and what you can do to feel better fast. The book also gives readers practical tips and resources, including answers to frequently asked questions and 65 hormone-balancing recipes developed by Lindsay Nixon. Recipes like:
Cauliflower Buffalo Chowder
Kung Pao Lettuce Wraps
Butternut Breakfast Tacos
Mediterranean Croquettes 
Apple Pie Nachos
Brownie Batter Hummus
Follow Dr. Barnard on Twitter @DrNealBarnard and Facebook @NealBarnardMD.
Check out: Physicians Committee for Responsible Medicine and the Barnard Medical Center.
That's it for this week in Healthification. Huge thanks to YOU for sharing this week with me. If you've enjoyed this show and gotten value out of it I'd super appreciate it if you pop over to iTunes or wherever you listen to the show and leave me a review.
The Healthification podcast is proudly bought to you by my FREE 'Easy Vegan' plan. It took me 25 years to transition from a meat eater to a happy, healthy Vegan! You can do it in just 3 days with my simplified 'easy vegan' plan!  Get the fit, strong, and healthy plant based body you deserve… while avoiding ALL the mistakes I made along the way!
Till next time, remember Creating a body and life you love is Freedom. (If this ex-carb queen, non genetically gifted, naturally uncoordinated vegan chick can do it – so can YOU!!!)
If you liked "Dr Neal Barnard Optimising Hormonal Health with Simple Diet Changes" you'll also like  Dr Michael Greger and How Not To Diet, The Ultimate Weight Loss Guide
If you liked "Dr Neal Barnard Optimising Hormonal Health with Simple Diet Changes" you'll also like E598: Reversing Rheumatoid Arthritis Using A Whole Foods Plant Based Diet with Clint Paddison.