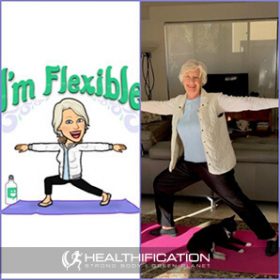 Podcast: Play in new window | Download
Subscribe: RSS
As mum and I record this we have a week left together in coronavirus lockdown here in stunning Noosa. It's been almost 11 weeks since I first hurriedly packed a bag and hot-footed it out of my tiny flat in Sydney to stay with my parents – just before gyms, borders and life as we knew it closed.
That might sound a little dramatic and to be fair, I imagine we got off as lightly as anyone in the world really. Being able to exercise outside daily the whole time, having access to delicious food and the money to buy it and thankfully not knowing anyone personally facing the virus.
On a personal and a global scale I DO hope life as we knew it has changed though. I hope humanity will take off their blinders, escape the trance and open their minds and their hearts to the reality that our treatment of animals caused this health (and financial) crisis and that if we don't change it'll happen again.
Because I'm delusion-ally optimistic, I actually hope this enforced time of isolation and reflection might also be the opportunity for many of our fellow humans to accept that even taking away the health and environmental devastation caused by animal agriculture and animal exploitation on the whole  even if causing immense suffering and unnecessary painful, premature death to a feeling, thinking, loving individual didn't have any negative consequences to us, we still shouldn't do it!
Ok, it's time I bring Mum Back! Yes its round 7 with Annie Galli and We're Spilling The Beans On Our Vegan and Non Vegan Coronavirus Lockdown.
In this chat we cover:
What went well?
What was perhaps surprisingly hard?
What did we learn? What could we have done better?
Here's the podcast link I mention where my fav animal rights activist Earthling Ed chats with the amazing social psychologist Dr Melanie Joy about conversations with non vegan loved ones, Ep 15: Vegan Infighting & Why Your Family Won't Go Vegan – In Conversation with Dr. Melanie Joy.
What are we hopeful for on a larger / global scale?
So I'm back on my own and conscious mum and I get pretty personal about our family dynamics in these chats however my intention – our intention – is that hearing our struggles and how we endeavour to work through them is hopefully somewhat helpful for you if you can relate.
On a lighter note with a little correction, you likely picked up mums "plant free" comment early on? Dad's nailing "plant free" (!) we obviously actually are supporting him towards "meat free" or "plant based"! Alright, moving away from my family…
Like many of us, during this Covid-lockdown I've spent a lot of time thinking about what I miss. What I don't miss. What I want to do more of and Yes, what I want to do less of. Who I miss. How I want to be described by both the person who first meets me and the person who knows me well. How I want someone to feel after they spend time with me. How I want to feel each day.
The contemplation and clarity is just step one. You know how easy it is to slide back into old routines?
I have the perfect opportunity to create some new healthy routines – both physical actions and also thought patterns – when I return to Sydney and you do too. It won't happen on auto pilot though. The path of least resistance is what happens on auto pilot. Your new path – my new path – will take scheduling, tracking, accountability and a daily commitment.
If you're someone like me who does routine really well, and Covid has really disrupted your carefully crafted routine you have a valuable chance right now to assess just what do you want the rest of your 2020 to look like and feel like and what are the actions that will get you there?
That's absolutely what I'll be doing. I need to get better at the "enjoying every single day" part of my vision to create a fit, strong, healthy, happy, compassionate vegan world. As unsexy as it might sound I think some of us might need to schedule in the down time, the friend time, the nature time that maybe we can overlook?
If you're more the NON-routine person, then for sure there's no need to get crazy-carried-away however I'm certain there are learnings and accompanying habits that are worth continuing beyond Covid and for that to happen a tad of scheduling is likely needed.
Speaking of which, to round out today's show I want to give a shout out to one of my new habits over the past couple of months:
Equipment Free Live Workouts.
If you're sold on the value of regular exercise however not yet in a consistent routine, train with me LIVE, no equipment needed from anywhere in the world! I've been a Personal Trainer for 15 years now and I genuinely believe one of the most effective ways to advocate for the animals is rock a fit, healthy body. Every Tuesday and Thursday at 7:15am AEST I'm Live with a 45 minute, Fun, Full body, Equipment free workout via my new Facebook Group the Plant Strong Squad!
I'd love it if you could join me. It's all free. You just need to be on Facebook and join the Group the Plant Strong Squad. If the time doesn't work the replay is there for you whenever it does suit to help you get your exercising action on!
I'll also link to my previous shows with mum, I especially recommend our first one: 624: My Mums Plant Based Journey,
That's it for this week in Healthification. Big thanks to YOU for sharing this week with me. You rock and I appreciate your support!
The Healthification podcast is proudly bought to you by my FREE 'Easy Vegan' plan. It took me 25 years to transition from a meat eater to a happy, healthy Vegan! You can do it in just 3 days with my simplified 'easy vegan' plan!  Get the fit, strong, and healthy plant based body you deserve… while avoiding ALL the mistakes I made along the way!
Till next time, remember Creating a body and life you love is Freedom. (If this ex-carb queen, non genetically gifted, naturally uncoordinated vegan chick can do it – so can YOU!!!)
If you liked "Mum's Back and We're Spilling The Beans On Our Vegan and Non Vegan Coronavirus Lockdown" you'll also like: Dr Melanie Joy, Carnism and Creating Effective Communication Between Vegans and Non vegans
If you liked Vegan and Non Vegan Coronavirus Lockdown, you might also like: Coronavirus Recipe Wins, Emotional Eating and Self Distraction Tactics With Annie Galli.
You might also like: 12 Months Plant Strong and Festive Season Deliciousness Recap with Annie Galli.
You might also like: Festive Season Vegan Deliciousness with Annie Galli (Mum's Top Christmas Tips!)
You might also like: Make Your Best Eating and Exercising Choices Easy (plus Annie's Cooking Corner)
You might also like: The Amazon Is Burning PLUS Vegan Calcium revisited and Annie's Cooking Corner.
Mums first appearance: My Mums Plant Based Journey, How To Transition To Plant Based Without Restriction Or Conflict!