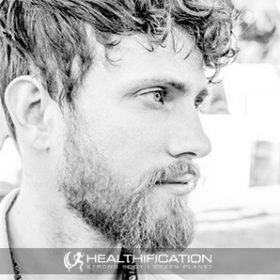 Podcast: Play in new window | Download
Subscribe: RSS
I've been a huge fan of Mic The Vegan for years now. Via his super popular YouTube channel (Mic The Vegan), Mike debunks harmful myths about a vegan lifestyle to help propel us towards a happy, healthy vegan world!
What I really appreciate is that Mike covers a variety of topics and he does it by trudging through the science, diligently citing and linking to all his sources and then providing a dash of humour to help those of us less science'y inclined consume this valuable information.
As vegans and animal right activists we need cold, hard facts as well as passion and compassion.
My goodness if all it took was abundant passion and a relentless commitment to our activism we'd be there already right? The longer I hit my head against the apathetic brick wall of human selfishness and apathy the more I'm (slowly) learning and begrudgingly admitting that most people need to know more than "animals feel pain, suffer and do not want to die." Most people need the stats and facts around topics like: the health effects of a vegan diet, the environmental impact of eating animal products and even the sociological phenomenon of casual animal exploitation.
Mike is based in Iowa, U.S (which is sadly the countries number one "pork" aka murdered pig producing state), has a B.Sc. in Sustainability, and is currently studying Public Health at the Master's level.
This was a wide ranging and fun chat. I'm happy to share with you, Mic The Vegan vs Animal Agriculture and Covid-19.
In this chat we cover:
A little of Mikes going vegan story and what he thinks helped him stick to it when so many people dabble rather than commit.
The conditions right now in slaughterhouses and how they relate to Covid-19. Could pigs be infected and spreading the virus?
What does history tell us about animal farming and viruses?It's not just wet / live markets in China.
The Spanish flu was most likely from a US chicken farm.
Slaughterhouse workers: "key workers" or exploited workers? 
The 3 part vicious cycle,
1) Not being vegan created the outbreaks with human to animal interactions.
2) Not being vegan creates slaughterhouse hot spots.
3) Not being vegan can create health contraindications meaning you're more likely to get Covid and it's more likely to be deadly.
We've been forced to make huge sacrifices during Covid, surely giving up animal products is less of a sacrifice than all that? 
What does Mike see as the biggest opportunities for animal rights activists to convey our message effectively as we come out the other side of the Covid-19 pandemic?
I found that conversation really fascinating and hope you did too. Something that really struck me – as it often does in these chats – was both the HUGE role media plays in fashioning the general publics understanding of events, risks, recommended responses and also as a result our personal responsibility to get wise in the media we consume. Terms like "confirmation bias" and "bubble" are cliches and yet that doesn't mean they should be discounted.
I'm all too aware of the "vegan propaganda" I'm accused of spreading / falling for. 
I think it's important to have the discipline to consume the information produced by those outside your bubble too. It's why I'm always willing to watch the "humane slaughterhouse" footage people regularly insist exists and yet equally have never been able to actually share with me.
I'm no expert however I think it might be time we came up with our own criteria for how we consume information and who we follow.
Obviously with the science based stuff sources need to be cited and then you need to know how credible those sources are and if there are studies, who funded those studies? And how to accurately read the results? It's a lot right?
The short cut – and Yes, this is why I'm personally more guided by values and ethics is to ask yourself: Is this person / this company I'm consuming information from living their values? Or put another way, are their day to day actions aligned with the values they claim to hold dear?
There are some values: Love, Compassion, Integrity… that are pretty blatantly obvious when either they are embraced or ignored.
I could go on, however it's likely a show of it's own and Mike gave us a lot to contemplate so I'll just plant that seed as it's certainly top of mind for me right now.
Check out Mic the Vegans website:
Connect with Mike across the socials: YouTube | Instagram | Facebook
That's it for this week in Healthification. Huge thanks to YOU for sharing this week with me. If you've enjoyed this show and gotten value out of it I'd super appreciate it if you pop over to iTunes or wherever you listen to the show and leave me a review.
The Healthification podcast is proudly bought to you by my FREE 'Easy Vegan' plan. It took me 25 years to transition from a meat eater to a happy, healthy Vegan! You can do it in just 3 days with my simplified 'easy vegan' plan!  Get the fit, strong, and healthy plant based body you deserve… while avoiding ALL the mistakes I made along the way!
Till next time, remember Creating a body and life you love is Freedom. (If this ex-carb queen, non genetically gifted, naturally uncoordinated vegan chick can do it – so can YOU!!!)
If you liked "Mic The Vegan vs Animal Agriculture and Covid-19" you'll also like: Dr Michael Greger, How to Survive a Pandemic: Overcoming COVID-19 and Preventing the Next Deadly Outbreak.
If you liked "Mic The Vegan vs Animal Agriculture and Covid-19" you'll also like: Greg Litus and What Is The Most Sustainable Way To Feed The World? (Veganic vs. Animal Agriculture)
If you liked "Mic The Vegan vs Animal Agriculture and Covid-19" you'll also like: Nutrition for Longevity and Regenerative Farming with Jennifer Maynard