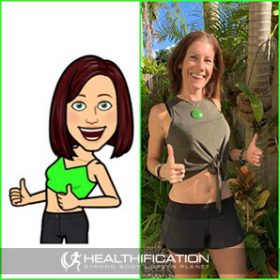 Podcast: Play in new window | Download
Subscribe: RSS
Around 8 weeks into my 3 months Covid lockdown in Noosa, mum suggested I jump on the scale.
I knew I was feeling lean however I was shocked to see I was 4 kilo's lighter than the fit and healthy weight I'd been when I hot tailed it out of Sydney.
I'd certainly been working hard, however mostly sitting on my butt in front of the laptop for hours upon hours a day… surely that wasn't responsible for my shrinking? I felt fairly certain it wasn't the generous serves of freshly baked olive bread, carrot cake, Anzac biscuits, giant bean burger and fries Fridays or alcohol every single night + beer on the weekend.
I can without a doubt say the food I consumed over the past 3 months was absolutely delicious. There was not a hint of restriction.  And yet, I don't think I ever felt "stuffed" or uncomfortable either. It was absolutely effortless weight loss while eating delicious vegan meals.
So what did I do differently and how might it relate to you?
I want to use todays show to both share what I suspect might be,
3 Hidden Factors To Effortless Weight Loss While Eating Delicious Vegan Meals 
AND ALSO to bust a few persistent yet inaccurate myths in relation to staying and getting lean. Heads up in hidden factor number 3 I get to some specifics regarding exercise and nutrition. However, first a couple of lessor spoken about components to staying lean…
Hidden factor number one, I'd long suspected and never really had a decent opportunity to try. I'm going to call it:
One: Unscheduling.
This will be relevant to you if you feel like you're stuck on the hamster wheel. It's a non-vegan analogy however that makes it even more HUGELY unappealing right?
Although I still got up at 4am each day in Noosa – earlier the first couple of weeks – and even though I did 6 weeks of Monday to Friday 7:15am Live facebook workouts for another business I still felt way less scheduled.
I think that's the take away I want to emphasise. If the routine you've created for yourself either consciously or unconsciously – commitment by sneaky little creeping commitment, feels like it has you stuck in some relentless wheel of always chasing… then it's time to drag back a little control. 
I'm the first one to admit structure is freedom, until its not! Until it's too much.
If you're resenting your commitments you're over committed. It's time to lock and load some unscheduled time.
A couple of new habits in relation to unscheduling I'm intent on continuing:
Meal times away from the computer. I've just clicked on this. Although I still ate breakfast in front of the computer, lunch and certainly dinner were more of an event. A work FREE event. Especially dinner. It was family time.
This is a habit I immediately let slip on my return to Sydney and that stops today. Even for those of us currently living on our own we can take the time to step away from the devices – whether it's work or social media – and be Yes (!) more mindful as we enjoy our meals.
I'm realising it sends an important signal to your body. That's you're not always ON. That's it's not always about "how much you can squeeze into a day." That whole amped up "it's a race!" "let's do this!" Mindset is not the context that lets your body feel comfortable in letting go of any excess fat.
Meal prepping, walking, cleaning – anything that doesn't require full focus (!) time does not have to be "filled" with a podcast. I've heard a lot of people listened to less podcasts over the past few months. For me, it was partially because I felt rude having my headphones in around other people.
Of course I'm still a massive fan of podcasts, however I have an even greater appreciation for that time when you ease off the information overload throttle.
It means more time to process all the stuff already bouncing around in each of our heads! Gosh or maybe just more "nothing" time, that sounds good right?
Two: Time In Nature.
I know this is nothing new however I'm going to do my best to actually make it relevant and actionable to each of us whatever our current schedule and situation.
I've long known I need to get out for a walk along the beaches at least twice a week to stay sane. In Noosa I was lucky enough to get a sunrise walk along the river 6-7 days a week. I knew before I left how much I'd miss that ideal start to every single day. Perhaps you have a part of your COVID-19  routine, or maybe a part of a past holiday routine that you LOVED and yet it seems not quite so applicable to your "regular" day to day life?
Have you heard the term: "Looking for the Catch"? 
When used to your benefit, Looking for the Catch means you look for what works in someone else's (or your own past) routine / life and implement that. What CAN you still do? How CAN you make something work for you?
When used to your detriment, Looking for the Catch means you focus instead on how someone else (or you previously) has it easier. You basically focus on the excuses: time, money, youth, experience, natural ability that could prevent you from even trying.
A couple of new options in relation to time in nature I'm taking for a spin:
Plants at home. Why not bring a little nature into our homes? I always appreciate plants in other peoples homes and have previously never gotten around to having them in my own. So many excuses: What if I kill them? What's the point given I rent not own? Who will look after them when I travel? How do I know what to get and from where? Surely it's not that complicated! The simple fact is, whether we're talking indoor plants, a few fresh herbs or a balcony garden – these are skills I can learn, and I will learn! 
As a side note: maybe the skill you would benefit from learning is not related to gardening. Perhaps its meditation? Or journaling? Really I'm thinking of something that you know you would value in your life yet the easy path of least resistance thus far has been to coast along (or maybe to careen along!) without making the time to learn that skill, or taking the time to just make an imperfect start. 
Beach walks in Prime Working Time. In my tendency to over schedule I've been perhaps too narrow in the way I classify "valuable" and what activities I'll allow in my "prime time". I'm sharing this because I hope you relate and it's helpful! Valuable, is not just what earns your income, progresses your business (or cause) and keeps you physically fit and healthy. Valuable, is also those things that keep you sane and calm and happy. I can pay this lip service however actions speak louder than words. What you actually make time for counts.
Is there an activity that you know is brilliant for your mental health and sanity that you've been neglecting? Perhaps it got more of a look in during the forced covid period of lockdown and now it's already gradually being nudged out of your schedule again as life returns to normal?
In so many ways, as I shared in my latest chat with mum back in E688: Mum's Back and We're Spilling The Beans On Our Vegan and Non Vegan Coronavirus Lockdown, on a personal and a global scale I hope life as we knew it HAS changed. There was too much wrong with normal.
Normal means eating animals, trashing the planet and huge inequalities of wealth and opportunities. 
For the individual, it too often means unfit, unhealthy and unhappy. So let's NOT return to normal. Let's gradually upgrade our thoughts and our habits. If that sounds idealistic, well – you know I am – no apologies there! Or if it sounds overwhelming, all good I'm going to get actionable for you in hidden factor to effortless weight loss number 3!
Three: Training and Nutritional Diversity. 
Generally being a "consistency queen" is pretty effective with training and nutrition. Lockdown mixed up my routine completely… much of it for the better.  Here are a few of my learnings:
Embrace, whole food carbs. If you're still fearful that banana's, beans, oats or potatoes will make you fat Please let go of that fear!
These past few months I enjoyed even more delicious whole food carbs than, gosh I'd say the last 10 years.
I fell for the demonisation of carbs. I even – disappointingly – perpetuated that demonisation. I was wrong. I've know that for years and I've advocated abundant whole carbs for years however these past few months I really upped the anti so far as swapping from a green smoothie to oats and berries for breakfast, enjoying fruit for dessert and devouring spuds and beans daily. I did this while still enjoying generous amounts of bread,  wine and Yes, a little bit of beer too.
The lesson: With any food question like "Is this good?" or "Is this healthy?" it comes down to what you're comparing it to. 
A store bought bean burger and salad is good and healthy compared to a cow flesh burger or even a (fake-yet-good-to-fill-a-place-in-the-market) impossible burger. It's not nearly as good as my mums home made black bean and mushie burgers though.
All of us can work towards more plant based diversity. After my interview with the amazing Dr Will Bulsiewicz in E686 I became even more focused on plant based diversity for gut (and overall) health.
Ir's all too easy to find what works for you and then just put that on auto pilot. To stick with your fav: berries, nuts, and greens. After devouring Dr B's new book Fiber Fueled I began to focus on my gut microbiome as an amazing little community I wanted to look after. There are so many delicious additions to incorporate into your eating week. I'm a huge new fan of broccoli sprouts. It almost becomes a little game to see how much diversity you can squeeze into a meal.
The challenge to you, ask yourself: What other plants can I add to this meal? Although really the game starts when purchasing. For example I always now buy the mixed frozen organic berries and the mixed un-roasted, unsalted nuts.
Body weight workouts and walking can be super effective. I've never been a fan of machine based cardio however absolutely lifting heavy weights is my happy place.
Over 3 months with gyms closed I had to get really creative with body weight workouts, and surprisingly it was pretty fun and certainly effective. I know many people can relate to walking outside becoming your sanity. The thing that surprised me was just how sore I wasn't when I eventually got back to weights at the gym. Those body weight routines work!
The lesson: There's always an exercising option. Work with what you've got. You'll likely be pleasantly surprised. Something is always better than nothing when your most ideal or most fav exercising action isn't an option. At the very least you'll maintain consistency of routine and at least as importantly you'll help build and sustain the belief that you are a person who prioritises exercise and your health. 
Multiple exercise sessions in a day.I'm not sharing this to make an effective exercise routine seem even more unattainable. Let's just call it movement. Multiple movement sessions a day. And what if those sessions were about your overall well being not just your body composition? That was absolutely the mindset I had in Noosa that I want to bring to my routine in Sydney.
If you've hit a bit of a rut with your work or you're feeling frustrated, getting up and walking round the block is always going to be a better option than stalking the fridge.
As I finish this show, it's time for me to ditch the laptop and catch that sunrise walk down at Bondi.
In the past I might have thought "But Kate, right now is prime working time"!
I'm realising what about prime LIFE time?? For each of us that's right now too.
To recap those 3 Hidden Factors To Effortless Weight Loss While Eating Delicious Vegan Meals:
One: Unscheduling.
Two: Time In Nature.
Three: Training and Nutritional Diversity. 
Is there one YOU could get better at?
For further information regarding how to build delicious vegan meals I'm going to link to some of my more popular posts / podcasts in the show notes including, E547: The Ultimate Vegan Food Pyramid For Getting and Staying Lean and my 7 DAY EASY VEGAN PLAN mega post!
That's it for today and this week in Healthification. No interview this week however I have many in the works so I'm sure we'll be back on track with a guest next week. Big thanks to YOU for sharing this week with me. You rock and I appreciate your support!
The Healthification podcast is proudly bought to you by my FREE 'Easy Vegan' plan. It took me 25 years to transition from a meat eater to a happy, healthy Vegan! You can do it in just 3 days with my simplified 'easy vegan' plan!  Get the fit, strong, and healthy plant based body you deserve… while avoiding ALL the mistakes I made along the way!
Till next time, remember Creating a body and life you love is Freedom. (If this ex-carb queen, non genetically gifted, naturally uncoordinated vegan chick can do it – so can YOU!!!)
If you liked "3 Hidden Factors To Effortless Weight Loss While Eating Delicious Vegan Meals" you'll also like: E664: Dr Michael Greger and How Not To Diet, The Ultimate Weight Loss Guide.
If you liked "3 Hidden Factors To Effortless Weight Loss While Eating Delicious Vegan Meals" you'll also like: E596: How To Bust Through A Weight Loss Plateau!
If you liked "3 Hidden Factors To Effortless Weight Loss While Eating Delicious Vegan Meals" you'll also like: E656: Plant Strong Blueprint: 6 Steps To Prevent Weight Gain Over Christmas and New Year (Part 1).