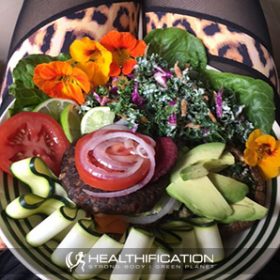 Podcast: Play in new window | Download
Subscribe: RSS
I first designed these 6 Steps To Prevent Weight Gain Over Christmas and New Year
many years ago for myself and my clients when I got absolutely fed up with the weight I would gain each holiday season. Fat that would seem "to land" on my body after just a couple of weeks of indulging and take a few months to rid myself of!
At that point I was vegetarian. Today's show is a revamping. A Veganising. For the vegan foodies such as myself who LOVE LOVE LOVE food and yet, have zero desire to roll into the new year feeling less fit, strong, healthy, energised and confident due to over-indulging in ALL the deliciousness.
It's not just about food though. In this 2-part podcast I'm going to chat exercise and also some of the emotional considerations that you'll likely be encountering if you're an ethical vegan with non-vegan friends and family.
As I look back on my notes from just last year it brings me so much joy to see just how much has changed in my immediate family.
Here's a brief recap of last year, and I'm sharing this for my vegan friends who are feeling sad and frustrated that your loved ones seem not to share your values with regard to NOT causing unnecessary harm to innocent animals. Please take heart and hope from my experience.
Last year I spent a glorious 2 weeks with my family in stunning Noosa. I was super excited. I was also more than a little nervous about the food situation especially on Christmas Day. So was my dear mum.
To set the scene my fam are definitely foodies. My mum is an amazing cook. My dad had a business selling meat to the best restaurants in Noosa for many years. Dining out I got the distinct impression my "vegetarianism" was an embarrassment to dad… especially when the owner or head chef would come to the table to ask about our dining experience. Then I turned vegan.
Next I got active as a vegan. The activism has made a huge difference so far as what I'm comfortable witnessing. It's not a conscious decision to be so strongly effected by what other people vehemently assure me is their "personal choice." It's just something that has crept up on me and feels impossible to shift. Although in my heart I know whether we're talking fish flesh, cow steak or lamb chops…. it's all the same for the victim, I was still extra anxious about the thought of our traditional huge leg of baby pig being carefully glazed on the kitchen bench.
Would going for a walk be enough to calm me down? 
Would the smell of that dead baby drive me crazy as meal after meal the family tried to find creative ways to "use up" the leftover flesh?
I will get rolling with the first 3 of 6 Steps To Prevent Weight Gain Over Christmas and New Year soon however I want to share the progress I'm excited about so far as my own fams approach to food on Christmas day. It's a HUGE start and I believe everything counts.
Last year mum had admitted: "I don't know what to do about Christmas Day, unless you want to mastermind a vegan feast and sell the family on it?"
YES, I'd LOVE that – well the masterminding the vegan feast bit. Not so much the "selling the family" bit!
We arrived at a compromise. Dad insisted on some meat so he prepared that the day before to be served cold. My cousins hubby wanted to bring some prawns.
I had the rest planned within a few hours of mum's tentative suggestion! Nut roast with mushroom gravy. Grilled stone fruit and rocket salad with balsamic glaze. Loaded corn with cashew cream. And sweet potato brownies. To wash down those brownies, vegan Irish cream!!!
To cut to the chase, last Christmas was a HUGE, delicious success. Incredibly, on New Years Eve (my first one with the fam in years) mum and dad let me take control of the food and it was 100% vegan.
After all the Christmas "kitchen Kate time" I made it easy on myself for New Year and served a huge platter of falafels (lucky for me you can buy the best falafel I've eaten at the Noosa Markets), plus pita / cos leaves, hummus, baba gnash, tabouli, avocado, coconut yoghurt and ALL THE FRESH VEG.
I basically bought and chopped. So simple. The lesson that, WOW, it's taken me a while to learn: Lead First With Delicious Food!
I'd been dropping vegan #truthbombs, passionately debating / arguing with my father and even resorted to emotional blackmail when a couple of years previous I'd informed my parents that "All I want for my 40th birthday is for you to please watch What The Health."
And yet, delicious food – and the thought and effort taken to prepare it… that was a much more effective vegan seed planted.
You'll know the rest if you've listened to E624: My Mums Plant Based Journey: How To Transition To Plant Based Without Restriction Or Conflict! I LOVED that chat with my mum and highly recommend it if you're yet to listen. We cover:
Mums experience growing up on a farm and how she imagined eating plant based would be before she tried it. Did I sell it well?! (Hint: NO!)
Mums fears / hesitations when she decided to give this "plant based thing" a try after asking to watch What The Health with me at the beginning of Jan 2019. What were particular vegan seeds leading up to that point? 
Mum lives with someone who is very not vegan. Yet she makes it work. What are her tips here? 
And so so much more.
So, back to today – to this coming Christmas, New Year and Holiday season. To my vegan friends please learn from my mistakes and lead first with delicious food. That's what mum and I will be doing as 2 vegans in a still predominately animal eating family.
Certainly, with mum onboard I'll be surrounded by much deliciousness. These are the 6 Steps I'll by using To Prevent Weight Gain Over Christmas and New Year:
(I'm also going to include "implementation steps" with each action)
Step ONE. Start on a Peak:
In mid November I start to hear "but it's Xmas" as I ask my clients about their nutrition and alcohol. Now I guess this isn't surprising as the supermarkets generally flaunt cheap Xmas chocolates and other such crap-o-la from October.
If it's important enough you'll find a way to take the actions you need to take and if it's not you'll find an excuse. Don't kid yourself. You absolutely will not maintain your current physique, let alone make any progress if your 'holiday season' indulgences last for a couple of months.
My approach is to choose the period of time I relax the guidelines and to ensure I hit a peak with my health prior to that more relaxed time.
This ability to delay gratification is something you already display in the areas of your life you're most successful. It's a matter of taking the actions that may not be most pleasant right now because your focus is on the results they will allow you to enjoy in the future.
Equally, isn't the anticipation of a pleasurable experience almost as good as the experience itself? That's why it's great to book your yearly holidays at the beginning of each year, so you've always got one to look forward to.
It's why I get so much more enjoyment from eating bread on the weekend than I did when I ate it everyday… (with the happy primary result being not the extra carb-gobbling enjoyment – rather the satisfaction of maintaining my goal body composition long term).
Your implementation steps:
When will you start your period of relaxed guidelines?  
(for me it's a 2 week period and that is the maximum I recommend)  Date: ……………………..
Until then here are the tactics to employ to get you to that date in peak state…
=> When consuming those holiday season beverages – be it xmas parties or catch-ups with friends always choose the low carb option. Yes, it absolutely makes a difference.
Zero carb mixers. Low carb beer. Alternating your alcoholic drinks with mineral water.
=> Set yourself up to succeed before a cocktail party by ensuring you don't arrive starving. For example have a protein shake prior.
=> Unless you have a vastly less emotional attachment to food than I do, I promise you the "just one" approach will only make it tougher. You 100% know the best choices when that greasy-salty-high caloric-density-more'ish stuff gets passed around, so ask yourself "what would (insert most fit and healthy version of you or person you are inspired by) do?" …and follow suit!
=> You're likely dining out a lot more frequently, and even the best choices out will not be as ideal as what you could eat at home… so that means every meal and snack you do have at home need to be as ideal as possible. Build these meals around lots of fibrous veg and plant based protein.
When these tactics get challenging, then focus on the results they will allow you to enjoy in the future… Ask Yourself: For what purpose do I want this. What will this mean to me – to my ideal life?
To delve deeper into how to achieve your ideal health by aligning your health goal with your Values and Beliefs check out my 6 part podcast / blog series on creating a winning fat loss mindset. It starts with podcasts #245: Define Your Goal and #250: Align Your Goal.
Step TWO. Gratitude:
Now this may seem out of left field however the benefits are extensive.
Have you noticed that it's really easy to race through the holiday season stressed and pressured by things that are actually privileges to be enjoyed and appreciated?
Another Xmas party? Getting on top of your inbox and xmas shopping before that 3 week holiday? Finding the perfect party out-fit?
These are great 'problems' to have.
To focus on what you are grateful for will not only attract more of the same into your life. It's also a vastly more enjoyable approach to take, for you and all those you spend time with. You can feel appreciation for the few days off you have or lament that it's not a month.
My personal experience is that I have always felt lucky to have 7 days off at the end of the year. (this year I'm doubly lucky though!) It feels like a generous amount of time for me to rest, relax and come back fresh and excited for the year to come.
It's actually the same during the year when I tend to take a few 3-4 day long weekends. My belief is that that's long enough for me to benefit from it… and so I do.
Conversely I know people who grumble that they 'only get' 3 weeks off before they're grudgingly back to work.
Whatever you've got – be grateful to have it. If this doesn't come easily then perhaps it's worth taking a step back from YOU and looking into what other people have. Or, more-so haven't got.
It's a reality check.
Your implementation steps:
What are 5 things you feel grateful for?
A great time to focus on these things is directly before sleep.
=> your unconscious mind Loves questions. If you ask it a question it will go hunting for evidence and won't stop till it gets it! So, best to drift off feeling grateful for what you've got and asking your unconscious mind the question "HOW CAN I be even more focused on living my ideal healthy, grateful, successful day tomorrow?"
Ensure your time before bed is for all thing POSITIVE.  
Goals. Affirmations. Gratitude's. Visualising the perfect day tomorrow… get protective of your unconscious mind and what you allow it to dwell on.
Step THREE. Plan:
If you're traveling it's essential you have a plan of attack (yep, you're attacking the holiday fat!) BEFORE you leave. For both your exercise and also your nutrition. Now it doesn't need to be as locked and loaded as your regular at home training and eating plan. However some guidelines set in advance are important.
With EXERCISE I recommend deciding on the Type and Frequency so that you know it'll compliment your holiday routine.
Now to be clear, this is what you'll do during your 'period of relaxed guidelines' – yep, relaxed doesn't mean do nothing… perhaps, it's swimming, cycling or hiking.
Your holiday leanness guidelines are 30 minutes per day. (more if desired).
AND, if you can find 30 minutes a day when you're working, then you can 100% most definitely find it when you're holidaying!
Focus on making it Fun, perhaps spending time with those close to you rather than dragging yourself off to the gym. It's also likely also a great opportunity to get your exercising groove on outdoors and give your body a rest from heavy weights.
Schedule some ACTIVE activities (!) before you leave – actually book them so you're committed, holidays are a great opportunity to try adventurous, exotic new things.
In case something happens to stall your outdoor exercise intentions or you're super short on time, prepare a 15-20 minute do anywhere body weight workout, or find someone who can put together one for you. There really is a lot you can do with zero or minimal props but if you don't have it sorted prior to the trip the odds of it happening are near non-existent.
Here's the body weight and almost equipment free routine I'lll be doing once or twice a week in Noosa:
Chin up (6 reps)
Walk-out (6 reps each side)
Sumo in out jump squat (12 reps)
Walking lunge (12 + 12 reps)
Dip (12 reps)
Side plank with elbow to knee + hip dip + toe tap (8 reps each side)
To give you an idea here's my exercise plan for my 2 week holiday with the family in stunning Noosa:
=> Weights at dads gym once per week MAX (so I'll train full body for around an hour) plus the body weight and almost equipment free routine I just shared with you once per week MAX. I want to give my joints a rest and that's why I'm dropping from 5 times weights a week to 1-2.
=> Running 2-3 times per week. I never run except when I'm on holiday somewhere stunning and in that case I really enjoy it. (from 45-60 minutes)
=> Walking any day I'm not doing the above and also any day I do the above ONLY IF I FEEL LIKE IT!!! (from 30-120 minutes)
Basically, I'm moving everyday but I've got a lot of flexibility with what I do and when.
With EATING while away from home source some healthy eating options in advance.  
If possible get a room with a kitchen or at least a fridge and do a supermarket shop for fresh food as soon as you arrive.
Prior to traveling search online for restaurants that are a good option for a healthy #plantstrong meal so you can avoid the desperation of trawling from establishment to establishment when you're already tired, hungry (and outta-control-moody with starvation to the point where irrationally it MUST be the most delicious possible meal you now choose – oh, is that just me?!)
I also recommend having a quick and easy Go2HolidayMeal up your sleeve for those times you've over indulgenced the meal before or get home late/over-hungry or whatever it may be. Some sort of quick salad, buddha bowl or smoothie work well.
=> For some #plantstrong options check out my FREE 3 Day Easy Vegan Plan:
Here's a sushi bowl idea:
For the main event – the tofu – slice around 100 grams of firm tofu into rectangles and then shack it till coated in a bag with whatever flavours you can find. I used:
1/2 a tablespoon of nutritional yeast
1 tablespoon of tamari
a pinch of chilli
a pinch of paprika
Now bake the tofu (at around 200 degrees C) on baking paper for 20-30 minutes. For the last 10-15 minutes add 50 grams of edamame optionally coated in olive oil and sea salt.
The bowl can also feature: a sliced portobello mushroom, a 1/2 bunch of asparagus and a bunch of bok choy lightly cooked in a fry pan with oil (macadamia or sesame) plus chilli, garlic and fried shallots (because I excitedly foraged them from mums pantry).
To serve I added: sliced avocado and dulse (red seaweed) leaf.
Here's an even quicker burger bowl idea:
My current lazy Go2 is a 4 pack of beetroot and black bean burgers from the supermarket. You'll need,
1-2 plant based burgers. (I have 2)
A huge bowl of mixed raw veg. (I either buy kale-slaw or mix carrot, kale, beetroot, baby spinach and red cabbage)
100-200 grams of coconut yoghurt OR 1/2 an avocado smashed with a heaped tablespoon of Veganaise plus salt and pepper. 
This is literally a 5 minute meal. Dress the raw veg in coconut yoghurt or avo mix and slice the microwaved burgers on top.
If you don't plan then you'll be more likely to go for the 'light dinner' of toast or cereal after your big lunch out. And that carb-o-la crap-o-la meal is not light! Or perhaps you skip dinner after a big lunch and then snack on lethal left-overs that evening?
Absolutely enjoy those meals you eat out HOWEVER make sure the meals that you are in charge of (ok, I'll dispute you can be charge of everything you put in your mouth)…however, those meals that you're even more easily in charge of, are always supportive of your health goal.
It's also great to have a yummy yet creatively healthy food option for when you're taking a plate or preparing for guests. Holiday season is all about eating, eating, drinking and eating… or some order of the preceding!
How many people do you know who wouldn't like to shed a little fat?
Most people will thank you for providing the refreshing, guilt-free option… so,
Here's one of my fav holiday salads to share:
1 juicy mango chunkily cut
3 nectarines cut in about 8 slices each and dry fried till it's golden and caramelised
50gm dry roasted almonds roughly chopped
100-200gm rocket
100-200gm baby spinach
1 avocado
½ red onion finely sliced
2-3 tablespoons of my fav cashew and sun-dried tomato cheese
=> The juice from the fruit will spread over the salad when you lightly toss it, however add balsamic vinegar to dress if desired.
As I'm a throw-together-kinda girl and cooking isn't one of my top skills you'll find any of my recipes super easy.
My cashew and sun-dried tomato cheese features in the FREE eBook: FREE 3 Day Easy Vegan Plan:
Finally, dependent on where you'll be over the holidays some Go2Snacks can be body savers – such as protein powder/bars or portions of nuts / seeds. I'm off to a supremely well-stocked house. I'll still take my trusty plant based protein powder because I know I love to snack and I also know if I snack on all the treats on offer I'll be struggling to squeeze into my jeans within a week.
Your implementation steps:
What Type and Frequency of exercise will compliment your holiday routine?
Type: ______________ Frequency: ______________
2. Two quick and easy Go2HolidayMeals:
Your Creatively Healthy food option for guests or if dining out is more likely do a quick google search for a suitable local restaurant:
That's it for Part 1. I'll be back in E658 Plant Strong Blueprint: 6 Steps To Prevent Weight Gain Over Christmas and New Year (Part 2) with steps 4-6 next week. Alternatively check out this post:
I have a super exciting guest later this week on the podcast… a lady who has helped me so much in my relationships with non-vegans. In E657 I'm welcoming back to the podcast Harvard educated social psychologist Dr Melanie Joy to discuss Getting Relationships Right.
That's it for today in Healthification. Huge across the pod-waves thanks to YOU for sharing today with me. I appreciate it with all my heart.
If you've enjoyed this show and gotten value out of it I'd super appreciate it if you pop over to iTunes or wherever you listen to the show and leave me a review.
Till next time, remember Creating a body and life you love is Freedom. (If this ex-carb queen, NON-genetically gifted, naturally uncoordinated VEGAN-chick can do it – so can YOU!!!)
If you liked "Plant Strong Blueprint: 6 Steps To Prevent Weight Gain Over Christmas and New Year (Part 1)" you'll also like 11 P.L.A.N.T. S.T.R.O.N.G. Standards For A Fit, Healthy, Mind and Body.