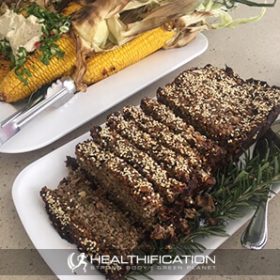 Podcast: Play in new window | Download
Subscribe: RSS
Mum you've long had a very successful strategy of winning people over with your delicious cooking. As you approach your 1 year plant based anniversary (so proud of you!) I've found it very instructive to watch your approach when eating with and cooking for non vegans.
Today I'd like to share some of your winning strategies, recipes and even more-so, I guess the mindset behind your approach because I know Christmas, the Holidays, the festive season – whatever it is for our listeners – it can be a very stressful time especially when it comes to food.
It's my intention that we make todays show useful to both the vegans and the non vegans and with that in mind I have a couple of considerations to lay the groundwork.
FIRST (and here I'm speaking directly to my vegan and particularly my activist friends): It's 100% your choice whether you decide to attend the family occasions where animal flesh and excretions will be eaten. If you feel like it'll cause you too much pain, or like you'd be letting the animals down then of course stay away. If you decide to attend, then please be there in good faith. Mum's the expert on this – more on that soon.
SECOND: I'd strongly suggest any time you dine with non vegans is an opportunity to plant some delicious, compassionate and impactful vegan seeds. An opportunity that you and your loved ones will miss out on if you bunker down only with your vegan friends, in the vegan bubble.
3 Key's to Festive Season Vegan Deliciousness without Stress, Volatility and Disputes.
One: Lead first with delicious food.
Irrespective of how receptive your loved ones are to a plant based lifestyle, whether they're true vegan allies or perhaps at times a little hostile… if you've put a lot of time and effort into creating food you hope they'll love there's a fair chance they'll at least appreciate the effort.
[I ask] Mum, I know you've started the vegan deliciousness already with your Christmas cooking. Can you share some of your success's?
Two: Get clear on your intentions / the outcomes you want.
Speaking from personal experience, if I haven't consciously taken the time to clarify how I hope an event pans out I'm more likely to get sucked into unproductive, reactive behaviour. I'm prone to leading with passion more than compassion (we need both!) and might want to prove a point / win a debate with vegan #truthbombs when really this isn't the time.
[I ask] Mum, what do you want Christmas Day for our family to look like?
Three: Plan your calm responses to common questions / objections. 
I'm sure most of us have experienced a response so unexpected: whether rude, ignorant, bullying or just unnecessarily judgmental / stupid / selfish (!) that we are speechless. It leaves a bad taste, builds resentment and eats away at our connection with and compassion for a loved one.
You've led with delicious food. You're clear on your intention of love and fun for this get together… and then this rudeness!
[I ask] Mum, maybe we can muddle this out together! I know you do well in making your eating choices about you – your health – you remove any air of judgement… can you speak to that?
I'm thinking I'll remind myself of what might be the feelings behind any obnoxious / hurtful comments. Our love ones aren't actively wanting to hurt us or disrespect our values and beliefs. More likely they are fearful of change. Perhaps their ego is attached to their current beliefs and they feel threatened.
My plan is to take a VERY DEEP BREATH and understand that a heated debate and more hard hitting facts won't dispel their fear. It'll make them shut down or fire up! I'll do my best to respond with love and compassion. I think the energy we bring to a response is at least as important that the actual words we are saying. 
[I'm cutting in on my own here before we join mum again!]
In summary so far as Key 2, to Festive Season Vegan Deliciousness and getting clear on your intentions / the outcomes you want consider:
Do you want a lovely family day where maybe you plant some little vegan seeds OR are you trying to convert your loved ones?
Are you looking to secure some vegan allies OR merely to score points and win debates?
Are you happy to lead by example with no expectations on timeframes OR are you going to resort to emotional blackmail? 
To add a bit more to Key 3, to Festive Season Vegan Deliciousness and planning your calm responses to common questions / objections. I'm not expecting any of us to be nothing but love and compassion under hostile, unreasonable circumstances. Sometimes, for the greater good – of the day, of your sanity and of your ongoing relationships it might be best to give yourself a quick break. Not in a storm off and slam doors type of way! Perhaps you escape for a few minutes to:
Go for a short walk.If I was somewhere where flesh was being carved I'd disappear then. Last year, thankfully dad handled carving discreetly while I was in the shower. I'd planted the seeds of compromise by putting in a whole lot of work into food planning, shopping and prepping and he responded considerately.
Phone an understanding friend!
Meditate.
Watch an amusing video. 
[Ok, now let's return to my chat with mum to cover some her (and my) top tips for Vegan Deliciousness without Stress, Volatility and Disputes this Festive Season.]
[I ask] Mum, I'd love to now cover off some of your top tips for entertaining this festive season. I'll throw in some of mine too.
Roast veg. Extravagant salads and fruit platters. Desserts. Grazing Platters.
Find the delicious condiments you can buy.
Veganaise. Sheese.
Not pretending to be Meat! 
Nut loaf rather than a broccoli steak.
Cauliflower buffalo wings.
Useful multi-purpose leftovers.
Nachos. My HUGE salads to add a bought burger or falafel to.
Useful Freezer friendlies. 
Mum's burgers and corn fritters in freezer for when the others have fish and chips / BBQ by the river.
I'm back on my own and (did I mention?) I'm so proud of my mum. I think we provide a good compliment of the more extreme approach and the more chill approach. Certainly one is more effective however I still think we need both.
As I've discussed with mum before, the world certainly couldn't handle "ALL me's" however we do need to hurry things along. Billions upon billions of animals are suffering and dying… needlessly and to the detriment of our planets health and our health. It's the animal rights activists and abolitionists making change happen.
So to my activist friends, to the "militant vegans", to those of you advocating fiercely, relentlessly and uncompromisingly: Thank you. We need you. 
I'm especially hopeful my chats with mum are of value to YOU if you're the only vegan in your family. Or if you're curious about a plant based lifestyle and fearful of how your loved ones might respond. That was mum, then she took the plunge and as you heard – it's not easy, however it's right… and gosh it's strengthened our relationship in a beautiful way.
I'm continuing with the strengthening your relationships with loved ones theme next week in my second chat with the amazing social psychologist Dr Melanie Joy about her upcoming book: Getting Relationships Right.
So super excited to share our conversation with you. Till then, that's it for this week in Healthification. Huge thanks to YOU for sharing this week with me. I appreciate your support!
The Healthification podcast is proudly bought to you by my FREE 'Easy Vegan' plan. It took me 25 years to transition from a meat eater to a happy, healthy Vegan! You can do it in just 3 days with my simplified 'easy vegan' plan!  Get the fit, strong, and healthy plant based body you deserve… while avoiding ALL the mistakes I made along the way!
Till next time, remember Creating a body and life you love is Freedom. (If this ex-carb queen, non genetically gifted, naturally uncoordinated vegan chick can do it – so can YOU!!!)
If you liked "Festive Season Vegan Deliciousness with Annie Galli (Mum's Top Christmas Tips!)" you'll also like Build Your Own Meals To Share With Non-Vegans PLUS Month In Review.
If you liked "Festive Season Vegan Deliciousness" you'll also like 624: My Mums Plant Based Journey, How To Transition To Plant Based Without Restriction Or Conflict!