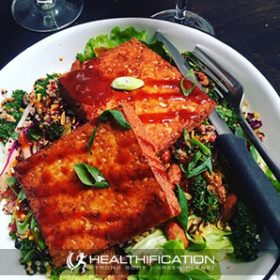 Podcast: Play in new window | Download
Subscribe: RSS
I seem to forget every year, just how stress inducing the silly season can be.
It's that one time of year when everything that could potentially be powerful fuel for gratitude. Things like: party invites to juggle / gifts to purchase / the killer outfit you're hoping to first find and then rock / that holiday you need to plan and pack and pay for / what to indulge in and what to avoid so far as party food and beverages…
Can instead become sources of stress.
Of course there are more extreme stress inducing factors. Stuff like: not having loved ones close by (or at all) / huge credit card debit / unrealistic pre-holiday work deadlines.
Regardless of your situation, and the level of stress you're experiencing this holiday season it's possible to either feed the stress OR starve it.
In todays Month In Review show I'm covering some of my fav
Lazy Easy Vegan Meal Prep 
to feed yourself and a rapid fire 12 Tactics To Tackle Holiday Season Stress. As always I'll also share what's been rockin this past month and what's been a tad more struggle street. Above all, my intention is to make this content applicable to YOU and creating and keeping a fit, healthy plant strong body.
Let's start with FOOD and Lazy Easy Vegan Meal Prep. I have 3 suggestions for my fellow lazy chefs:
Lazy Easy Vegan Meal Prep One: Sheet veg. 
This is inspired by team Wicked Healthy where chefs and brothers Derek and Chad Sarno share extreme vegan deliciousness. Wicked Healthy means cooking and eating good-for-you food that tastes so good you think it must be bad for you
Instead of a "one pot meal" it's a one tray meal. Much better for those of us who like a bit of crispy and multiple styles / flavours in one meal. 
The wicked healthy gents are masters with mushies! They create the most mouthwateringly stunning combo's of exotic mushrooms with flavour packed marinades and plenty of green fibrous veg. These meals are hearty and healthy. I seriously recommend you check them out.
My current Go2 "sheet veg" meal prep option is a combo of marinated tofu and fast cooking veg topped with seeds and a little "wicked" veganaise. 
This lazy cook, will buy a 450 gm block of firm tofu to last 3 meals and marinate it in a mix of: 2 tablespoons tamari, 2 tablespoons mirin, 1 teaspoon maple syrup, 1 teaspoon sesame oil plus a good shake of garlic powder and chili flakes. Per meal I'll serve it with 1/2 bunch each of asparagus and broccolini, a large sliced portobello and a medium zucchini in peels. The tofu takes twice as long to cook as the rest however it's crazy easy and I season the veg with salt, plus: nutritional yeast, more garlic and chilli, hemp and pumpkin seeds. A dollop of veganaise to serve makes the meal.
Lazy Easy Vegan Meal Prep Two: Baked veg on mass. 
One of my fav quick meal prep ideas right now is to simply wash and dump a heap of veg on a couple of baking trays with a smidge of olive oil and salt and just bake for 60 – 90 minutes in a hot oven.
Yesterdays haul was: 1/2 a cauliflower, a leek sliced in 1/4's length wise, 2 onions sliced in half, a whole capsicum, a whole eggplant, a whole huge zucchini and 3 whole carrots.
From here your options are limitless. For a curry, I sliced it all up (after skinning the capsicum and the eggplant) and dumped it into a huge pot with a can of coconut milk seasoned with 1 teaspoon salt, 4 heaped teaspoons medium curry powder, 2 heaped teaspoons ground coriander seed, a couple pinches each of cinnamon and turmeric plus a drained and rinsed can of 4 bean mix. It's basically already cooked however I left it over a low heat for 1/2 an hour or so.
Alternatively I could have chopped all the veg except the eggplant and mixed them into a huge baked veg and leafy greens salad using premixed and washed green leaves. To dress, that mushy baked eggplant is just prefect to turn into baba ganoush. Cookieandkate.com has an epic baba ganoush recipe that I'll link to. All you'll need is: the eggplant, garlic, lemon juice, tahini, extra-virgin olive oil, fresh flat-leaf parsley, salt, ground cumin and smoked paprika for a garnish.
Lazy Easy Vegan Meal Prep Three: The can + frozen veg approach. 
I've totally stolen this suggestion from a fellow non-chef. It's as easy as it gets. Podcast host of Our Hen House Mariann Sullivan recommends heating a can of hearty vegan soup (maybe a minestrone) and your fav mix of frozen veg before combining the two for a quick, cheap, veg rich meal.
What I love about this idea is you can always have your fav soups in the cupboard and your fav frozen veg in the freezer. Zero excuses!
A few tips:
Try edamame with your frozen veg to up the #plantstrong protein anti.
If you can't find a canned soup you love with beans or lentils, stir through a mini tin of 4 bean mix to your fav pure veg soup.
Top with dairy free pesto or even hummus.
Scatter with seeds like hemp and pumpkin.
Garnish with fresh herbs like coriander or basil OR if you're feeling a little more energetic some brussel or kale crisps.
For more super lazy easy vegan meals to embrace this holiday season I recommend a show from this time last year called, 503: 3 Types Of Meals To Embrace This Holiday Season.
I'm going to go a little off track with the EXERCISE component of todays month in review show because I want to give a shout out to another old podcast from several years ago called, 364: 12 Tactics To Tackle Holiday Season Stress. These 12 tactics each fall into one of three subcategories:
Simple Strategies.
Respect your Routine.
Nurture the NO!
I go into more detail in the original #364 post / podcast however here's the overview:
First: Simple Strategies.
1). Take a few deep breathes.
2). Get some sun.
3). Walk.
4). Go Tech-free.
5). Think positive / have gratitude.
6). Laugh.
Second: Respect your Routine.
7). Sleep.
8). Stick with your morning routine.
9). Workouts.
Third: Nurture the NO!
10). Say NO more and as a result enjoy more.
11). Ask for help.
12). Forget Perfection.
Now let's move on to the time of the struggle-street! It's a result of my evolving personal: True Definition of Health.
I'm not even sure where I first heard this. However as I'm widening my circle of compassion I find myself also widening my definition of health. I now see health not only as it relates to me. It's also vital to consider the health of my community and the planet as a whole including all those human and non-human animals we share it with.
It's so obvious it's causing me more than a little frustration!
Last night I saw an amazing video featuring two humans I have so much respect for. Shark attack survivor and ex-Australian Army Paratrooper Paul de Gelder and former Australian Special Operations military sniper Damian Mander, an anti-poaching activist and founder of the International Anti-Poaching Foundation.
Both these gents are vegan. Both have committed their lives to protecting animals. Both realized the hypocrisy in protecting ONE type of animal while eating another type of animal.
As I shared the video on Facebook I wrote:
"All my friends, colleagues, family who STILL think a vegan lifestyle is hard, or risky or unhealthy or (gosh REALLY?) "Unmanly" please take 3 minutes to watch this video… there's so much propaganda out there. 
You can't bring up healthy kids. 
You can't perform at an elite level. 
There's a "vegan honeymoon" and then it's all down hill till you die of nutrient deficiency.
It's only doable for "chicks" who don't train hard…
That's bananas.
I can tell you for sure "the vegans" aren't funded by "Big Kale." 
We're not spending our lives advocating because of Greed, Ego, Selfishness or Apathy. 
We're coming from a point of Compassion and Love. That's it. Love for the animals, for our human brothers and sisters and love for the only planet we ALL have to share. That really is it. 
Yes we (I!) get angry and frustrated however I'm working hard on getting less angry and frustrated… it's just you know, so damn obvious. Would you ever deliberately hurt an innocent animal unnecessarily? If you answer NO… what on earth do you think happens for that animals flesh and excretions to end up on your plate every single day??"
So to move back to the "true definition of health" surely as animal eating individuals we must consider the impact our supposed health choices have on the world around us?
Equally, for the vegan, as much as my natural inclination has been to passionately drop vegan #truthbombs I'm realising the more impactful approach might indeed be to lead with love, compassion and even, delicious vegan food! 
If you'd like to shower your loved ones with vegan deliciousness this festive season I have you covered in this weeks interview where I welcome back my mum – in E655 – to discuss: Festive Season Vegan Deliciousness with Annie Galli. Mum and I share our top tips!
Finally, so far as a recommendation this month: You may have heard me talk about the benefit of writing down your daily gratitudes and reference points for success?
I jot down 3 of each daily. I heard a slightly different take on this recently curtesy of Gena from thefullhelping.com.
How about focusing on (as well!) 3 things that made you happy? As Gena points out, our gratitudes are often on auto-pilot. Our health, our loved ones and really big things like that. However it can be really encouraging to see just how small and varied those things that bring happiness can be.
Of course your (my!) morning coffee. Or perhaps even a laugh with a colleague… we seem to have more laughs when I can bite my tongue about the age their "bacon" was when it was gassed to death. Note: Lead with compassion Kate!
Anyway, once you bring awareness to the little things that bring happiness to your day you can actively seek out more of them each day.
To get actionable today, I'd love to hear from you! Are there any topics you'd like me to cover or guests you'd like me to invite? Please let me know via kate@strongbodygreenplanet.com.
That's it for today in Healthification. If you're enjoying these solo shows and longer form chats I'd really super appreciate it if you'd please share this podcast with someone you think would find value in it or rate and review it in iTunes. It takes a couple of minutes and it means so much to me. It 100% makes my day.
Huge thanks to YOU for sharing this week with me. You rock and I appreciate your support!
The Healthification podcast is proudly bought to you by my FREE 'Easy Vegan' plan. It took me 25 years to transition from a meat eater to a happy, healthy Vegan! You can do it in just 3 days with my simplified 'easy vegan' plan!  Get the fit, strong, and healthy plant based body you deserve… while avoiding ALL the mistakes I made along the way!
Till next time, remember Creating a body and life you love is Freedom. (If this ex-carb queen, non genetically gifted, naturally uncoordinated vegan chick can do it – so can YOU!!!)
If you liked "Lazy Easy Vegan Meal Prep PLUS Month In Review." you'll also like Why Being Vegan For Ethical Reasons Is Easier, Phytoestrogens In Soy PLUS Month In Review.