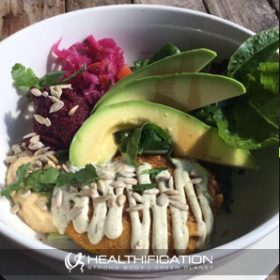 Podcast: Play in new window | Download
Subscribe: RSS
What comes up for you when I mention: "holiday season food"?
Do you first picture all the delicious treats you're excited to indulge in?
Do you feel a little panic'y at the thought of the pesky extra weight that sneakily creeps on each holiday season?
Or possibly, is your gut reaction more alone the lines of "there's so much work involved / it's stressful / and expensive!"
In todays show I want to share:
3 Types Of Meals To Embrace This Holiday Season.
Delicious treats to indulge in. That won't let any pesky extra weight come creeping. That are not hard work, stressful or expensive!
As an emotional eater, with a huge appetite and low tolerance for excessive kitchen time I've got you covered this holiday season. The first type of meal to embrace this holiday season is…
One: Rinse and Scatter.
There are limitless meals that can come together in a few minutes using the rinse and scatter method!
When traveling over the holiday season (or anytime!) I pack my trusty Go2 protein pimps. This includes my fav plant based protein powder, a Himalayan Salted Caramel made by Prana: Portable protein (I'll share some of my favs soon) mean you can turn any light-weight meal or quickly thrown together salad bowl into something substantial and delicious.
First start with a base of salad leaves. Pre-washed makes it even quicker. My fav is a dressing free kale-slaw.
Next add a little more fibrous density. Perhaps some leftover veg from last nights dinner or some spiralled zucchini or even a steamer bag of frozen veg like cauliflower, broccoli and carrot.
Finally finish with protein pimps. Possibly a tablespoon each of hemp and pumpkin seeds. A generous scatter of nutritional yeast and dulse flakes. Or maybe a supermarket bought plant based burger or some falafel.
=> To get actionable: What are your portable protein pimps to take traveling (even if it's only traveling to a friends BBQ!) this holiday season?
Two: Meals on Mass.
If you're travelling over the holiday season I hugely recommend sourcing accommodation with kitchen facilities. If you're staying home or with family then you have zero excuses!
One of my fav meals to make on mass is portobello cap pizzas. I'll make up to 8 at a time and devour them with left over salad / veg when I need a zero fuss meal. The simplest version involves sourcing some dairy free pesto and plant based cheese. I actually like to make my own though as it's cheaper, versatile for other quick meals and so far, much nicer!
Altogether you'll need:
8 Portobello's (or large mushrooms of choice)
Hemp seeds(around 1/2 tablespoon per mushroom)
Vegan pesto (around 1-1 1/2 teaspoons per mushroom)
Nutritional yeast (2 heaped tablespoons for the cashew cheese PLUS an extra 1/2 teaspoon per mushroom)
Vegan cheese(see the show notes for my cashew sun-dried tomato recipe)
Veggies of choice. I used: 1 large red capsicum char grilled then skin removed and sliced. 3 lengthwise slices of a large eggplant baked with a little coconut oil, chilli, onion powder and mixed herbs then sliced. 1 small zucchini in peels. Several thin slices of red onion. 1/4 of a green capsicum sliced. 1/2 a small jar of marinated artichokes sliced.
Cook the Portobello's (around 200 degrees) in a tray (or 2) on baking paper with a sprinkle each of garlic powder, onion powder, chill flakes. Plus in each cap 1 teaspoon of vegan pesto and a sprinkle of thinly sliced of red onion. Time is dependent on size, I cooked them for around 5 minutes then added the rest of the veg and also the 1/2 tablespoon hemp seeds per mushroom.
I finish with the zucchini strips (3 strips per mushroom crossed over the top of the caps to try and hold everything in a bit. I then add another 1/2 teaspoon of vegan pesto in and a 1/2 teaspoon of nutritional yeast to each cap. Cook for a further 5-10 minutes and for the last few minutes add a tablespoons of cashew cheese to each cap.
=> To get actionable: What meal on mass will you make this holiday season? For further inspiration I recommend my FREE 3 Day Easy Vegan Plan PDF.  The lunch and dinners are completely interchangeable and the breakfasts are perfect to substitute for a light (yet balanced!) dinner if it's a day in which you've over indulged! Talking indulgences…
Three: Planned Indulgences.
I'm a fan. A HUGE fan of indulging. To make it work you simply need to indulge with volition. To choose your best of the best treats rather than resort to some stodgy, dodgy off-plan meal that really isn't worth it.
Here are a few tips to make planned indulgences work for you this holiday season:
When dining out decide on thecourse that's an indulgence… not every course PLUS alcohol PLUS bread PLUS chips.
Avoid skipping meals before or after an indulgence…it's just going to throw your body off track and mean you end up demolishing more at some point. A pre / post indulgence lighter or smaller sized yet still nutrient rich meal is great.
Don't be a left-over labrador! This is what one of my clients' wife calls him! Enjoy your indulgence – guilt free – however when it's done it's done. It's never that once off treat that sends you spiralling off track. It's when you then have pudding and ice-cream for the next 3 meals or until it's all gone. I super recommend sending left overs home with someone else. Or sharing them with the neighbours. Even better, plan so that there are not leftovers.
When deciding "Do I or don't I?" ask yourself "How will I feel after the demolishing?"Even just STOP and think before mindlessly consuming something simply because it's on offer. Those high caloric density, nutritionally void little snacks add up at least as easily as entire meals when we're considering pesky holiday fat! And you likely didn't even LOVE all of them. Perhaps it was something eaten to be polite? Or to tidy up the plate? Or purely out of convenience / habit / laziness.
Enjoy every single meal so you don't need to go over board with the indulgences. Your Rinse and Scatter and your Meals on Mass can and should be delicious.
=> To get actionable: What are you planning – with 100% volition and ZERO guilt – to indulge in this holiday season? 
It's super worthwhile to get clear so that you're ready to source to the best of the best deliciousness and also ready to accept that the very next meal you're back on plan rather than spiralling into a cycle of mindless, detrimental holiday season demolishing.
That's it for this week in Healthification. Huge gratitude to YOU for sharing this week with me.
The Healthification podcast is proudly bought to you by my FREE 'Easy Vegan' plan. It took me 25 years to transition from a meat eater to a happy, healthy, non-judgemental Vegan! You can do it in just 3 days with my simplified 'easy vegan' plan!  Get the fit, strong, and healthy plant based body you deserve… while avoiding ALL the mistakes I made along the way!
Till next time, remember Creating a body and life you love is Freedom. (If this ex-carb queen, NON-genetically gifted, naturally uncoordinated VEGAN-chick can do it – so can YOU!!!)
If you liked 3 Types Of Meals To Embrace This Holiday Season you'll also like: 12 Tactics To Tackle Holiday Season Stress
If you're yet to share the Healthification love – just click here to zip over to iTunes and leave an honest rating and review. It'd help me out big time. With gratitude, Kate.