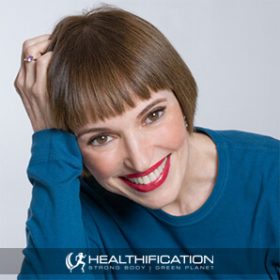 Podcast: Play in new window | Download
Subscribe: RSS
My guest today, Victoria Moran has been vegan 36 years and is known for combining the ethical, spiritual, and health aspects of enlightened vegan living.
It's the one thing that connects all religions – compassion – that I'm most excited to discuss with her today. I want to better understand how leading a life devoted to compassion and kindness can ever be aligned with consuming animals every day?
What are the religious justifications? Surely taking the life of an animal is the opposite of compassion?
Is this ignorance with volition? How deeply have the individuals I've met who've told me: "God Says That I Can Eat Animals" really considered the unnecessary pain, suffering and death they're assuring me their compassionate God would condone?
What are some of the things in religion that point to and align with veganism?
I feel certain we're in good hands with a subject I'm fairly hugely uneducated in.
For a little offical bio: Victoria was listed among VegNews magazine's "Top 10 Living Vegetarian Authors," voted Peta's "Sexiest Vegan Over 50" in 2016, and has featured twice on Oprah. She has written 14 books and is director of Main Street Vegan Academy, the exciting, in-person certification program training Vegan Lifestyle Coaches and Educators over a magical week in New York City.
Victoria also hosts the award-winning Main Street Vegan podcast and with Main Street Vegan Productions, she backs films and events that promote a kinder, gentler world. Her latest role is as lead producer of Thomas Wade Jackson's documentary, A Prayer for Compassion, about spirituality and food choices.
There's so much to cover in this chat about
Debunking Religious Justifications To Eat Animals and Introducing Vegan Living To People Of Faith.
In this chat we cover:
Victoria's becoming vegan story.
Debunking religious justifications to eat animals.
What are some of the things in religion that point to and align with veganism? 
Victoria's personal approach when chatting to people about animal rights, veganism and spirituality.
We touch on raising vegan kids.
We discuss the amazing Main Street Vegan Academy: School that trains vegan lifestyle coaches over a week in NY. 
That conversation truly was a pleasure. I feel like we touched on so much that I'm going to marinate on more. I hope it's the same for you.
Victoria gave such a greater depth to my understanding regarding the intersection between ethical veganism and spirituality. Prior to our chat I think I was still holding onto the excuse that as a person with minimal knowledge of any religions I could get "caught out" in a conversation with someone who insists: "God says I can eat animals." However it's not about having the right answer.
It's about having the right open minded attitude. I'm learning – not yet always demonstrating (!) – that the compassion, curiosity, patience and respect I bring to a conversation with the individual who has different beliefs to me is going to be most impactful and effective.
It's still my belief that no religious text says we HAVE to eat animals. That because it's not a necessity it can't be justified. However maybe I don't have to lead with that! Equally, when the religious texts were written it was an entirely different time without the abundance we have today.
Something that really struck me was the hymn quote "once I'm found" that Victoria referred to in relation to people finding something that works for them – perhaps a religion – and then walling themselves off and not wanting to "be lost" again.
I experienced that with my own approach to creating a fit, strong, healthy body following a low carb, high protein vegetarian diet. I'd learnt what worked over a couple of decades. I was fearful to try something new. When I discovered that ethically I must become vegan I consciously had to put aside my ego to first admit that maybe my current approach wasn't "the best" approach and even more so to take the chance that aligning my eating actions with my beliefs might cause me to lose muscle and gain fat.
I decided my vanity was not more important than the lives of animals. I also gained a little muscle and lost a little fat! It make me consider though, surely it's uncomfortable for those fitness professionals who "have found" the animal product reliant approach to achieving their goals to risk "being lost" by even considering a vegan lifestyle.
You can reach out to our guest, Victoria Moran, via her website, www.mainstreetvegan.net, where you can also subscribe to her weekly blog and check out Main Street Vegan Academy, where you can train as a certified Vegan Lifestyle Coach and Educator.
Her Main Street Vegan podcast is weekly on all platforms, and you can follow Victoria on Facebook, Twitter, and Instagram @mainstreetvegan.
A Prayer for Compassion is available for online streaming now via Vimeo.
I found this short Earthling Ed video valuable: God Says That I Can Eat Animals.
That's it for this week in Healthification. Huge thanks to YOU for sharing this week with me. You rock and I appreciate your support!
The Healthification podcast is proudly bought to you by my FREE 'Easy Vegan' plan. It took me 25 years to transition from a meat eater to a happy, healthy Vegan! You can do it in just 3 days with my simplified 'easy vegan' plan!  Get the fit, strong, and healthy plant based body you deserve… while avoiding ALL the mistakes I made along the way!
Till next time, remember Creating a body and life you love is Freedom. (If this ex-carb queen, non genetically gifted, naturally uncoordinated vegan chick can do it – so can YOU!!!)
If you liked "Debunking Religious Justifications To Eat Animals: Main Street Vegan Is Introducing Vegan Living To People Of Faith." you'll also like E622: Theodora Capaldo and Why Non-animal Testing Methods Are Superior On All Fronts.