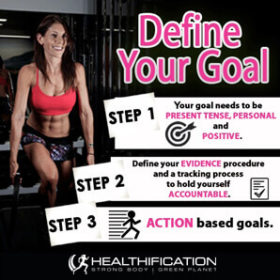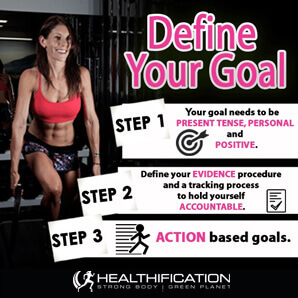 Podcast: Play in new window | Download
Subscribe: RSS
When I first joined a gym over 18 years ago I didn't have a goal.
I joined because my father said I should.
"But dad, I'm not fat"
"Katie, that's why it's such a shame, you have so much wasted potential"
(in hindsight, perhaps dad was looking for an alternative to the regular all-nighters at clubs and the 'wasted' mornings slept away!)
The gym never made it into my non-negotiable weekly routine and neither did the eating to support my exercising efforts.
As you may imagine I didn't get awesome results.
Although given I didn't know what I was looking to achieve, how can I even measure 'awesome results' so lets just say nothing changed.
A year or so after giving up on my first gym experience I rejoined.
I had decided I wanted a fit, toned body. Perhaps this coincided with meeting my first super-fit-buff-gym-obsessed-dude at one of the aforementioned clubs (!) and seeing just how a body can look with a little (ok, A Lot) of focus.  Anyway I was certain I no longer wanted to live in the skinny-fat, scrawny-upper-body and chunky-lower-body that I naturally gravitate towards.
I also knew 'walking a lot' wasn't going to get me that body. I wanted to feel confident and proud of my body and to never again have to worry about the bits I needed to cover up.
I went through a teenage phase of getting around with not one but two jerseys tied around my waist.  In my first job as the bar girl in a silver service Italian restaurant the kitchen boys would break into song whenever I turned around to exit the kitchen… the significance of this?  The song… it was a Sir Mix-A-Lot number: I Like Big Butts.  Enough said right?
Lifting weights became non-negotiable and although I overdosed on cardio too initially – the results did come.
Todays show is part one in a 6 part series. I'm calling it my Smart Simple Fat loss series (you know I think of it as Body Gain – however SEO likes fat loss way better!)
Today in part one: Smart Simple Fat Loss: Define Your Goal.
What you need to do to achieve the body you want is to define your goal.  To get clear on exactly what you want, how it looks and feels.
AND so much more importantly what does having that body, that health, allow you to experience?  What are you missing out on right now?
Or perhaps what does having that body mean you no longer have to experience?  What can you gratefully let go of and how will this impact your life?
Why is taking the time to first define your goal and second pack it with emotional intensity so vital?
The fact is anything worth achieving is going to take work. Either work to achieve or work to maintain or most likely both.
You will face challenges.  You'll feel apathetic.  Fearful.  Frustrated.
Yes, you'll likely be bursting with motivation and discipline initially however that will wear thin AND it will run out if you let it.
The daily actions you'll take to achieve your goal are simple yet not easy.  If you don't have a clear goal and a compelling reason to achieve that goal then I guarantee it'll be way too easy to slip into a stop, start, inconsistent routine or quit on those daily actions as soon as your discipline gets tested and your motivation wears thin.
How to Define Your Winning Fat Loss Goal? I have 3 steps for you:
Step 1: Your goal needs to be PRESENT TENSE, PERSONAL and POSITIVE.
So it'll follow the format of: "It is …. and I am…."
Whatever follows 'I am' needs to be how you want it to be.  Never what you don't want.  There is no value in focusing on "no longer fat and unfit" as you'll only attract more opportunities for fat and unfit. Something like this: "It is 19th December 2015 and I am fit, lean, sexy and rocking my size 8 jeans." – or whatever resonates with you.
Step 2: Define your evidence procedure and implement a tracking process to hold yourself accountable.
You've got to know what success looks like… perhaps you rocked those favourite jeans 2 years ago and that's exactly what you're aiming for.
It's also fine if you haven't been there yet and can't imagine it… it just means you need to put the energy into sourcing an example of how you want it to be.  Someone who has what you want.  Someone you can model.  You can look at what they do and implement the actions that can fit congruently into your lifestyle.  If you're not willing to make the sacrifices they make or as I see it, keep the priorities they keep – that is absolutely fine too HOWEVER you'll need to adjust your goal accordingly.
There's no wrong or right way to track your progress.  The main thing is you want to choose something that supports your success and gives you reference points for success.  Some people love a weekly weigh-in.  Personally I like to track the daily and weekly actions that will deliver the results rather than only measure the results.
Why? Death by Scales.
How often have you had a great eating and exercising week and the scales have stubbornly stayed stuck?  It doesn't matter how much you shuffle your weight or lean back – the number does not budge.  It's disheartening right?  It can encourage the "Why bother, it's hopeless, I'm meant to be fat…" response.
In contrast, taking the right actions will always deliver a result.
Perhaps not as super quickly as you'd like however when you stick with it the results will come.
If they do take a little longer than you would love, then at least you get to enjoy the positive reference points when you track the actions you complete AND be encouraged to build on them rather than get pushed off course by a disappointing weigh in.
Step 3: Action based goals.
The frequency of these actions will vary, it's dependant on…
a) Where you are with your body right now.
b) Where you want to be.
c) How quickly you want to get there.
Here's a rough guide to start with:
Daily.
=> Get enough sleep: specifically get to bed 7 hours before you need to get up. (or how ever many hours you need for an effective, efficient day).
=> Eat a nutritious, satisfying, one ingredient foods based breakfast, lunch, dinner. This means planning your meals the day or meal before. (if you're a snacker plan them too).
=> Exercise: move your body 30 minutes or more each day.
=> Plan your day to come: work, food, exercise – taking 10 minutes in the evening to plan tomorrow means you'll have a more proactive, productive day making it easier to make time for that meal prep and that exercise.
Does ONE-easy-to-implement action a day sound doable?
That's all you need ever commit to.
Weekly.
=> Start the week to come fresh. If this means leading a slightly less exciting social schedule after a crazy busy week then it's worth it – take that sleep in or prioritise an early night. You can only demand and demand and demand of your body for so long… it's a short term strategy.
=> Block out 3 or more hours to shop for and cook meals on mass so your daily meal planning is achievable.
=> Complete 6 exercise sessions of 30 minutes or more including at least 2 weights sessions.
=> Plan your week to come: work, food, exercise and if you have important commitments that clash with normal training/food prep times, then lock and load alternate appointments with yourself.
The number of times I hear "I couldn't do it because I had (insert excuse you choose to prioritise over exercise or food planning here)" is crazy. It's GOT to become "I couldn't do it then so I did it then instead."
If you're looking at my guideline thinking you don't have one 3 hour block plus 30 minutes a day then, it's not truly about time it's about priorities: How Important Is It?
What next?
It's over to you… and you know that means the time of the actionable.
First it's time to define your Present Tense, Personal and Positive Goal.
Second, to define your Evidence Procedure and commit to a Tracking Process.
Thirdly, to set some achievable Action Based Goals.
AND to take one of those action based goals.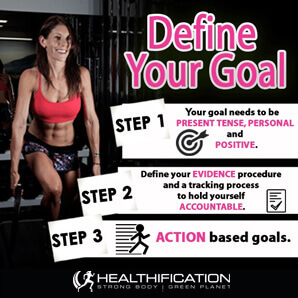 Next Friday I'll cover Part 2…  Smart Simple Fat Loss: Align Your Goal.
The focus is how to ensure the attainment of your health goal is congruent with everything you are naturally and undeniable drawn to.
That's it for this week in Healthification.
Big thanks and appreciation to you for choosing to spend your time with me this week.
Need Some Help?
If you'd like me on your team to help put these actions into place I am so excited to share, my Plant Positive Journal is NOW available.
In this journal you will learn how to consistently prioritise food, exercise and other healthy habits that build on each other to have a compounding and lasting effect. Plus, if you are up for it – and I hope you are, I have geared these habits towards living a healthy, plant-based lifestyle.
To help you create a BODY and LIFE you LOVE by successfully managing your TIME and your MIND.
I am crazy proud of this stunning and actionable journal!
You can check it out HERE:
It makes a great gift to YOU!
Or, for the loved one who is plant-based curious or who has been a valuable vegan ally to you.
This journal follows a 12 month format however is not dated so it is perfect to use at ANY time of the year.