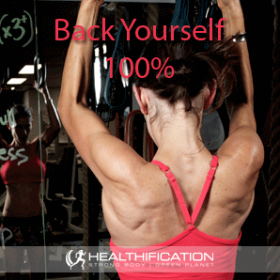 Podcast: Play in new window | Download
Subscribe: RSS
I have a funny story to share before we get into today's awesome full body fat blasting routine.
Now my client I designed this program for HATES cardio – with a passion – she just won't do it.
I understand that – cardio can be pretty hateful – so I sneak little bursts of timed exercises into her weights routines to get her heart rate up. To make her sweat.
It was at the beginning of one such routine that our story starts. My client, oh and I neglected to mention this lady is impossibly stunningly gorgeous. That's sort of relevant. And she does train hard even if she does try and avoid sweating.
So, she's half way through a barbell lunge set – actually that's where we start today's workout too – anyway, she's halfway through a fairly focused type of movement this barbell lunge and them mid set she racks the barbell – like suddenly – and storms off down the far end of the studio and proceeds to rip shreds off a young trainer.
It was a valuable lesson for this youngster.
Basically he'd bumped into my client after her previous session with me and observed she"looked tired like she'd worked really hard" 
As she explained to me when we finally got back to our lovely lunges: "Kate, he needs to know never to tell a lady she's looking tired! I did him a favour"
Fair enough.
So that's a fairly long intro to let you know this is an awesome fat blasting routine that'll get you working hard. You'll get your sweat on. You may even look a little tired after. 🙂
Let's power on with that workout.
The structure is alternating between heavy weighted movements and timed movements – to sneakily creep in a tad of cardio action…. It's circuit style and there's a BONUS pyramid that changes at the end of each circuit.
That pyramid is a good lil mind game to get you to power through tough exercises.
If you start with the most number of reps you will do and reduce it each round after that it's unlikely you'll give up on YOU! You know each round is less the the round you just completed!
Barbell Lunge. 8-12 repititions.
D) Sumo in out jump Squat 30 seconds.
Dumbbell Chest Press 8-12 repetitions.
D) Advanced Burpee 45seconds.
Wide Assisted Chin-up 8-12 repetitions.
D) Snatch to Eccentric Shoulder Press 60 seconds (30 each side).
Pyramid one: Squat Press + Knee up and out.
12 + 10 / 10 + 8 / 8 + 6.
Pyramid two: Medicine ball Dip + Inverted Row.
16 + 8 / 14 + 7 / 12 + 6.
Pyramid three: Hanging Raise + Roll-out + Side Plank with oblique elbow to knew tap, hip dip and toe tap.
12 + 10 + 8 / 10 + 8 + 6.
That's it.
To get actionable today, you guessed it: Give this workout a whirl!
If there's anything you're not sure of just leave me a comment below and I'll provide you with an explanation or alternative.
That's it for me today. I hope you can join me tomorrow for the Friday FAQ show where I cover, Smart Simple Fat Loss: Define Your Goal.
If you liked this you'll also like: Fat Loss MOVES to Choose Your Curves.
If you're yet to share the Healthification love – just click here to zip over to iTunes and leave an honest rating and review. It'd help me out big time. With gratitude, Kate.